The Tony La Russa and Dave Stewart regime is already in hot water down in Arizona. Last weekend, MLB Trade Rumors ran a straw poll on the Diamondbacks' brass, and the results were not encouraging to the pair's job security: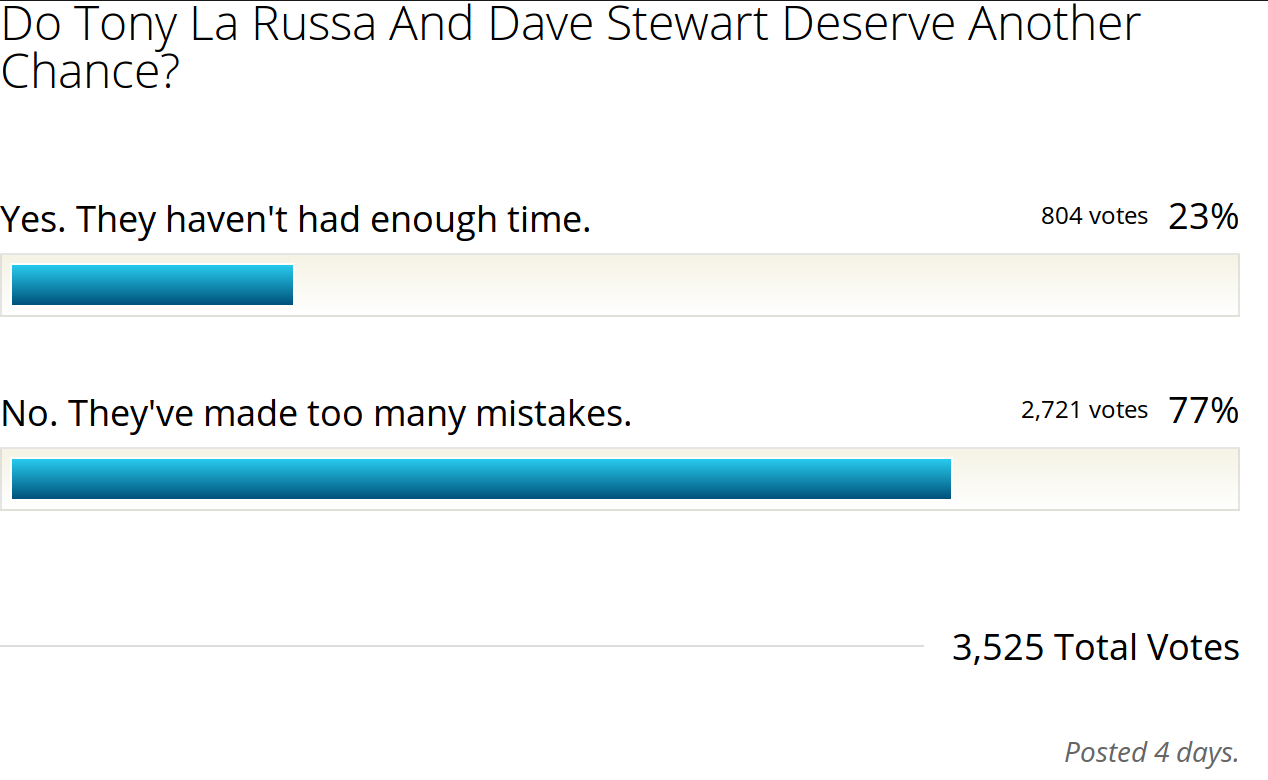 That's damn near four out of five baseball fans who believe La Russa and Stewart should be put out on their respective kiesters. Standing by them is the baseball-fan version of being the one dentist who says "screw Trident, just load up on the sugary stuff–what's the worst that could happen?"
If such universal disdain for such a green braintrust–La Russa and Stewart just took over for Kevin Towers less than two years ago– is puzzling, one needs only to look at the Diamondbacks' series against the Atlanta Braves August 22-24 for some clarity. These two teams had, of course, been partners in one of the most roundly criticized trades of the past offseason–the Diamondbacks sent outfielder Ender Inciarte, pitching prospect Aaron Blair and first overall pick Dansby Swanson to Atlanta for starting pitcher Shelby Miller.
At the time, the deal was considered a lopsided mess, but by August it had turned into an utter bloodbath. The Braves were out of contention, yes–but in light of this the exciting Swanson had been summoned to audition for the team's shortstop job. The three-game series in Arizona marked the end of Swanson's first week in big-league baseball. Miller, meanwhile, was pitching at AAA following a flameout that took the winter trade from "massive overpay" to "historic fleecing" levels. Miller's demise had coincided with a tragic swoon from a team that had been crafted to Win Right Now–the juxtaposition of Swanson and Miller worked like salt in the wound of a dismal season for Diamondbacks fans. It was the most visible, most immediately intense, most supremely frustrating pain.
But Dansby Swanson wasn't the only young, talented shortstop who the Diamondbacks gave up for surprisingly little last winter. A month and a half after the ill-fated Miller deal, the Diamondbacks completed a swap with the Brewers that could, over the long run, turn out just as disastrous for Arizona.
Right now, most people don't even know that what transpired was even all that bad. MLBTR, for example, spotlighted the Jean Segura deal as an example of how "not all of [La Russa and Stewart's] prominent transactions have produced wholly unappealing outcomes." But just give it time, and infield prospect Isan Diaz–the crown jewel that Milwaukee coveted in the deal–might go down as the biggest fish that got away during the La Russa era.
---
Diaz was a supplemental second round selection of Arizona's in the 2014 Draft as a shortstop out of Springfield Central High School in Massachusets. He also had an offer to play at Vanderbilt, but the Diamondbacks were able to convince him to forego college ball and head straight to the pros by taking him in the second competitive balance round of the draft. Back then, Diaz was viewed as approximately a fifth-round talent, and the Diamondbacks were able to convince him to pass on college for a $750,000 signing bonus, about $58,000 below the assignment for the slot.
Diaz made his pro debut in 2014 for the Diamondbacks' Arizona instructional league team, and, early on, those who criticized him as an overdraft looked as if their concerns were apt. In 212 plate appearances over 49 games, Diaz slashed .187/.289/.330 and was caught stealing (5) almost as often as he successfully stole a base (6). On paper, it certainly looked like the young shortstop had made the wrong decision in turning down the collegiate scholarship, and the Diamondbacks had screwed up even further by taking him so high. But that's the problem with judging a minor leaguer solely on their stats. Despite his lackluster pro debut, BP's prospect staff saw fit to include him as one of Arizona's Prospects on the Rise in the spring of 2015. Their write-up noted his "shaky pro debut," but immediately declared that it "belies the advanced feel at the plate he had on display throughout the lead up to this year's draft." Diaz's defense drew knocks–it's pretty much a given that he is going to play second base at the Major League level even though he has been a shortstop up to this point. But the overall forecast, that Diaz "could put up impressive numbers at the lower levels in short order," proved to be prophetic.
A year removed from his initial scuffling, Diaz proceeded to set the Pioneer League on fire in 2015. He brought his slash line up to .360/.436/.640, almost doubled his isolated power (.143 to .279), and paired 13 home runs with 12 steals. His Billings Mustangs won the league title, and Diaz himself was named the Pioneer League MVP. The ensuing January, he was written up as a fantasy prospect for the first time–in Wilson Karaman's "Second Basemen on the Ocean Floor" feature. He was still a deep, deep prospect–but he'd become an interesting one. Interesting enough that the Brewers took a $6.5 million gamble on Aaron Hill to make Diaz the prospect in the Segura deal.
Hill, of course, paid dividends splendidly in 2016, as the Brewers saw positive value from him and then were able to flip him for two more prospects. But Diaz was the key to the deal from the beginning. As Christopher Crawford wrote at the time of the trade:
"Diaz…showed more offensive potential than even his biggest supporters/family memebers could have imagined [in 2015]. There's always been plus power potential from his quality bat speed and leverage, but the swing that was shown in batting practice finally showed up in games. He's a selective hitter who draws walks and waits for his pitch, and although that selectivity also leads to plenty of strikeouts there's enough feel for hitting to project at least a fringe-average hit tool."
---
The Arizona front office clearly thought that this 2015 explosion had been a fluke–if they didn't, they'd have never been so willing to part with him. But the 2016 season cemented Diaz as a top prospect with a brilliant future.
Diaz has come close to repeating MVP-caliber season. He handled an aggressive assignment to full-season ball incredibly well, landing among the best players in the Midwest League. Diaz plied his trade for the Wisconsin Timber Rattlers this past season, and while his contact numbers fell back to reality somewhat, the power he displayed in 2015 was back and on display in full force. Playing in full-season ball for the first time can be a stumbling block for some prospects, and Diaz was young for the league at 20 years old, but he more than held his own with a .273/.367/.486 slash, and more impressively 20 home runs plus an isolated power mark north of .200 again.
Twice this season, BP Eyewitness Reports complied a scouting report on Diaz. James Fisher's May 3rd report came out earlier in the season, and scored him as an overall 50, with a 55 hit tool as his best score and 40s in Power and Speed. At that point in time, Fisher cautioned that a fully-matured Diaz's power stroke "will be more doubles power, with 9-13 home runs on an annual basis." But Fisher raved about Diaz's hitting:
"Setup in the box is even stance with slight crouch and slight bat waggle; Rocks back to load with small leg kick but stays balanced; Above-average bat speed with slight uppercut swing; Barrel stays in hitting zone and finds the ball; Recognizes spin; Has an approach at the plate;"
Additionally, Fisher caught a full Diaz at-bat on video:
This at-bat didn't end in one of Diaz's 20 home runs, and he only took one swing, but that's no bother–there's still plenty we can take away from this sequence of pitches. Diaz's advanced approach and gift for recognizing spin are apparent–other than the fake bunt on 3-0 there were no planned takes, yet at no point does he come even close to chasing a bad pitch. Diaz's pre-pitch setup and motions are minimalist in a refined way, ironed down to their bare, efficient necessities and consistent as the outfield grass. To read Diaz's numbers is one thing–but to truly understand the reason for the hype, you need to see him in action. There are so many little things he does that just don't show up in the box score night to night, but will make him great in the long run.
Earlier this week, Mauricio Rubio completed his own Eyewitness Report. He concurred with Fisher on Diaz's Speed, Glove, and Arm grades–a 40 and two 50s, respectively, but Rubio grades Diaz's hit tool out to a 60–5 points higher than Fisher–and his power to a 55–a full 15 points higher than the other scout originally declared back in May. Does this mean that Fisher was incorrect in his assesment? Hardly. Rubio's verbal assessment of Diaz's power reads a little bit less critically, but the verbiage is actually quite similar. However, Rubio's evaluation occurred after Diaz submitted another season with .200-plus isolated power. Rubio also buffers his more optimistic projection with a higher Risk Factor. In summary, the major-leaguer that James Fisher projected from his April evaluations is still very much a possibility–but after Diaz skipped Low-A and put up the numbers he did over a full season at A-ball, he's shown the potential to turn into something more than just an average hit-first second baseman, and fully owned a bump to his ceiling.
In fact, Fisher himself confirmed as much in a chat session earlier this month:
Keith (Farmington, CT): Thanks James. Given his hot second half, where would you put Isan Diaz's ceiling? Is occasional all-star 2B too high?
James Fisher: I think you nailed his ceiling Keith. I'll admit that I was a little bit light on him early in the year but the bat is a 6 with at least average power. I got a four game set with him this weekend and the batspeed is elite with good swing path and the ability to make adjustments. Defensively he can get a little lazy but he makes the plays he should. He should be in line for a promotion before the end of the year.
Rubio also brought us back a video to evaluate. This one includes three at-bats–a single, a walk, and a flyout:
All of the things I noted from the first video are confirmed here. Once again Diaz's pre-pitch routines are efficient and focused, with a discerning hitter's eye to match. You can tell when he's selling out for power in the counts that you want to do that, because his swing gets bigger and longer. As such, it is fair to expect that there will always be some swing-and-miss to his game–and his hyper-patient approach, and willingness to take strikes he doesn't find appealing, will only serve to amplify his strikeout totals further. But that's life for you–nothing comes for free, and everything is some sort of trade-off. Those strikeouts are the price you pay to do business with a potential All-Star who can easily put up 20+ home runs a year at the keystone.
Perhaps the most impressive part of Diaz's package as a hitter is how well he drives the ball all over the field. Some power hitters are incapable of doing anything but pulling the ball–Diaz, though, isn't a good power hitter, but a good hitter who also has exceptional power, as his Eyewitness Reports attest to. He's just as capable of driving an outside pitch over the opposite wall, or squaring one up and parking it in the deepest reaches of dead center:
---
Up to this point in time, Diaz has played shortstop primarily. He appeared there 90 times this season, while also playing second base 38 times. It marked the beginning of a transition that's been rumored for years now. Both of the Eyewitness Reports parrot concerns that have been raised regarding Diaz's game since before the Brewers even traded for him–he has average arm strength, he doesn't quite have the range you want out of your shortstop, and he doesn't really do anything extra to make up for these shortcomings. Fortunately, the Brewers already have a defensive wizard at shortstop in Orlando Arcia, and those issues will be less crippling for Diaz when he's playing second. He's never going to be a highlight reel defender, but he'll be a highlight reel bat who doesn't hurt you defensively. And if things ever get dire and the team is stretched thin by injuries, he won't exactly kill you if he's pressed into duty at short for a brief period. But let's hope it never comes to that.
PECOTA is still projecting Diaz as a shortstop, which skews things a bit, but his two most accurate comparisons are both players who have had splendid 2016 seasons, and both comparisons should make Milwaukee fans giddy with excitement. Cincinnati's Eugenio Suarez has 20 home runs coming into September, and he's been worth more than two wins in each of the past two seasons after his power failed to materialize during his rookie year, during which he spent playing half of his games in the cavernous digs of Comerica Park. Since Miller Park is on the reverse end of the homer-happy spectrum, we need not worry about such a fate befalling Diaz.
Colorado shortstop Trevor Story, the second PECOTA similarity on Diaz's page, plays in a home park much more similar to Miller Park. Despite playing his last game in July, Story is still considered a front-runner for the NL Rookie of the Year award. That will happen when you slug 27 home runs in just 97 games. Story was worth 3.6 WARP in two-thirds of a season–and though projecting streaky players like him is a whole lot of educated guesswork, that translates to about 5.5 WARP and  about 45 homers over a full season if he could keep up the pace. Diaz has never posted a .296 ISO, like Story did this season, but his .279 mark in 2015 shows that he's at least capable of a similar power surge.
While PECOTA still sees him as a shortstop, and thus hasn't made this connection yet, Rougned Odor is another player who Diaz has drawn comparisons to. Odor has become one of the faces of the Texas Rangers, who will play in the postseason barring a historic collapse. He's been a three-win player in each of the past two seasons and will likely top 30 home runs by the end of the season.
---
Brewer fans might be wondering how Diaz will find his place with Scooter Gennett playing his way into increased long-term consideration, but they need not. Depending on how much the front office wants to push him, Diaz is ticketed to either High-A or AA next season, and he is already making his way to the Arizona Fall League. Meanwhile, Gennett will be entering his fifth season of team control, and after 2018 he will be eligible for free agency. By that time, even if the Brewers have slow-played Diaz's development — he will have had a season each at High-A and AA, and if he continues hitting like he has the past two seasons, he will be more than capable of skipping AAA like so many of the team's prospects have in the past. In the worst-case scenario, if there's a one-year gap between Diaz's development and the second-base opening, the team could always bridge the gap with a veteran free agent.
The Brewers traded for Diaz last offseason hoping that he could replicate his monster 2015 season. Now, with that done, the next step will be for him to carry it from level to level. If he can, he'll be one of the top prospects in all of baseball before long.