In a generally miserable 2016, the Brewers faithful have derived some small pleasure from watching the promising stars of the future. Zach Davies has surpassed anyone's expectations and anchored the Brewers rotation, Tyler Thornburg has become a scary bullpen arm, and Keon Broxton has come on strong in a brief stint. When the Brewers called up Orlando Arcia out of nowhere last month, we hoped he'd keep the trend going.
That hasn't happened, very glaringly. Arcia has stumbled out of the gate to a .189/.260/.305 line, good for a .205 TAv, costing the team 0.1 WARP over 104 plate appearances. While he remains one of the brightest young talents in the game, everyone involved — himself included, presumably — would like this ugly stretch to end as quickly as possible. Taking these three steps would help to expedite that process.
Make better decisions on the basepaths
Before we discuss Arcia's output at the plate, let's focus on what's happened after he's reached base. Arcia is fast — anyone who's seen him in the field can testify to that. His quickness earned a 60 grade from BP's Chris Crawford this offseason, and justifiably so. At the major-league level, though, speed can get you only so far. You need to run smart and hard, and Arcia's struggled in the former area.
Thus far, Arcia's baserunning has been worth -0.8 runs, by BP's judgment. He's stolen bases well and advanced on most types of outs, but where he's really come up short is moving ahead on base hits. As measured by Hit Advancement Runs, he's subtracted 1.3 runs for Milwaukee; among Brewers hitters, only Scooter Gennett has done worse.
The issue isn't that Arcia has run into too many outs, although that has hurt him in one instance. Rather, he's just been too passive:
| | On Second, Single | On First, Single | On First, Double |
| --- | --- | --- | --- |
| Chances | 1 | 2 | 2 |
| Advance | 1 | 0 | 0 |
| Stay | 0 | 2 | 1 |
| Out | 0 | 0 | 1 |
Data via Baseball-Reference
The small samples notwithstanding, Arcia seems to have established a trend: play it safe and don't take the extra base. It probably won't help that on one of the two times he did attempt to move ahead — last week against the Pirates — they made him pay. Nevertheless, someone with Arcia's talents should be able to challenge teams and get away with it more often. He should try to move ahead to third on a single and, when the situation warrants it, score on a double.
In the 2015 BP Annual, Arcia's player blurb noted that he "add[ed] value as a smart baserunner who gets good reads;" later that year, he'd put up a respectable 1.3 baserunning runs in Double A. Since his predecessor at shortstop has done the exact opposite, it would be nice to see Arcia prosper on the basepaths. The legs can carry him pretty far, if the mind knows how to work them.
Make better contact on grounders
At first glance, Arcia's .229 BABIP and .112 ISO seem completely unlucky. According to FanGraphs, he's hit the ball hard 29.2 percent of the time in his short major-league career. That falls a bit short of the 31.5 percent MLB average, but it doesn't support results that terrible. And anecdotally, he's had some unfortunate plays — remember when he lasered a ball to the warning track that David Peralta somehow managed to reel in? Maybe when the Peraltas of the world stop robbing him, his BABIP and ISO will progress.
On balls in the air, Arcia has certainly had some bad breaks. However, that doesn't extend to balls on the ground. Those FanGraphs metrics diverge by batted-ball split:
| Split By Percent (%) | GB Hard (%) | FB Hard  (%) | LD Hard (%) |
| --- | --- | --- | --- |
| Arcia | 17.1% | 38.9% | 44.4% |
| MLB | 20.2% | 39.1% | 44.6% |
By exit velocity, the story doesn't change. 429 players have had at least 50 balls tracked by Statcast this season; of them, Arcia ranks 213th in ground ball velocity (86.5 mph) and 154th in air ball velocity (93.4 mph). Exacerbating the problem, he's put the ball on the ground at an extremely high level, with a 60.3 percent ground ball rate per FG's data. A whole lot of ground balls, plus a whole lot of weak contact on those ground balls, will never end well.
The aforementioned fleet feet will aid Arcia, forcing defenders to make snap throws that won't always succeed. At some point, though, he'll need to support that with solid contact. He's already halfway there, hitting his line drives and fly balls at an average level; until he matches that on ground balls, though, he won't improve his average or slugging percentage.
Swing at pitches in the strike zone
Like his speed, Arcia's aggressiveness will always define him. Befitting the old Brewers mantra, he'll never take many walks, instead hacking away in search of a pitch to hit. Crawford observed last month that Arcia's approach "leads to a lower number of strikeouts;" although he'll swing and miss a good amount of the time, he'll compensate for that by avoiding called strikes.
But he hasn't done that at all. Per BP's PITCHf/x data, Arcia has swung at just 63.0 percent of pitches inside the strike zone. That mediocre clip puts him squarely in the middle of the pack — 197th among 435 hitters with 300+ pitches seen, to be precise. He hasn't laid off bad pitches, either, as he ranks 376th in that sample in O-Swing rate. To this point, he's gone down on strikes in 22.1 percent of his plate appearances, primarily because of that weakness.
Arcia has offered at plenty of inside strikes; it's on the outer ones — and, alarmingly, the ones down the middle — that he's held up: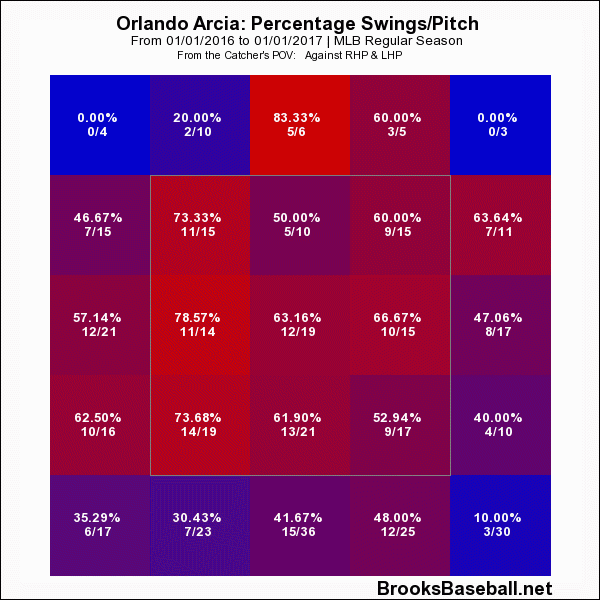 Divide the strike zone into three vertical sections. On the innermost one, Arcia has swung 75.0 percent of the time, which would be great…if he hadn't swung at a mere 60.0 percent of middle pitches and 59.5 percent of outside pitches. As a pull hitter, Arcia may wish to cut more often at the pitches closest to him, but he shouldn't let the backdoor ones go by. While he can chase pitches outside the zone as often as he wants — and as this plot makes clear, he's done just that — he needs to match that with aggression in the zone.
Throughout the tribulations of the season's final month, we all — myself definitely included — should continue to remind ourselves of Arcia's age. Most 22-year-olds won't explode onto the scene like Mike Trout and Bryce Harper did. Arcia has worked on his swing recently, hoping it'll allow him to make the leap. Eventually, he will come along; whenever he does, he'll have superb baserunning, hard grounders, and an all-around aggressive approach to bolster him.
All data as of Thursday, September 1st.