According to ESPN.com, Zach Davies isn't scheduled to make another start. Thus, ends his rookie season.
Davies finished the year with a 4.35 RA9, 3.89 FIP, and 3.95 xFIP. None of these numbers will stand out; in fact, these numbers suggest that Davies had a mundane rookie campaign.
But, Davies has a DRA of 3.56. Better than Junior Guerra, or any other Brewers starting pitcher this season.
When people think of the Brewers' biggest transactions of last year, they often go to the Carlos Gomez deal, which makes sense because it generated multiple prospects. Gomez was also one of the biggest names to be traded at the deadline. But, people often forget the smaller Gerardo Parra for Zach Davies deal. It's likely that it won't turn out to be the trade we'll remember, but, if this season is any indication of what is to come, it will be a vital one.
Davies won't garner any major headlines. He's not going to rack up great strikeout numbers, or throw the ball 100 MPH. In fact, he's got enough trouble hitting 90 MPH. No, what Davies was able to do this year is limit hard contact, while striking out hitters at around a league average rate, producing better than average walk rates, and pitching 163.3 innings. Put that all together, and you have the third best pitcher rookie campaign in Brewers history.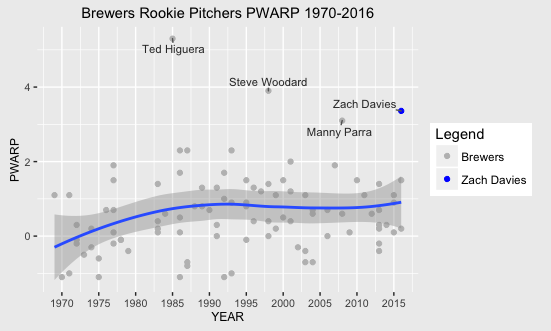 The only Brewers pitchers who produced more PWARP in their rookie seasons were Ted Higuera and Steve Woodard. Higuera produced 5.3 PWARP in his rookie campaign, and spent his entire career with the Brew Crew. Unfortunately, though, his career was cut short due to injuries. Woodard accumulated 3.9 PWARP in his rookie campaign. He only spent 3 seasons with the Brewers before he was traded in a seven-player deal to the Indians.
This year, a lot is being made of Junior Guerra's rookie campaign. This is not unreasonable. Guerra's story is truly incredible, and he deserves a ton of credit for his accomplishment. That said, Davies has been the Brewers "ace" this season, not Guerra.
One of the main reasons Davies is ace is the innings pitched. Guerra only pitched 121.7 innings this season, compared to Davies's 163.3. WARP or WAR, as you know, is a cumulative stat. The more you pitch, and pitch well, the more WARP you are likely to gain. The reason I mention this, and the reason this is important, is because we often forget about the value of pitching productive innings. If a starting pitcher is hurt for any length of time, then another pitcher, one who is usually deemed worse, will have to come and pitch for him. Usually, that pitcher will pitch worse. Being on the field and healthy has a ton of value.
Davies's advantage with DRA mostly comes through the NIP Runs (Not-In-Play Runs), meaning strikeouts, walks, and hit by pitches. Their strikeout rates are literally identical, but Davies has an advantage with walks. The difference isn't huge, but it is enough to give Davies the advantage in that department.
This isn't to denigrate Guerra, but rather to praise Davies's consistent ability to be productive.
Among current rookie pitchers, Davies ranks third and is one of the youngest rookies in the class.
Corey Seager is going to win the 2016 National League Rookie of the Year Award. There's really no question about that, but other rookies are getting consideration and none of them are named Zach Davies.
MLB Trade Rumors ranked the top five rookies of year candidates. At the top was Corey Seager, as he should be, but then followed names such as Trevor Story, Aledmys Diaz, Steven Matz, Kenta Maeda, and Seung-hwan Oh.
Now, I'm not advocating for Davies to win the rookie of the year award. It would seriously bother me if he did, but Davies belongs in the same class as those other players. In the case of Matz and Oh, it's pretty clear that he's been the superior pitcher this year.
On another note, Jon Gray should also be on that list. His ERA isn't pretty at 4.54, but we know that he's been pitching in Coors Field and that that number needs to be adjusted. DRA-based PWARP does that. When you implement context into the equation, Gray comes out ahead of any other pitcher this year. Even Michael Fulmer, who's gotten a ton of attention for AL Rookie of the Year, isn't performing to the heights of Gray.
Again, I'm not suggesting that Gray or Davies deserve the award, just that they deserve more love.
When it comes to Brewers rookies, Davies is having a historical season and its time to take note of that. Guerra is also having a historical rookie season, but that is mainly based on his age; Davies's historical season is based on his performance.