Through the ups and downs of recent years, the Brewers always seemed to have a lot of quality arms out of the bullpen. Sometimes, said arms didn't last too long — remember John Axford? How about Jim Henderson? — but while they're on top of their game, these guys light up Miller Park. Although the Will Smith and Jeremy Jeffress trades robbed the Brewers of two ace (or perhaps quasi-ace) relievers, they might have another one in the making in Jacob Barnes.
If you tuned out the later months of 2016 — which no one would hold against you — you might have missed out on Barnes. After all, he had never made a BP top prospect list, even in a sparse Brewers system. Prior to this year, he had a lifetime ERA of 3.42, without ever tasting the major leagues. Beginning his career in the rotation, he transitioned to the bullpen and didn't fare much better there. With his 26th birthday this April, Barnes didn't seem to have much of a future, if any.
But something changed in 2016. Barnes began the year with Triple-A Colorado Springs, whose home ballpark sits a full 800 feet higher than Coors Field — and plays like it, too. Despite pitching half his games in a bandbox, though, Barnes dominated, soaring to a 1.21 ERA and 2.40 DRA across 22.1 innings. During his brief cup of coffee in the Show, he sustained that success, with a 2.70 ERA and 3.87 DRA in 26.2 frames. And he excelled in terms of peripherals as well, striking out 24.5 percent of his major-league opponents while walking only 5.7 percent. A year ago, Barnes was a nobody; now, he's well on his way to becoming a somebody.
Barnes works with a basic two-pitch mix, composed of a four-seam fastball and slider. The former did pretty well for him in 2016, on the back of its 95.8-mph cheese. The latter, by contrast, really stood apart. Only 14 other pitchers threw a harder slider than Barnes, who averaged 89.3 mph on the offering. Here's the pitch in action against the Pirates' David Freese:
Here's that same pitch again, but slower, and more embarrassing for Freese:
That high velo made the slider a deadly weapon. Its whiff rate was the fourth-highest in the major leagues:
| Rk | Player | Sliders | SL Whiff% |
| --- | --- | --- | --- |
| 1 | Edwin Diaz | 267 | 34.8% |
| 2 | Ken Giles | 529 | 34.2% |
| 3 | Luke Gregerson | 384 | 32.6% |
| 4 | Jacob Barnes | 161 | 29.2% |
| 5 | Jake Barrett | 291 | 28.5% |
All rankings among 296 pitchers with 100+ sliders thrown in 2016.
Diaz is one of the rising stars in all of baseball, and his slider — aided by a teammate — will grant him that fame. Gregerson and Giles, meanwhile, rode their sliders to dominant campaigns out of the Houston bullpen. (Hooray for self-promotion!) Placing on this list, in this kind of company, convincingly makes the case for Barnes's elite slider.
Plus, Barnes got something with his slider that the others in the top five didn't: ground balls. His slider had a grounder rate of 58 percent this season — which slotted him 27th in baseball — whereas none of the other high-whiff sliders broke 50 percent. That combination made the slider a nightmare for opposing hitters, which in turn made Barnes a formidable bullpen presence for the Brewers.
The righty does have some warts. Since Barnes has no offspeed pitch to speak of, he struggled against lefties in 2016, who knocked him around for a .299 TAv. But some pitchers can use their breaking balls to retire all opponents. For an example of this, look no further than Smith; the southpaw ratcheted up his slider usage last year against everyone and became a phenomenal reliever by doing so. Barnes's slider might have a higher ceiling than Smith's, since the former has higher velocity and even more whiffs. Perhaps as he works to hone it, he'll lose the platoon split and blossom further.
It's always dangerous to read deeply into a small sample size, especially for relief pitchers. Axford had two phenomenal seasons, then melted down; Henderson put together one spectacular campaign before falling apart. It's entirely possible that a similar fate could befall Barnes. In the doldrums of the offseason, though, we like to dream big. Why can't the guy with a 94th-percentile whiff rate over 20 innings sustain that over 60 or 70 frames? The limits of the sample notwithstanding, Barnes has displayed elite potential, and he stands a decent shot at fulfilling that potential if he can keep this up.
Heading into the 2017 season, Tyler Thornburg most likely has the inside track on the closer job for Milwaukee, owing to his consistency throughout the 2016 campaign. That shouldn't discourage Barnes, whose unheralded breakout established him as a top-notch reliever. With that slider in tow, and a respectable fastball supporting it, we could be seeing this face…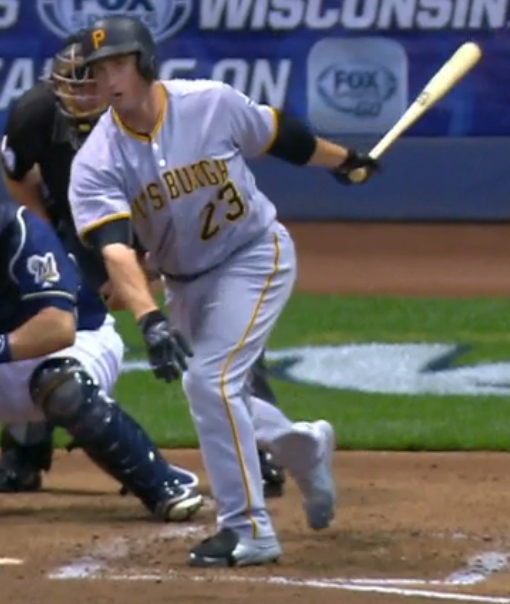 …a lot more often.