For the past few weeks, our esteemed editor in chief, Nicholas Zettel has been covering a number of trades the Brewers have made over the past year. What Zettel is doing, in part, is looking at how this Brewers team has been constructed.
I thought this was an interesting topic, and idea, so decided to tackle it myself, but look at it differently. Zettel is looking at trades, but there are many ways in which players can be acquired.
If we simply look at the 2016 Brewers twelve of the players on that team were acquired through a trade, thirteen were acquired through the draft. In fact, the Brewers got players from many different ways and sources.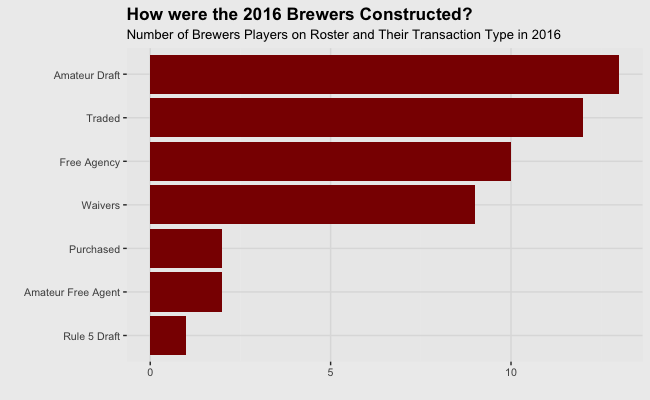 I think the most striking part of this graph isn't that the Brewers mostly constructed their team through the amateur draft, trades, and free agency. These are all common resources for acquiring players. No, the most surprising aspect of this chart is that nine players came from waivers.
Traditionally I don't, and I think most people don't, think of teams being constructed through waiver claims. Usually, general managers get touted or criticized for their great trades, their great drafts, or free agent signings.
I mean, just look at Dave Dombrowski. He's basically made a name for himself through his trades. Other GMs, such as Theo Epstein, get a lot of praise for their draft picks and even their free agent signings. But, you don't often hear of GMs making shrewd waiver claims. At least, you don't often hear it in the main stream. But, as the Brewers proved this past offseason, a team can make shrewd moves in the waiver wire, such as claiming Junior Guerra, Hernan Perez, and Kirk Nieuwenhuis, all of whom had an impact on the 2016 roster. Obviously, a number of waiver claims didn't pan out, and obviously the Brewers were in the perfect position to take chances on these type of players. Therefore, I was interested to see how the Brewers constructed their teams in the past. Did they always consist of these waiver claims, and if not, what were the most common acquisition types?
To do this, I scraped data from baseball reference. An important note to point out is that this is not players that are acquired yearly. This data is the yearly number of Brewers players on a roster and their transaction type. This is not the yearly transactions. For example, in the first chart, Ryan Braun was on the roster and he was acquired via the amateur draft. He is also counted in 2015, 2014, 2013, and so on as an amateur draft data point. Another example: Hernan Perez signed a minor league contract to remain in Milwaukee for 2016, but he is counted as a waiver claim because that is how the Brewers originally acquired him.
First, let's look at the overall values since 1970.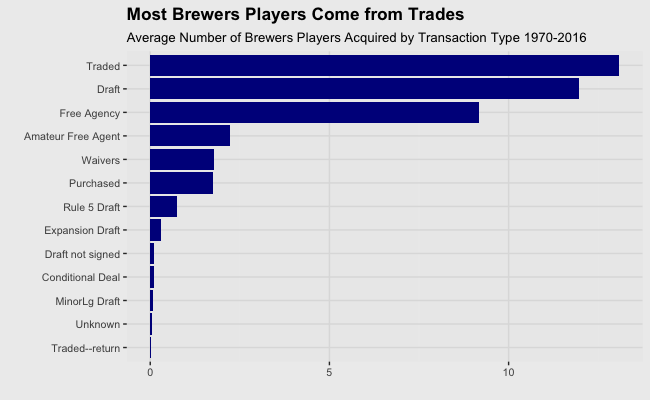 Most Brewers teams are constructed through trades, draft picks, and free agency. That's not a huge surprise. The biggest difference between this chart, and the last one, however, is the waiver claims. In fact, on average, a Brewers team will usually only have around 1.7 players who were acquired from waivers. That's a stark difference from the nine players who played for the Brewers in 2016 who came from waiver claims.
Therefore, I decided to look at how this information was trending.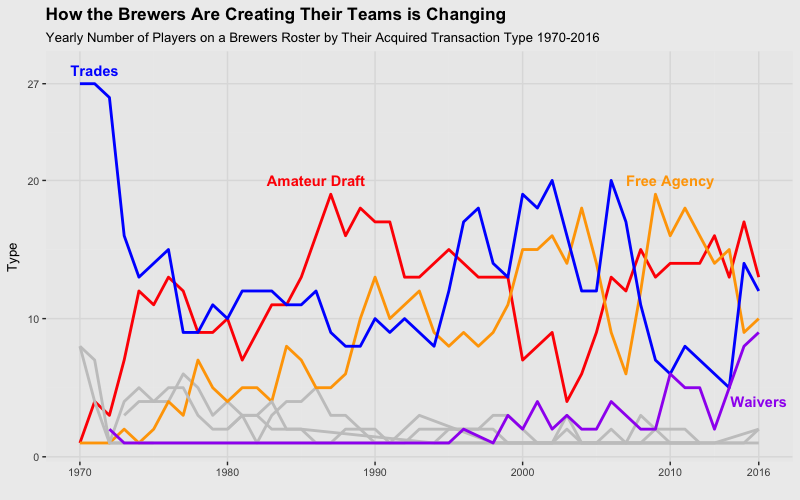 This explains a lot. In 1970 and 1971, the vast majority of the players on the Brewers roster came from trades. More so than any other transaction type. But, as the franchise grew and changed, so has its ways of creating a team.
In the late 80s, and mid-90s, the draft mostly dominated how the Brewers were created, and free agent signings were also on the rise. Waiver claims, however, barely happened, if at all during those times. Instead, they've been more frequent since the start of the 21st century, at least for the Brewers, and there's been a drastic uptick over the past few years.
I think, in part, this is due to the rebuild, and the new approach of GM David Stearns. Stearns, over the 2015-2016 offseason, made a number of shrewd and calculated player acquisition moves. He focused on getting players that are of very low risk but that could end up being high-reward.
Some of these acquisitions were obviously made through trades and low-risk signings, but a number of them were also made through waiver claims.
But, Stearns has only been in office for one season, and the four categories have been converging on each other for a few years now. Mainly, it seems that the Brewers are becoming more diverse in how they are creating their teams. Not just relying on trades or the draft.
This is important because it means that they are becoming more open and creative in their team constructing.
Building a team, and a good one, is obviously a challenging endeavor. There are many ways to do it, but if a team is only looking at one way of acquiring players, then that can be problematic. It means that you can become too dependent on a specific strategy, and less open to ulterior ways of accumulating good assets. Waiver claims, and other lesser known forms of player acquisition, usually aren't all that sexy. They are not very popular, and most of the time we don't even know the players that are being picked. But, these are good low risks to take for teams.