After being drafted by the Milwaukee Brewers in the second round in June 2016, third baseman Lucas Erceg made quite a first impression. He joined the Helena Brewers on June 19th and managed to only stick around for a month due to the fact he slashed .400/.452/.552 with eight doubles, two home runs, and 22 RBI in 26 games. His next stop was the Class-A Wisconsin Timber Rattlers, where he continued his first successful season as a professional baseball player. In Appleton, Erceg hit .281/.328/.497 with nine doubles, three triples, seven home runs and 29 RBI in 42 games. And fortunately for me, I was able to catch one of his games in Beloit, where he hit a game-tying, opposite field, three-run home run in the 9th inning. All-in-all, the 46th overall pick finished the year hitting .327/.376/.518 in 68 total games.
Heading into the 2017 season, the California native has been ranked the 8th best prospect in a loaded Brewers farm system according to Baseball Prospectus. I had the pleasure of speaking with him as he reflected on his 2016 season, discussed his offseason preparations, and touched on his goals for 2017.
I spoke to Erceg over the phone, as he was in Santa Clara visiting his old Menlo College team. Due to the extreme rainfall in the area, their stadium is completely underwater. He recently returned from Arizona, where many Brewers first-year prospects had spent a week with members of the organization.
"They were basically just checking up on me and 20-25 other guys to see how we have been doing. As soon as we got there, we immediately started off with FMS testing – which I believe is function, mobility, stability type of stuff. They wanted to see our range of motion, see how flexible we are, see what types of workouts we have been doing. We also did some body composition tests to see what our body fat percentage is."
Prior to his trip to Arizona, Erceg had been enjoying his offseason.
"My offseason has been going great. It has been the longest period of time I have taken off of baseball so far. Still trying to get into the rhythm of figuring out what my schedule is. For the most part, I have been getting after it in the weight room. The Brewers told me to gain a little bit of weight, but stay lean. I have been working out in the weight room and been trying to take as much time out of the day to get out to the field or go to the batting cages to keep up with my routine, because I am always one to work as hard as I can."
According to Erceg's MiLB page, he stands at 6-foot-3 and weighs 200 pounds. However, Erceg mentioned to me he was down to 195 pounds or so towards the end of the season. "I have been eating nothing but gains – trying to fork down as much chicken, rice, and vegetables as possible. I have really been focusing on trying to eat the right things and staying away from the late night McDonald's runs." If you take a look at the 21-year-old, you can see there is a lot of room to add to his wiry frame. "I told them at the end of instructional league that I wanted to get to 210, maybe 215 – just to put on some muscle. But they told me don't worry about gaining as much weight as possible. Just try to get stronger and keep your body fat percentage down."
If it weren't for Erceg's lack of at-bats, his .497 slugging percentage would have placed him second in the Midwest League behind Eloy Jimenez. Prior to his first professional season, the third baseman showcased his power in college as well. He ranked second in the Pac-12 in home runs (11) and eighth in slugging percentage (.502) during his sophomore season at Cal. During his final college season at Menlo College, he hit 20 home runs in 56 games and sported a .639 slugging percentage. And like I mentioned earlier and in the video you can watch above, I was able to witness a pretty effortless three-run homerun in person off of his bat. If Erceg can put on 10 to 15 pounds of muscle, watch out.
"Everyone growing up asked me, "How do you hit the ball so far? How are you so good at hitting? You are so skinny". Growing up, I never really touched a weight. I just worried about playing and trying to get better at the game of baseball, instead of worrying about how big I am. This offseason was definitely more of a step back from the game and work on actually trying to get bigger – but at the same time trying to improve my game."
Outside of mainly focusing on gaining a few more pounds this offseason, the Menlo College product has been working on all parts of his game. He mentioned to me that he that his flexibility has been an issue for him in the past and that he has made an effort to improve in that area, especially his hip flexors. On top of that, Erceg has been working on staying below the ball when fielding ground balls.
Even after a fantastic 2016, there are still many areas to improve on when it comes to his game. 44 percent of his balls in play last year were hit on the ground and were primarily pulled to the right side of the field.
"I saw those stats and said to myself, 'What am I thinking at the plate?' I know every successful hitter in [the MLB] always has the approach to hit the fastball the other way and just reacting at off speed. For the most part, that has been my approach at the plate. But after this first offseason, I have kind of shied away from pulling the ball. My last season in college I got nothing but off speed, so I ended up pulling most of the balls that I hit. Coming into this season, I am really going to try to work on hitting the ball the other way with power. At the same time, if a pitch happens to be in, I can use my leverage and hit the ball out to right.  I think a lot of it has to do with my mentality at the plate. I do tend to get pull-happy, especially when I am doing well. If I am able to stick to my approach to hit the ball the other way, I think that will help me out in the long run."
While Erceg hit 44 percent of his balls on the ground last year, he hit another 35 percent as fly balls and 20 percent for line drives. If you were to compare his LD%/GB%/FB% to some Major League players from last season, his numbers match up with Jason Heyward, Kevin Pillar, Stephen Piscotty, and Maikel Franco. While that may not be the greatest collection of offensive talent you have ever seen, there is still plenty of room for improvement for the Brewers second round draft pick. Erceg just needs to find a way to elevate the ball more often, spray it to all parts of the field, and keep from rolling over pitches. I believe if he can make those adjustments, he could be a serious offensive threat.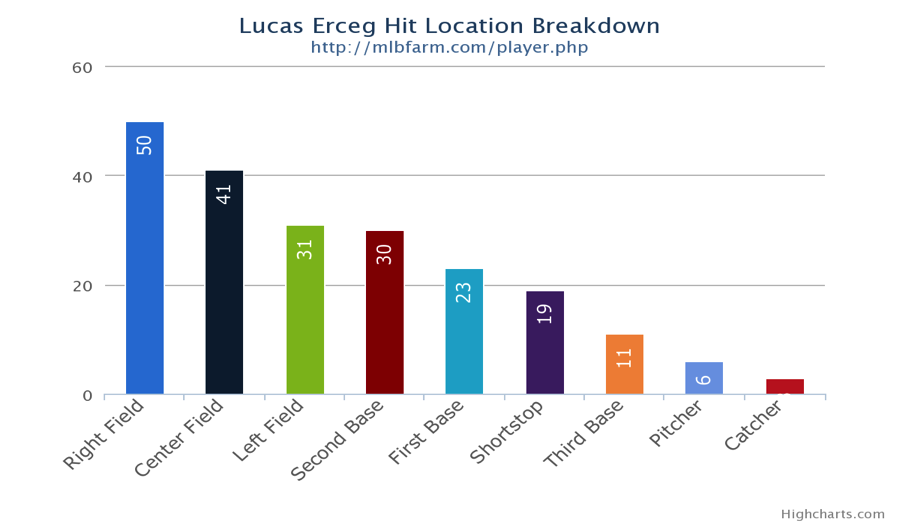 As for the 21-year-old's personality, I noticed that he was a people's person right away when I watched him on the field last season. On the field, Erceg would be chatting with everyone – the pitcher, the shortstop, the third base coach, the runners on third base, you name it. The third baseman was always trying to spark up a conversation.
"I love talking to people. When I am playing, I am trying to separate myself from the game. If that's talking to the 3rd base coach, or my shortstop, or anybody on the field, that is going to help me forget about my prior at-bat. It helps me get focused on doing what I have to do on the field to do all of the right things. I always try to have as much fun as possible when I am on the field."
I reached out to Jake McKinley, Erceg's former head coach at Menlo College, and got the chance to learn even more about Erceg as a player and as a person.
"I think on the field, I would say his strongest quality is being a very adaptable player. Regardless of the circumstance, he was always going to be ready to go. I think that is a tough thing for an amateur player to do. Really, just to have the maturity to play the game pitch to pitch and be present on that pitch – it was just something about him."
McKinley also went onto say that the former Cal player was always able to clear his head each and every at-bat – one of the main reasons why the third baseman saw so much success at Menlo. He continued on to say that Erceg is even a better person off the field, someone who was just a "nice, humble, welcoming, and inviting human being".
I asked the fourth year head coach about what Erceg could improve on as well.
"I think when he was playing for us, it was a circus at times. We would have as many as 50 scouts at a game, as many as 20 at a practice. I think inevitably there  are some distractions there and he handled himself so well. But at the same time, I think naturally a guy like him might put some pressure on himself to perform, might put some pressure on himself to get to the big leagues as soon as possible. While I think that is fine, I always had to remind Lucas like, 'Hey man, don't   forget to go out there and see how much fun you can have. Don't forget to keep the pleasure greater than the pressure.'"
The initial impression that everyone has developed on Erceg after his first professional season is that he is a lean, power-hitting third baseman. However, I was surprised after Erceg shared a story with me regarding him and Brewers' Vice President of Amateur Scouting Ray Montgomery. Erceg stated to Montgomery that he wanted to hit 20 home runs this upcoming season. Montgomery replied back that if Erceg can hit 20 home runs and steal 20 bases, he will buy him a steak dinner. Nothing better than giving one of your up-and-coming prospects a little bit of incentive. With that being said, not many scouts and experts foresee the third baseman having any base stealing abilities. McKinley thought otherwise:
"I always thought that [baserunning] was one of his strengths, because he's got a great feel for the game. Speed wise, on a big league scale, I would say he is a pretty average runner – maybe slightly above. But he has long strides and can get to full speed pretty fast. I actually think he could be a base stealing threat this summer and hopefully when he makes it to the big leagues. He is really good when it relates to reading a pitcher and identifying tendencies and exposing them. I actually think that is an underrated part about him. He is a great baserunner."
Erceg did steal eight bases in 26 games with Helena, but was only successful on one of four attempts with the Timber Rattlers. I would be surprised to see the 21-year-old steal double-digit bags, but maybe there is something we just don't see yet. If stealing bags is something he can add to his arsenal, we may see him as one of the better prospects in the league.
In the limited time I saw Erceg in person while he played for Timber Rattlers this past season, I did notice he seemed a bit aggressive at the plate. After striking out 13.9 percent of the time in Helena, his strikeout rate spiked to 21.1 percent in Appleton. He was first pitch hacking and would chase some pitches out of the zone. While it didn't necessarily hamper his offensive production, this is an aspect Erceg needs to address this upcoming season. This was also a part of the game that McKinley saw as something he could improve on.
"There were a lot of times he would get up there and swing first and maybe chase a pitch that was more of a pitcher's pitch – as opposed to a pitch he could drive. Now it looks like in pro ball, maybe he addressed that a little bit. It is tough for me to say. But when I coached him, I would say – patience at the plate and understand who you are. He is a guy who can change the course of the game with just one swing of the bat and the opponents know that. In a lot of cases, they aren't going to go right at him. They are going to try to pitch around him and induce a chase. I think he needs to be aware of that."
It sounds as if Erceg will be working and training with his former coach and Menlo College teammates prior to him arriving at Spring Training in mid-February. McKinley mentioned to me that he reached out to his former player to see if he wanted to prepare for the upcoming season just like he did last year and figured it would help him get a routine going. He even pointed out that Erceg has had a wonderful impact on the younger kids on the team and that he has been coaching them up a little bit – unprovoked by the Menlo coaching staff.
2017 will be a pivotal year for the left-handed hitter. While no one is exactly sure where he will start the season, this will be his first full season as a professional. We will be able to get more of a feel for his potential and whether or not he can add to his frame, hit for more power, or maybe even steal a few more bases. There are certainly adjustments Erceg will need to make as he moves through the ranks, but after speaking with him and his college coach, I am pretty confident he will be working as hard as possible to make an impact on the organization.