After going undrafted out of high school, RHP Corbin Burnes had a long way to go to fulfill his dreams of playing professional baseball. He was undersized and underdeveloped, but was given a chance to continue playing and starting at St. Mary's College of California.
Burnes, along with first year head coach Eric Valenzuela, struggled out of the gate in their first season at St. Mary's together in 2014. The right-hander went 0-4 in 19 appearances (five starts) with 21 walks and a 6.18 ERA in 43.2 innings pitched. On top of that, the team limped to a 16-39 record. "We threw him into the fire early", Valenzuela stated. However, just the following season, the Gaels (St. Mary's mascot) finished above .500 with a 28-27 record. Burnes led the team in innings pitched (89) and boasted a 3.74 ERA with 91 strikeouts and a diminished walk rate.
Just this past season, Burnes, Valenzuela, and the Gaels went on to win their first ever conference championship, going 33-25 during the regular season. Burnes led the team in starts (16), wins (9), complete games (3), ERA (2.48), strikeouts (120), and batting average against (.212). It was a huge season for the Bakersfield native and certainly put him on the map for Major League ball clubs.
"He [Burnes] came in my first year here as the head coach and in three years, we were able to go from 16 wins, to 28 wins, to winning the conference in Year 3 for the first time in school history. Corbin was a big part of that. Watching him get better on the mound each year showed the type of guy he was and he really proved his stuff. I would say his work ethic, both on and off the field, is probably his number one quality and his ability to improve and adapt."
After speaking with Valenzuela, I was able to learn more about who Burnes was a person and as a player. St. Mary's coach described him as a "very good student, great grades, never any problems off the field – it was all about business." He also continued to point out the righty's fantastic work ethic and drive. However, after asking Valenzuela what might be something Burnes could improve on to fulfill his potential, his "all-out" personality was something that hampered him at times.
"I would say the biggest thing for him is that he is so competitive. Pitching is a little different. He pitches like he is a middle linebacker. It is energy. It is intensity. It is 'Full Metal Jacket' with him when he is on the mound, and I think at times he goes a little too fast. He goes a little too hard and sometimes with pitching, you have to take a step back and take a deep breath and regroup a bit. I think the biggest thing for him, and he knows this, is just to slow it down a bit, not get too excited, and not to overthrow."
When I spoke to Burnes about this topic, he sided with his former coach. The right-hander mentioned to me that growing up he was not much of a pitcher, but more of a middle infielder. He didn't really begin to seriously pursue pitching until his senior year of high school. With that being said, Burnes still had a lot to learn about becoming a pitcher.
"Since being here with Coach Valenzuela, I have learned you can't just get on the mound and start throwing as hard as you can, because mechanically you aren't going to be there and the ball will be all over the place. The fastball, I can amp up on it when I need to, it's there. But like you said, when I get into trouble is when I am trying to throw the fastball 100 MPH and trying to put it by guys, when maybe I should be trying to tone it back, hit spots, stay under control, and not fly open. The main thing for me is staying mechanically sound, staying on top of the baseball, and staying in control."
While the 22-year-old may occasionally struggle with being overly amped, he was a very good pitcher his sophomore year of college, a fantastic pitcher his junior year, and in limited time, pitched very well during his first season of professional ball as well. Between rookie ball and his time with the Timber Rattlers, Burnes finished the season with a 2.02 ERA and 41 strikeouts in 35.2 innings pitched. Opposing batters hit a miniscule .185 against him. He also faced eight hitters that were ranked in the top-30 within their organization. Those hitters went 1-for-16 with zero extra base hits, zero walks, and four strikeouts.
The only minor negative during his first season was his starter-reliever splits. While toggling around his splits, I saw a major difference in his numbers when he started and when he came out of the bullpen. As a reliever, Burnes was lights out. In 13 innings, he allowed four hits, zero runs, three walks, and struck out 16. But as a starter, he posted a 4.02 ERA in 15.2 innings pitched, while also walking 13. Albeit a small sample size, I had to ask him about these splits. Burnes didn't seem too worried.
"I think that was more coincidence than anything. It just happened to be that every time I started, it happened to be a day that I was mechanically off. If you go back and look at all the stats that I had through college, most of it came as a starter. I am definitely more comfortable in a starting role, but whatever the Brewers have planned for me, I am going to follow it. I think that the stats in Wisconsin were just more coincidence than anything."
Before being drafted by the Brewers in the fourth round this past season, Burnes was grabbing the attention of front office members and scouts with his mid-90's fastball and plus breaking ball. When I asked him about his pitching repertoire, he talked about his fastball and curveball, but also his slider and changeup.
"During the first couple of weeks of college, my coach [Eric Valenzuela], we started to mess with a slider. That actually developed as a good pitch for me and I threw the slider more than the curveball. We felt like it was the better pitch. And the biggest thing that was really key for me to get to that next level was my changeup. Coming out of high school with just two pitches, you can get away with pumping fastballs by guys. But when you get to college, you have to learn to change speeds. Going from freshman year, to sophomore year, to eventually last year, my changeup has made huge strides. I think has helped me quite a bit to get me on the radar and to get drafted. Even taking it to pro ball, it wasn't as crisp as I would have liked, but it has been one of the pitches I have been working on the most. I think that will be the biggest step for me – throwing a good changeup."
As Burnes pointed out, it seems as if he has gone back and forth with his slider and curveball when it comes to comfort and confidence. He expressed that during college he felt more comfortable with his slider, but that when he joined the Brewers' organization, his slider didn't feel as crisp and that he began to use his curveball more as an out-pitch. And went it came to left-handed hitters, Burnes enjoyed utilizing his changeup to set them down. The fourth rounder said that going forward, he will continue to improve upon those pitches and have more options when it comes to an out-pitch.
Taking another look at Burnes' first professional season, another interesting thing that stuck out to me was the amount of groundballs he produced. When looking at his batted ball breakdown, more than 64 percent of those balls in play were hit on the ground. For comparisons sake, no qualified starter in Major League Baseball had a higher number (Marcus Stroman led the league at 60.1 percent). When incorporating relievers with more than 50 innings pitched, only Zach Britton, Blake Treinen, Sam Dyson, and Clayton Richard came in at a higher rate than the St. Mary's product.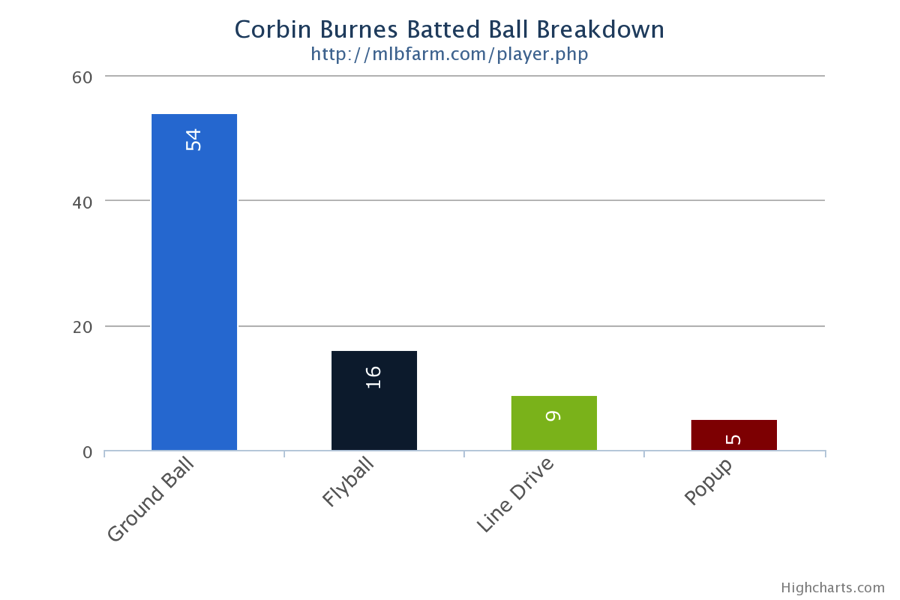 This offseason when Burnes isn't teeing off and enjoying the beautiful golf weather in sunny California, he has continued to work extremely hard in the weight room and on the field. I asked him what his goals and expectations were coming into this upcoming season.
"I am not necessarily a result-oriented guy. For me, it's more of just putting in the work. I have put in a lot of work this offseason to get my body into the shape I want it to be and my arm to be as strong as it can be so I can be durable. For me, it's just going out and working hard everyday – getting on the field and showing what I have and giving 100 percent effort. I think for me to be able to get through this system is just going to be gaining command of the strike zone. Where I get in trouble is when I start walking guys and putting guys on base, so for me it is just getting the ball in the strike zone and everything else will fall into place."
The 6-foot-3 right-hander will be reporting with the organization come mid-February. After showcasing his talents his sophomore and junior of college, as well as his first half-season as a professional, the sky is the limit when it comes to his potential. With his dominating fastball and four-pitch repertoire, he certainly has the capability of becoming a Major League starter in the coming years. All it will take is some repetition and a better command of the zone. Keep your eyes on Corbin Burnes in 2017.