Last season, Jonathan Villar led the Brewers in fun. His electric offensive performance, his league-leading 62 stolen bases, and yes, even his occasional mind-numbing base running errors did much to elevate an 89-loss team into the realm of watchability. On a more practical note, he also led the team with 4.8 WARP and 79 bases on balls, offsetting his 174 strikeouts (which ranked second only to K-machine Chris Carter).
Related Reading:
Should the Brewers Trade Jonathan Villar?
Jonathan Villar and Creating Luck
Much has been made of Villar's 2017 outlook and whether his numbers in the year ahead can match the gaudy ones he posted in his inaugural Brewers campaign. Statistical models and old-school prognosticators alike forecast a heavy dose of regression. Baseball Prospectus tabs Villar for a .250 TAv and 1.7 WARP, for example. There are plenty of reasons to believe in those numbers. Villar ran a lofty .372 BABIP in 2016, and flashed hitherto-unseen plate discipline and power. Then again, Villar is still a young player in the midst of his development. He has the speed and batted-ball profile to sustain an elevated BABIP. Most intriguingly, the switch-hitting Villar adjusted his right-handed stance and approach and blossomed into an elite power hitter from that side of the plate.
In 191 plate appearances as a right-handed hitter, all of them coming against southpaws, Villar slashed a potent .309/.385/.545. To put that into context, Villar-the-righty hit for more power than Ryan Braun-the-slugger (.305/.365/.538). Twenty-three of Villar's right-handed hits fell for extra bases, including eight of his 19 home runs. He ran a lower K-rate than Villar-the-lefty, and paired that with a higher BB percentage. Villar-the-lefty was still a nifty player, batting .276 with a .786 OPS. But Villar-the-righty was a superstar.
The key to success: Villar adjusted his batting stance from the right side of the plate in 2016. Here's a look at his right-handed swing as a member of the 2015 Astros: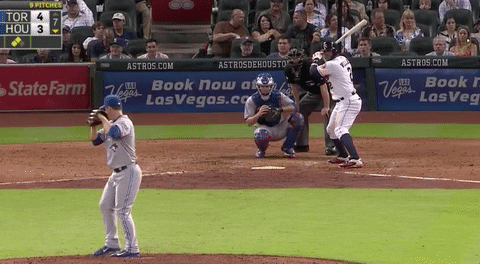 Note the left foot. He starts semi-open, with his front foot slightly down the third-base line. As the pitcher fires, Villar takes one stride, plants his foot, and closes his stance into an anticipatory crouch.
Now look how he set up last year for the Brewers:
That's a rocket of a home run against Madison Bumgarner on opening day. And check out the left foot again. Villar's setup is much more open at the start of the sequence. As Bumgarner rears back, Villar takes a small stride (it almost looks like a stutter-step), then closes up into his usual stance just as the ball leaves the pitcher's hand.
There could be several reasons for this. For starters, a wider stance allows Villar to lock both eyes on the pitcher head on, with less intrusion on his peripheral vision from his shoulder or shirtsleeve. It may also function as a timing mechanism. For example, the additional stride could help Villar better repeat his swing mechanics.
Intriguingly, Villar didn't just tinker with his right-handed stance in 2016. In a January article for Fangraphs, Eno Sarris pointed out that opposing pitchers threw Villar-the-righty far fewer pitches on the inner half of the plate than they did a year ago. At the same time, Villar-the-lefty was jammed inside more than ever. To compensate for this, Villar adopted a more open stance from the left side, simultaneously backing away from the plate to reduce the temptation of the outside pitch.
From a pitcher's standpoint, this kind of approach makes a lot of sense. Villar generates more loft and power from the right side. His 1.11 GB/FB ratio as a righty far outstrips his 3.08 mark as a lefty. By pitching Villar-the-righty outside, opponents hope to neutralize Villar's ability to pull the ball into the left field power alley. In order to repeat his 2016 success against southpaws, Villar must be unafraid of taking the ball to the opposite field.
Late last season, Villar found himself in hot pursuit of history. He was vying to become the first big-leaguer to hit 20 home runs and steal 60 bases in the same season since Rickey Henderson in 1990. At the time, the second-baseman downplayed his power, focusing instead on reaching base and using his speed to spark big innings.
Speed and power rarely coexist in the same player, and when they do, their period of overlap is generally a brief one. Players tend to grow into power as they mature, losing some zip on the base paths along the way. Albert Pujols, of all people, swiped 16 bags as recently as 2009. Nobody should expect Villar to ever blast 40 home runs in one season. But as he grows older and loses a step, he may come to appreciate the power potential in his right-handed swing. As it stands, Villar has rarely batted against the platoon advantage in his career. He's mustered all of six plate appearances as a righty facing a righty, drawing one walk and collecting one hit. That one hit was a three-run blast off R.A. Dickey back in 2014: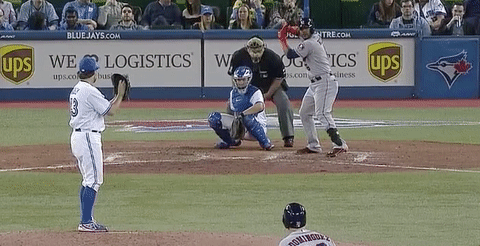 If Villar carries last year's adjustments into the 2017 campaign, he'll be well-positioned to make another run at the elusive 20-60 club. That'll be fun to watch. But he may be even more fun to watch by the time he slows down a little. If Villar embraces his raw right-handed power and learns to square up righties as a right-handed batter, he could emerge as the premiere slugger of the next contending Brewers team. A 20-60 year in 2017 might just pave the way to a 30-30 showing in 2019 or 2020. Don't adjust that dial.