In recent years, we have become more appreciative of the value of defense. There has been an influx of defensive statistics that have been able (to some extent) to quantify the value of a player and a team in the field. Even for those who scoff at advanced defensive statistics, most could judge by the eye-test that the Chicago Cubs and Kansas City Royals have had elite defenses the past two seasons (who also happen to be the most recent World Series Champions).
The Brewers have been a relatively poor defensive ball club since 2010. Below, you will see a table of where the Brewers have ranked in defensive efficiency since 2010, from Baseball Prospectus:
  

Year

 Defensive

Efficiency

  

Rank

2016
.700
20th
2015
.696
25th
2014
.711
10th
2013
.714
6th
2012
.687
29th
2011
.712
13th
2010
.692
29th
Outside of the 2013 and 2014 seasons, where the Brewers' defense was carried by the likes of Carlos Gomez, Jonathan Lucroy, and Jean Segura, they have never really been know for their prowess in the field.
There is hope for 2017 and beyond, however. Looking at this upcoming season, the Brewers have positioned themselves to be a much better defensive team. The recently acquired Jett Bandy, as well as Andrew Susac and Manny Pina, all should rank as above-average defensive players behind home plate. Travis Shaw, who will be replacing Jonathan Villar at third base, should provide a major defensive upgrade at that position. The transition of Villar to second base, who will overtake Scooter Gennett in that role, should also provide yet another defensive upgrade. Eric Thames certainly comes in as a huge question mark, but can he be much worse than Chris Carter? Plenty of positive signs in the infield.
I will now turn my attention to the outfield. Statcast has released their "https://baseballsavant.mlb.com/catch_probability_leaderboard">Catch Probability Leaderboard," where one will find where outfielders rank in catch probability. Statcast defines this as the "likelihood an outfield catch is made based on opportunity time and distance needed". The leaderboard provides a breakdown ranking each outfield catch opportunity. A five-star opportunity is when the catch percentage is between 0-25 percent, four-star between 26-50 percent, three-star between 51-75 percent, two-star between 76-90 percent, and one-star between 91-95 percent. Let's take a look at the Brewers starting outfielders and their Catch Probability metric.
---
In 75 games and 511 innings in center field, Keon Broxton showed that he could be (and possibly is) an elite-level center fielder. Broxton, a 3rd round pick by the Arizona Diamondbacks back in 2009, was finally able to showcase his talents at the Major League level last season. Acquired in the Jason Rogers trade in December 2015, Broxton not only impressed in the field, but also with an elite-level exit velocity as well. As most Brewers fans are well aware by now, the age-27 centerfielder certainly has the potential to breakout this year and become a superstar.
| | | | | | |
| --- | --- | --- | --- | --- | --- |
|   | 5-Star | 4-Star | 3-Star | 2-Star | 1-Star |
| Catch % | 33.3% | 66.7% | 83.3% | 100% | 96.4% |
| Catch/Opp | 3/9 | 4/6 | 5/6 | 7/7 | 27/28 |
| Rank | 3rd | 10th | 19th | T-1st | 12th |
There may be quite a few questions with at the plate, such as the highest strikeout percentage in Major League Baseball among batters with 240 PA, but there is no doubt regarding Broxton's skill in the field. In the graph above, you can see that Broxton flashed the glove in 2016. No one else in baseball had three or more five-star catches with fewer than ten opportunities.
<a href="
In the video above, I am not entirely sure if this is considered a five-star catch due to Statcast, but I believe it must be up there. You probably watched the video and thought it wasn't that impressive – certainly not as impressive robbing Anthony Rizzo's homerun (we will get to that in a second). However, take a second look at the video. Off the bat, Ivan De Jesus Jr. (now a member of the Brewers) has to be feeling good about that stroke. He roped it and should have been extra bases. Not so fast! I realize Broxton was shifted towards the right-center field gap, but look at the ground he covered. Look at his long legs, the strides he takes, and the speed. People tend to believe that a great fielder makes the flashy plays. Bad fielders can make bad reads and make a diving catch. That does not mean they are a good fielder. The great fielders are the ones that make catches like this one look easy.
As for the Rizzo catch, my understanding is that the new Catch Probability tool from Statcast does not capture the excellence of that grab. Catch probability is determined by the hang time of the ball and where it landed. Rizzo's shot to left-center was in the air for an hour or so. With that being said, if a wall was not there, that catch is made more than half the time. But there was a wall there, and it was an incredible catch! Unfortunately, Statcast's Catch Probability does not capture "at the wall" moments and the difficulty of those plays. That is one of the current knocks against this tool. And in Broxton's case, he made many great plays throughout the season at the wall, many that did not qualify as an extraordinary catch.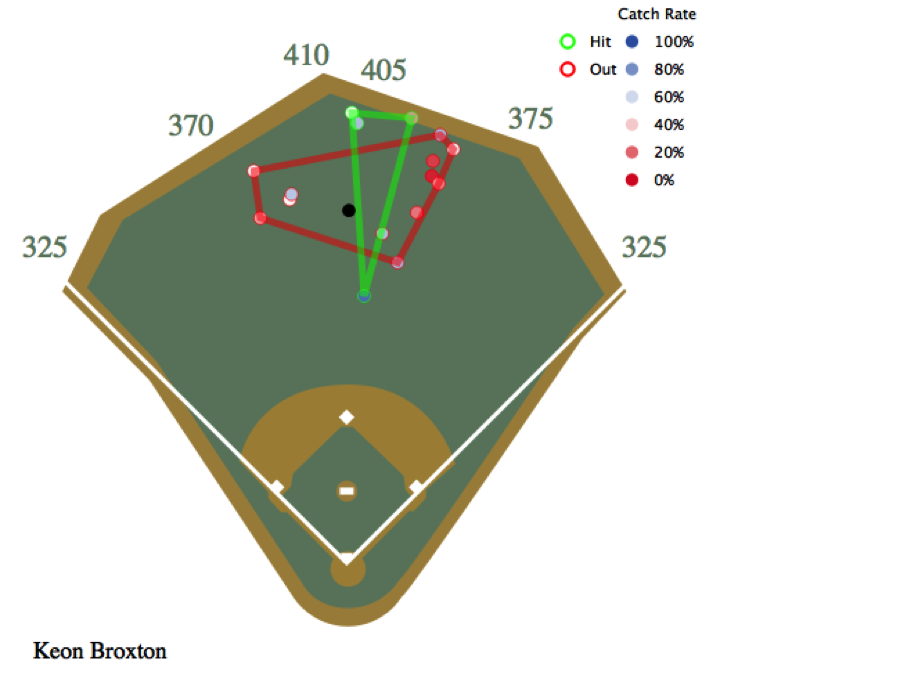 The picture above shows two different things. In the red is the area in which Broxton made a catch with a catch rate of 75 percent or less. In the green is the area in which a base hit dropped that had a catch rate greater than 25 percent. It may be hard to get a grasp on what is supposed to look good or bad initially, but Broxton shows some serious range and makes numerous difficult outs to his left and his right.
Brewers fans are aware of the skill Broxton displays roaming the field. His long legs, stride, and speed help him turn tough catches into routine ones. Even if he regresses at the plate, he will almost always provide plenty of value in center field.
---
Ryan Braun began his career as a third baseman, but that experiment ended quickly. He finished the year with negative-32 defensive runs saved, which is the worst ever for a third baseman since that statistic has been measured since 2003.
| | | | | | |
| --- | --- | --- | --- | --- | --- |
|   | 5-Star | 4-Star | 3-Star | 2-Star | 1-Star |
| Catch % | 4.3% | 31.3% | 53.3% | 69.2% | 85.7% |
| Catch/Opp | 1/23 | 5/16 | 8/15 | 9/13 | 30/35 |
| Rank | 58th | 70th | 84th | T-97th | T-94th |
While Braun has certainly taken some flack over the years for his defense in the outfield, defensive metrics show that he has been just a notch below average in left field. With the production at the plate he has provided over the years, Braun's inability to play above-average defense in the outfield has not been much of a hindrance.
Looking at Braun's Catch Probability numbers, they are not great. Out of the 108 players that qualified with at least 50 opportunities, Braun ranked towards the bottom in every benchmark. The only area in which he looks decent is the five-star category, in which he finished in 58th place. However, 34 qualified players also finished with zero five-star catches, a tie for 72nd place, so Braun's ranking in the fifties is not all that impressive.
For the sake of comparison, Braun converted on 14 of his 54 (26 percent) opportunities that were three-star or greater. Broxton converted on 12 of his 21 (57 percent) of the exact same opportunities.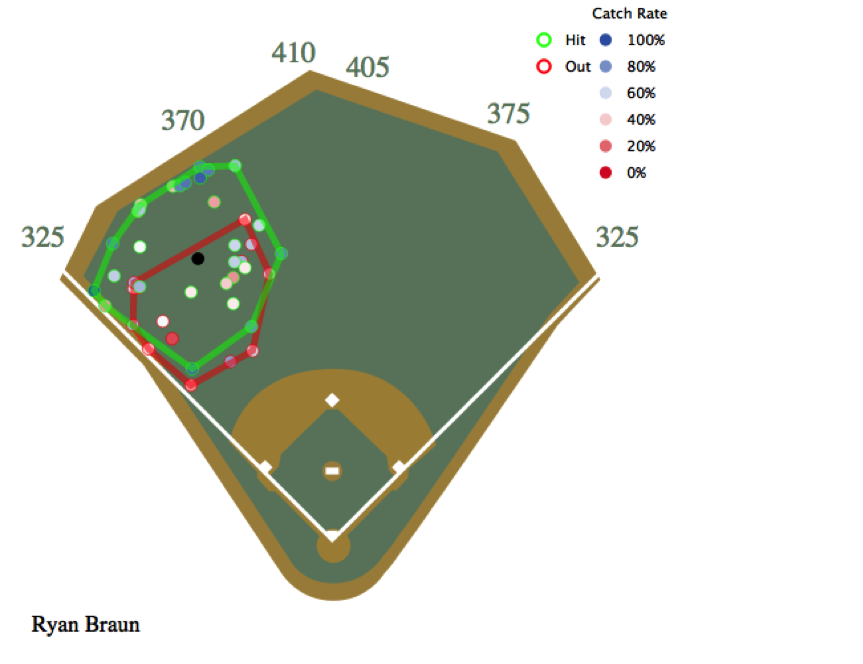 While a majority of those circles dropped in for hits, Braun managed to make a few decent plays that were in front of him. Forget about anything that was hit behind Braun, it was dropping in for a hit.
Take a look at the left-center field gap, where there is a large collection of blue circles. Those base hits, presumably doubles, had a catch rate of at least 80 percent that Braun could not field. On top of that, Braun did not make any catches behind him with a catch rate greater than 25 percent. That is certainly problematic.
---
Now if you thought Braun was a bad fielder, hold your horses. Among qualifying outfielders, Domingo Santana finishes at the bottom in almost every category. He did not make a single five-star catch, converted on very few four and three-star catches, actually performed "decently" with two-star chances, and brought up the rear in the easiest catches of them all. Santana was a very poor outfielder in 2016.
| | | | | | |
| --- | --- | --- | --- | --- | --- |
|   | 5-Star | 4-Star | 3-Star | 2-Star | 1-Star |
| Catch % | 0 % | 18.2 % | 33.3% | 88.9% | 75.0% |
| Catch/Opp | 0/19 | 2/11 | 2/6 | 8/9 | 15/20 |
| Rank | T-72nd | T-92nd | T-107th | T-40th | T-106th |
Last season while Santana was rehabbing with the Timber Rattlers, I went and caught a game in Beloit, Wisconsin, against the Snappers. My intent was to watch Trent Clark, Isan Diaz, and Lucas Erceg play, but was delightfully reminded that Santana would be in attendance as well. Anyways, there was a ball hit to him in right field in the ninth inning of the game. Santana took two or three steps backwards when he finally realized the ball was going to land in front of him. It was a brutal read and the ball dropped right in front of him. Judging by these numbers, this must be something that happens more than once.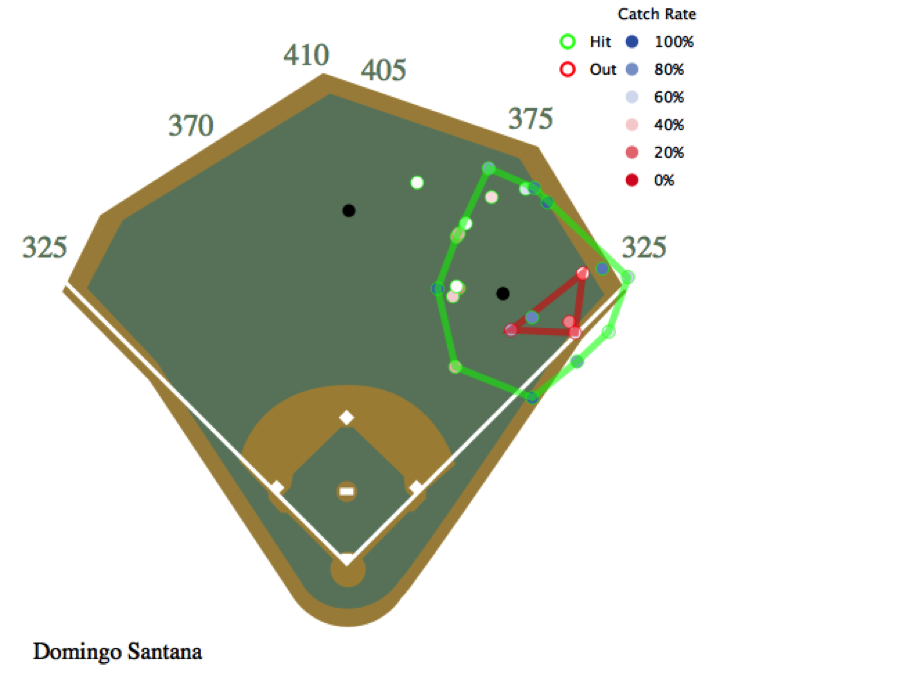 Remember Broxton's range? Take a gander at Santana's range. This picture is pretty difficult to look at. The tiny triangle of red you see is the ground Santana covered last season. Everything else dropped in for a hit. Just like Braun, Santana has some serious concerns covering the gap towards center field. Everything dropped in for a hit.
---
Speaking of the lack ground covered in the gaps, I decided to pull some information on the amount of doubles and triples allowed by a team over the past seven seasons:
Year
Doubles &
Triples Allowed
Rank
2016
329
24th
2015
320
T-20th
2014
271
8th
2013
232
1st
2012
321
22nd
2011
291
10th
2010
352
29th
Oh, Carlos Gomez; Check out 2013, when the Brewers allowed the fewest doubles and triples that season. I realize that some of this has to do with who is on the mound, but there is some correlation when it comes to the defensive abilities of the outfielders. In 2013, defensive metrics credit Gomez with one of the top-five performances in center field this past decade. He was lights out.
If you have ten minutes of your day to spare, just get onto YouTube and search "carlos gomez catch 2013". Endless videos of incredible catches appear from that season, and you will not be disappointed.
Gomez was flanked by roughly average defensive outfielders in Braun and Nori Aoki in 2013, which allowed for the Brewers to limit extra base hits. Even if Broxton can perform as well as Gomez in the field, he is playing next to Braun times four years, as well as zero range Santana. Broxton may be good, but he can't cover the entire outfield.
---
The "monkey in the wrench" so to speak is the glut of outfield talent in the Brewers' minor league system. Lewis Brinson is a highly regarded defensive player and is someone who will probably see playing time at the Major League level in 2017. Depending on how Santana performs this season and whether or not Braun gets traded to another team, Brinson should take over a starting role in the next year or so.
There are also the past two first round picks, Corey Ray and Trent Clark, who may not profile as well as Brinson in the field, but should be considerably better fielders than Braun and Santana. While those two may be years away from playing in Milwaukee, a guy like Brett Phillips should get a crack in 2017. Phillips is known for a plus-arm and profiles well in a corner spot.
The rebuilding Brewers will probably end up with a poor outfield defense in 2017, at no fault of Broxton roaming in center. However, if Braun gets traded and/or Santana loses playing time due to lack of performance, guys like Brinson and Philips could get the call. Their youth and athleticism bodes well for the future of Milwaukee's outfield.
---
Tables and Graphics from Baseball Savant. MLB Advanced Media, LP, 2016.