Yesterday, former Brewers prospect Miguel Diaz made his MLB debut for the San Diego Padres, pitching a fine scoreless outing in the midst of a lopsided defeat. In one-and-a-third innings, the young righty threw 15 pitches (10 strikes), and inherited a runner to close the bottom of the fifth inning. After the Rule 5 draft in which the Brewers lost the prospect to the Padres, it would have been laughable to say "Diaz will make his debut with an inherited runner against slugger Adrian Gonzalez," but indeed that's what happened, and Diaz retired Gonzalez on a tricky "little" 96+ fastball at the bottom border of the strike zone. No sweat, kid! Welcome to the big leagues.
From MLB GameDay: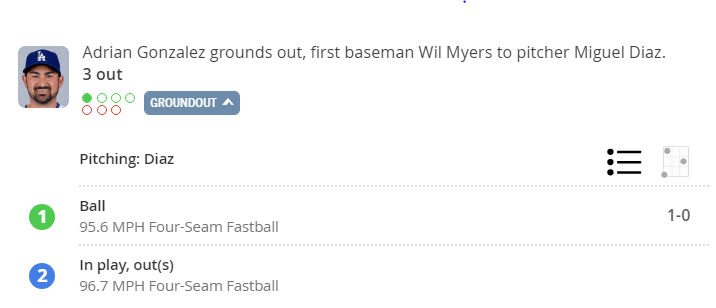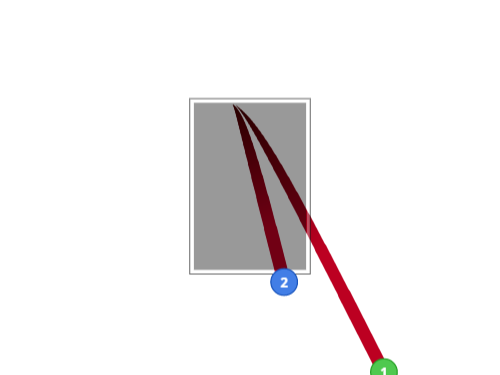 Making the rounds of Brewers Twitter this morning is a beautiful shot of Diaz's 70-potential fastball playing out on the big stage, for the righty's first MLB strikeout. For many of us, we rely faithfully on scouting reports and good grains of salt to understand the strengths and weaknesses of prospects without much video evidence (for those of us that do not subscribe to Minor League TV, that is). So, this morning served as a wonderful visual introduction to that sharp moving fastball.
That fastball…is better than the one I had in mind while reading 70-potential scouting reports. Of course, while reading those reports, I was also fixated on the potential 60 slider and 55 change up that accompanied the big pitch, designating Diaz as one of the Brewers' very best right-handed prospects, at least in terms of potential three-pitch mix. The rub with Diaz was always the risk factor, which usually played much, much louder than the Overall Future Potential for the righty; it was always downgraded, that Diaz was quite a risky bet to reach the MLB as a starter. Entering 2015 as one of Milwaukee's top prospects, Baseball Prospectus noted that a 2019 ETA might be expected for the righty:
"After tantalizing evaluators throughout the summer, Diaz stood out during fall instructs thanks in large part to a more consistent breaking ball, including a short slider/cutter variation that added another look and could provide a solid weapon for missing left-handed barrels if the changeup does not fully materialize. Because he gets such good extension on his offerings, the ball gets in on hitters quickly, allowing the pitch to play above its plus velocity grade. That has the duel benefit of helping the fastball to jump and making identification of the cutter more problematic. As with Medeiros, there's so much distance between present profile and the ultimate skill set required to hold down a spot in a major-league rotation that the Brewers will likely take things slowly with Diaz in 2015, with a focus on continuing to build up arm strength and durability while refining the secondaries. A Helena assignment seems most likely, and would put him in line for a full-season debut in 2016 at the age of 21."
In the middle of 2016, Grant Jones published a Baseball Prospectus eyewitness report that corroborated the risky story for Diaz while underscoring the lofty potential of the arsenal. Jones wrote, "Upside of good number three pitcher; risk factor makes power reliever very possible. Ability to throw all three for strikes, confident with all pitches, needs more reps with repeating delivery and will be a starter if he can find more consistency. High-upside arm, risk factor is very high but stuff is there. Has the makings for everything to come together soon."
Diaz played 2016 at Class-A Wisconsin, nearly reaching 100 innings and posting a 3.14 Deserved Runs Average (DRA), a monstrous 91 strike out / 29 walk ratio, and an improved groundball ratio (from 38 percent at Class-R Arizona to 47 percent in full season ball). For all intents and purposes, this appeared to be a smashing success, although analysts must weigh Diaz's weak competition against his extremely young age for his level. This was the type of season that could sell a risky starting pitching prospect, and unfortunately the Brewers could not take their time to decide on the merits of Diaz; having begun his professional career in 2012, he was ready for the 40-Man Roster, or risked exposure in the Rule 5 Draft. Usually, one would not blink twice at the thought of losing a low ball pitcher in the Rule 5 draft, but in fact this has happened (at least) twice over the last few seasons, including the Brewers' own experiment with Wei-Chung Wang and the Padres' selection of Luis Perdomo.
Rereading Diaz's scouting reports, and viewing his stuff, it is worth asking whether reports had the risk profile backwards for Diaz. Perhaps the MLB relief floor was there, even in Class-A, what with a present-grade 60 fastball and 45 slider (how many current Brewers relievers can boast that combination of grades?). Traditionally, it is easy to simply scoff at the notion that Diaz would have been a potential relief prospect, because the traditional notion remains that you develop players as starting pitchers until they absolutely prove themselves to be relievers. Traditionally, it is easy to dismiss the notion of a Class-A player being anywhere near the MLB; that's at least three levels and therefore three years away from the big stage, especially if a player's profile is risky starting pitcher. The trouble is, if a player is not a risky starting pitcher but a potentially solid relief profile, that timetable stands on its head.
The problem with this line of reasoning, of course, is that fans are always ready to push players along as quickly as possible. When the Brewers signed Gilbert Lara, the question was whether Lara could be a type of breakout phenom that makes the MLB for his age-20 season, a la Miguel Cabrera. When the Brewers drafted Cody Ponce, looking at the righty's frame and arsenal, it was interesting to question whether Ponce could become the next Michael Conforto, a relatively polished prospect that can leap from Class-A to the MLB during the same season (as Conforto did in 2015). These dreams are muted by reality, obviously. But they persist: fans still ask the same type of question about Brewers prospect Corey Ray: can't you see Ray in Brewers blue in 2018?
Yet, MLB scouting, player development, and analytical teams must take the risk profiles and potential futures of each player quite seriously, and in this case the fact that the Brewers misjudged Diaz's profile raises questions about how the organization should handle future low ball Rule 5 draft risks. Losing Miguel Diaz is not "nothing," as there are few 70-potential fastballs lying around the minor leagues, even if those fastballs might be tied to a risky starting pitching profile. Indeed, on the OFP scale that historically grants Diaz $48.9 million in surplus value to the Brewers at his highest pure grade, it is so easy to imagine a future in which the Brewers develop Diaz as a starting pitcher and he never reaches the MLB ($0 surplus). Watering down Diaz's grade with a host of 40-45-50-55-60 OFP futures gives a much more reasonable estimate of the righty's surplus value in Milwaukee. But if one asks whether Diaz is a reliever all along, Class-A is much closer to the MLB, and Diaz certainly justifies a 40-man roster spot in that case. "Power reliever" is an essential role for a potentially contending club in 2019 or 2020, and unleashing Diaz as a reliever probably materializes his MLB career in a much easier (less risky) manner than as starting pitching.
So, here lies a logical, analytical player development problem for the Brewers: if they are risk averse with their 40-man roster spots, they must not ask, "what is this player's ceiling?" but "what is this player's floor?" When a floor could be as strong as that of Diaz, who was working with a 60 / 45 two pitch mix as early as midseason 2016, Milwaukee must reassess the value of that profile for their roster. Odds are the Brewers did not lose a risky starter that was very far from the MLB, but a relatively stable relief profile that was much closer to the MLB, and it is worth asking whether that profile is worth losing again in the future.