Welcome to Week Two of the Weekend Recap. The Brewers had a successful weekend in Cincinnati which saw them take three of four games from the division leading (!) Reds to move into second (!) place.
| | | |
| --- | --- | --- |
| Weekend Series | Brewers | Reds |
| Thursday April 13 | 5 | 1 |
| Friday April 14 | 10 | 4 |
| Saturday April 15 | 5 | 7 |
| Sunday April 16 | 4 | 2 |
After pitching in the last two games of the Toronto series, Corey Knebel only got into one game over the weekend, but he extended his scoreless streak to start the season to 6.7 innings. On Sunday he allowed an infield single and struck out two, raising his season total to nine strikeouts against four baserunners. Knebel did it yesterday by pumping gas and daring the Reds to hit it: he threw nineteen pitches, fifteen of which were four seam fastballs with an average velocity of 97.6 mph. Interestingly, he threw his four breaking balls in sets of two: Arismendy Alcantara saw two in a row, then after Joey Votto's hit against the curve, Knebel went back to it on the first pitch to Adam Duvall. Knebel has been relying on that pitch to induce weak contact. Batters rarely swing at it (only 9.38 percent this season), but it has produced a 100 percent ground ball rate, exemplified by Votto's check swing dribbler against a shifted infield.
To look at a less positive performance, Carlos Torres came in to relieve Zach Davies, and promptly gave up the lead in Saturday's loss. Torres was heavily reliant on his cutter, throwing it for fifteen of his twenty-one pitches, and the Reds teed off on the pitch, knocking it for all three of their hits and he threw it for ball four in his lone walk of the inning. Looking at his strike zone plot, aside from the walk, Torres wasn't wild, he just threw too many pitches in the zone.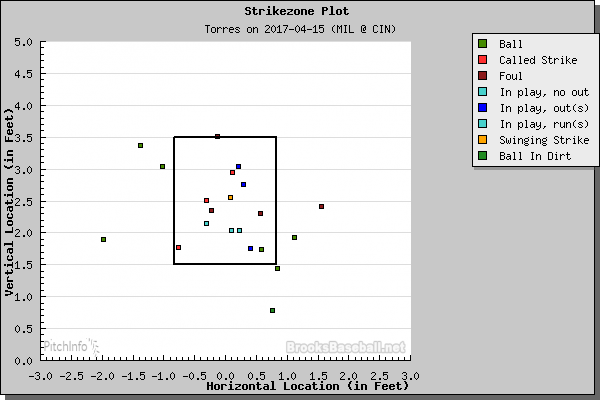 Torres generally lives down in the zone, and that's where he finds his most success. When his pitches go up, they land in the sweet spot for most hitters, and he can get hit hard.
---
Checking in on something I noted last week, Jimmy Nelson turned in another very good start in the series opener on Thursday. He pitched seven innings, allowing on run on five hits and no walks, striking out five. Nelson continued to deemphasize his sinker, throwing it for only twenty-four of his one hundred and one pitches. Last season, only in two starts did he go to the sinker with a lower frequency, and each of those starts were in September. His fifty-nine four seam fastballs is a career high. It was also the first time more than 50 percent of his pitches in a start were four seamers. This is the new Jimmy Nelson, and the results have been fantastic thus far.
To check in on the other item from last week, Eric Thames went 7-16 with two walks and five home runs. His homers came off four seam fastballs, a changeup and a curveball. Right now, he's gotten his whiff percentage on hard pitches down to 4.76 percent this season. There is zero reason anyone should be throwing him a fastball. As long as teams continue to test him, Thames is going to mash. His offspeed whiffing has held steady (18.18 percent) and his breaking pitches whiffs inched up to 17.07 percent after the last week.
Looking ahead: This week the Brewers face the Cubs in Chicago and St. Louis at Miller Park. Both opponents are coming into the week scuffling, losers of three straight, so this will be a real opportunity for Milwaukee.
| Brewers Probables | Cubs Probables |
| --- | --- |
| RHP Chase Anderson |  RHP John Lackey |
| RHP Jimmy Nelson | LHP Brett Anderson |
| LHP Tommy Milone |  RHP Kyle Hendricks |
---
All numbers from Brooks Baseball.