"Opening Day is every day": a quote across Monte Harrison's wristband he shared with me after his game this past Saturday. He had just finished the game 0-for-3 with a walk, a run scored, and a strikeout. There was no sign of dismay or frustration due to his hitless day, as he had just finished celebrating with his teammates. Tucker Neuhaus just hit a walk-off home run in the 10th inning (his second of the day) and Harrison was the first one out of the dugout to rush to congratulate him at home plate.
Now entering his fourth season as a professional ballplayer, the 21-year-old could have quite a bit to be frustrated about. He has been hampered by injuries in his early career, has not put up the numbers expected by a second round draft pick, and has not made it past low A-ball. He has only played in 154 games the past two years due to a broken ankle in 2015 and a broken hand in 2016. As a hitter who relies on his speed, power, and athleticism, those might be the two worst injuries for a player of his skillset to have.
Yet after speaking with Harrison for a matter of moments, I could tell right away he was someone with a fresh and refocused mindset and that will give the game of baseball everything he's got. "My plan is just to keep growing, each and every day, not trying to focus too far down the road. Every time I wake up in the morning, the first thing I tell myself is to 'seize the day'."
Seize the day he has so far in 2017.  In 18 games, the outfielder is slashing .333/.489/.636 with five doubles and five home runs. While unfortunately there is no publicly available minor league exit velocity data, you can see in the many videos across Twitter that Harrison has been hitting the ball hard. As this Brewers Prospects clip shows:
Monte Harrison HR (5) #TRats pic.twitter.com/T7dhnXtlIs

— Brewers Prospects (@BrewerProspect) April 22, 2017
It may be subtle, but Harrison's ground ball rate is down from last season, and his fly ball percentage has ticked up as well.
| | | |
| --- | --- | --- |
| | 2016 | 2017 |
| GB % | 49.2 | 46.0 |
| FB % | 23.5 | 28.0 |
Statistics courtesy of MLBfarm.com
As many of us are now aware, baseball is in some sort of a fly ball revolution and I asked Harrison if he was a part of it.
"Honestly, I don't think about whether or not to hit the ball in the air. I just tell myself to square it up. If I square it up, it will be in the air. That's with anybody. But no, no thought process to it. No change of the swing. More about better timing and being able to hit the fastball."
It will be interesting to see if Harrison can continue to trend towards more fly balls and less ground balls. For someone who can square up a ball and hit it as hard as he can, he could do some serious damage with the ball hit in the air, and that is what fans have seen so far early this season. With that being said, he does however have a different thought process when he is up at the plate.
"No thinking, just hit the fastball. If they throw certain things, then I change my mindset. But all I am really trying to do is hit the fastball. Capitalizing on mistakes, that's what is going to get you to the big leagues. That has always been my mindset, but I was going back and forth between getting caught up and thinking too much. I am trying to tell myself to stay fastball the whole time. Fastball, fastball, fastball."
It seems as if Harrison has approached the 2017 season in a different way than in years past. Another new addition to his approach was his offseason, where he moved down to Florida to train with Eric Cressey at Cressey Sports Performance in Jupiter, Florida. Cressey, who works with numerous Major League Baseball players, "specializes in applied kinesiology and biomechanics as they relate to program design and corrective exercise; maximal relative strength development, and performance enhancement." I spoke to Eric and we discussed Monte's first offseason participating in their workout program.
"Sometimes what we see with guys, they can be very strong but with bad workout patterns. We saw a little bit of that with Monte. Our goal was to put some good stiffness in the right place. At the same time, he is a guy who could put on 270 pounds and six percent body fat in two months. He puts on muscle mass very quickly and very easily. However, that is not something that is super functional. We want to keep his weight in check, but also make sure he was moving better and heading in the right direction.
"It is not just the exercise you are doing, but how you are doing it. We want to make sure when he is going through his training techniques we are not sacrificing form for the sake of lifting heavy weights. We are not just trying to show off athleticism – we are trying to enhance it and make it more sustainable. I think those things made a really big difference for him."
As I mentioned previously, Cressey works with many Major League Baseball players. This list includes the likes of Max Scherzer, Steve Cishek, and Logan Morrison, just to name a few. Cressey pointed out how valuable of an experience it is for Harrison to be around these players for hours at a time, to listen and to learn how to train and condition your body, as well as preparing your body for a full season.
"The biggest improvement I saw in Monte this offseason was his core control – his positional awareness. We talked about not just doing exercises, but understanding where you position yourself as you do them.
"I think the other thing it does is it makes for a much more efficient force transfer. One of the things we kind of joke about is that it is easier to make a fast guy strong than it is to make a strong guy fast. You put some strength in the right places and allow make them transfer force more effectively, it puts the hitter in a really good position to generate bat speed."
Cressey noted that he was extremely impressed with Harrison's demeanor and work ethic. Harrison moved down to Florida this offseason to train six days a week at the Cressey Sports Performance facility. Cressey really respected Harrison's drive and commitment to baseball.
While Harrison's offseason consisted of major strides and gains when it came to taking care of his body, training effectively, and refocusing his mental approach, there was yet another change to his game after his 2016 season. I noticed that Harrison repositioned his hands prior to the pitch being thrown. The images below show a drastic shift in hand positioning.
2016 Front View & Side View
2017 Front View & Side View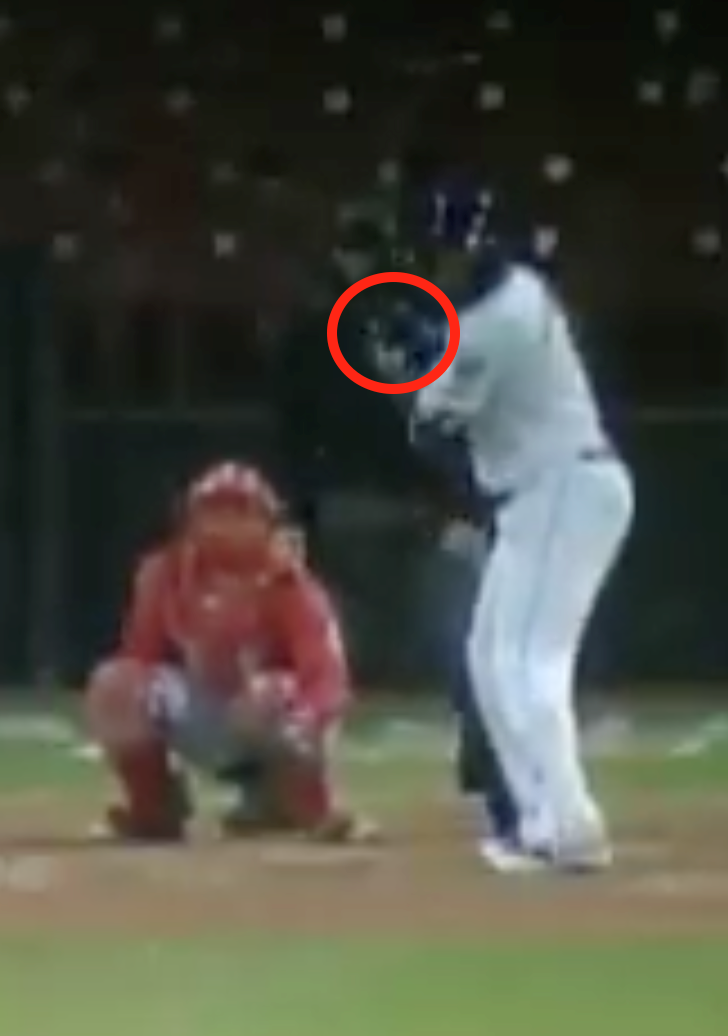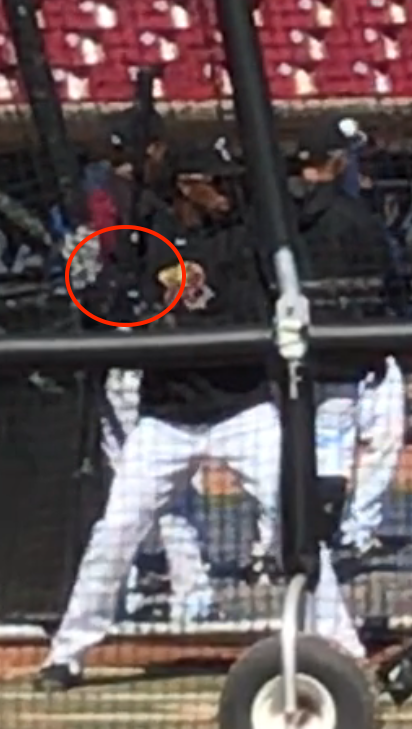 I asked Harrison about this, and my assumption was correct. Harrison told me that during this past winter, he and then-hitting coordinator Jeremy Reed decided to experiment with positioning his hands lower. The first game Harrison tried this new approach, he went 3-for-5 with a double and a home run. That instant success sold him on the new approach.
Harrison said that keeping his hands lower put him in a much stronger 'set' position, where he could feel that pause and power in the back leg prior to the pitch being thrown. There is also the addition, or resurrection, of a more pronounced leg kick that he had when he was younger.
Lastly, I pointed to Harrison his decrease in stolen base numbers over the years. Back in 2014 (his first year as a pro), the speedster was 32-of-34 in stolen base attempts in only 50 games. But this past season, Harrison was only 8-for-11 in stolen base attempts in 80 games.
"I am definitely a runner at the end of the day. Anybody you can ask on the team, I am definitely a runner. In certain situations in the game, you need to be smart about what you do on the bases. I am still the same speed level as I was before."
So far this season, the 21-year-old is only 1-for-2 in stolen base attempts, but here is the bright side to that stat: 10 of his 22 hits have gone for extra bases, so the opportunities to steal second base really haven't been there. Fans would all much rather see doubles and home runs than stolen bases, and Harrison didn't seem to mind either.
While we still haven't flipped the calendar to May, Harrison is showing major signs of improvement at the plate. He is feeling much more comfortable and it is evident in his production on the field. Many skeptics seem to forget that 6-foot-3, 220 pound athlete was only able to legally walk into a bar this past August. Harrison is younger than Orlando Arcia, Lewis Brinson, and Corey Ray. He was a two-sport athlete in high school who only recently devoted every moment of his life to baseball, and has been slowed down by two freak injuries. If the month of April is any indication of future success for Harrison, his five-tool potential may one day be achieved.