Welcome to Week Five of the Weekend Recap, where we'll look at another disappointing weekend for the Brewers. They lost two of three games against Pittsburgh; the losses were a rain interrupted game on Friday and an extra inning loss on Saturday.
| | | |
| --- | --- | --- |
| Weekend Series | Brewers | Pirates |
| Friday May 5 | 0 | 4 |
| Saturday May 6 | 1 | 2 |
| Sunday May 7 | 6 | 2 |
On Saturday, Matt Garza turned in his strongest start of the season. He pitched seven innings, allowing one run on eight hits, no walks and four strikeouts. Through three starts, his 1.89 DRA is tops amongst Brewers starters. Looking at some underlying numbers, this may not be a complete fluke. First off, Garza's BABIP is .308, which is lower than his past two seasons in Milwaukee, but still well above his career average of .291. He's lowered his ground ball percentage to 48 percent, much closer to his career norm of 45 percent than his 57 percent in 2016.
If one wanted to point to an ominous number out of line with Garza's previous output, it'd be his BB/9, which is currently sitting 1.5, less than half his career rate. His lowest BB/9 for a full season occurred back in 2013, and even then it was 2.4, almost a full walk per nine innings more. Garza isn't throwing more pitches in the strike zone (only 0.1 percent difference from 2016). However, batters are swinging at more of his offerings, with the primary difference being in swings on pitches out of the strike zone. Right now, swings on balls is 35.7 percent, which would be a career high. Obviously three starts is a tiny sample, but these numbers bear watching and will have a big impact on whether Garza sustains this success, or reverts back to his 2015 and 2016 form.
On Sunday, Travis Shaw led off the 4th inning with a home run off a Tyler Glasnow fastball. The ball was away and up, which can be considered a sweet spot for some hitters. However, for Shaw, that home run, which he hit so hard it almost left PNC Park, was an anomaly.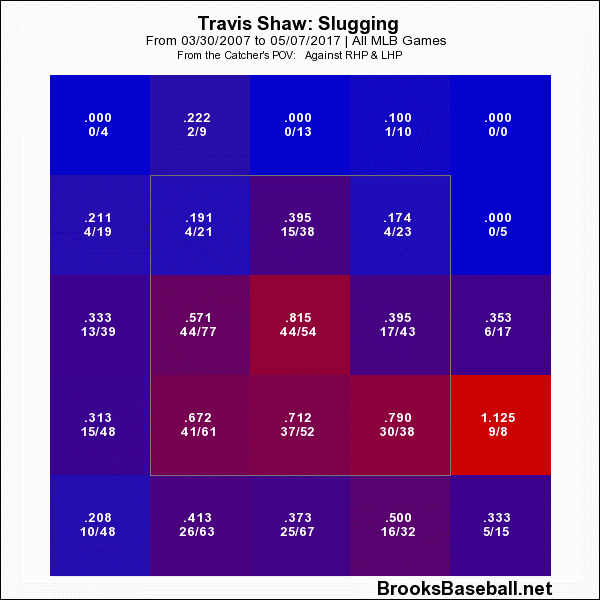 That chart represents Shaw's MLB career and measures his slugging percentage by zone. Shaw collects most of his big hits on low pitches, even going below the edge of the zone to get to balls. The Glasnow pitch looked to be in that top left portion of the strike zone, an area where Shaw struggles. While Brewers fans would probably be happy if he didn't take too many big cuts on high balls, it's always fun when a player makes a positive contribution that runs counter to his weaknesses.
I forgot to add a Thames fact last week, which fills me with shame. Luckily, he hit a homer on Sunday, his first in nine games. Those nine games were a real rough patch, as Thames only had one extra base hit. He walked seven times and struck out ten in this period. Since this streak roughly coincided with the turn of the calendar into May, I wanted to look to see whether pitches had changed their strategy against Thames.
| | | | |
| --- | --- | --- | --- |
| Month | Hard | Breaking | Offspeed |
| 4/17 | 60.71 | 26.27 | 13.02 |
| 5/17 | 59.09 | 25.00 | 15.91 |
And… nothing. No real adjustment in terms of types of pitches. To save everyone from looking at endless charts, there does seem to be some change in location of pitches faced. This plot looks at April, and this plot has the small sample size of May. Thames is still getting pounded away, but it looks like pitchers are aiming higher in the zone against him. If this is the new strategy, then it's Thames' turn to adjust.
For some bonus Thames numbers, I already mentioned that Thames has dramatically lowered his swings on pitches outside the zone (he's hovering outside the top 10 om MLB with 20.2 percent). His discipline and batting eye has also produced his lowest swinging strike percentage, getting down 9.6 percent swinging strikes from 13.5 percent in 2012.
Looking Ahead: Today, the Brewers have their first day off since April 27, then will open their interleague schedule with the Red Sox coming to Milwaukee for three games. It's Boston's first visit to Milwaukee since 2003, and will be their second series ever at Miller Park. Luckily for the Brewers, they'll miss Chris Sale after he started on Sunday in Minnesota. After the Red Sox series, the Brewers have three more games at home, against the Mets.
| | |
| --- | --- |
| Red Sox Probables | Brewers Probables |
| Drew Pomeranz (27.0 IP, 2.94 DRA) | Wily Peralta (31.3 IP, 6.49 DRA) |
| Kyle Kendrick (4.0 IP, 8.26 DRA) | Chase Anderson (34.7 IP, 5.11 DRA) |
| Eduardo Rodriguez (29.3 IP, 1.49 DRA) | Jimmy Nelson (31.7 IP, 6.21 DRA) |