On the surface, the Brewers' waiver claim of former Oakland catcher Stepen Vogt might look like more of the same. I've written before about Milwaukee's propensity for using the waiver wire and, really, a significant part of the team was built from the scraps of other franchises. Hernan Perez. Junior Guerra. Carlos Torres and Jared Hughes. The list goes on.
Related Reading:
Brewers Claim Vogt
Brewers Revolving Waiver Claims
If there was any doubt before, the Vogt claim certainly cements the fact that David Stearns, who I've affectionately called "the thrift-shop GM" in the past, has an affinity for this process, which essentially gives teams a free trial on somebody else's flotsam. The David Stearns who runs a contender has a recognizable M.O. if you've been following the David Stearns who built that contender from the rubble. But the Vogt claim reflects a subtle shift in strategy from previous waiver moves, which tells us that the team is trying to compete in 2017.
---
Up until now, the Brewers' waiver claims have shared a common thread of unseen, or unrealized, potential. Nick Franklin is a former top prospect who just turned 26 years old at the start of the season. Junior Guerra was a total lottery ticket that turned into a jackpot. Jhan Marinez and Rob Scahill weren't good enough for someone else's bullpen, but were young and promising, and, hey, Milwaukee had the roster space to stash 'em. All of those pickups came with a potential payoff that was pretty big which is essential to consider when you're building a contender from the ground up.
Stephen Vogt, however, is unlikely to appreciate in value. He's a catcher in name, but he's sorta crummy behind the plate. And by "he's sorta crummy," I mean "deployed regularly, he'll actively cost your team a dozen or more runs per full season:"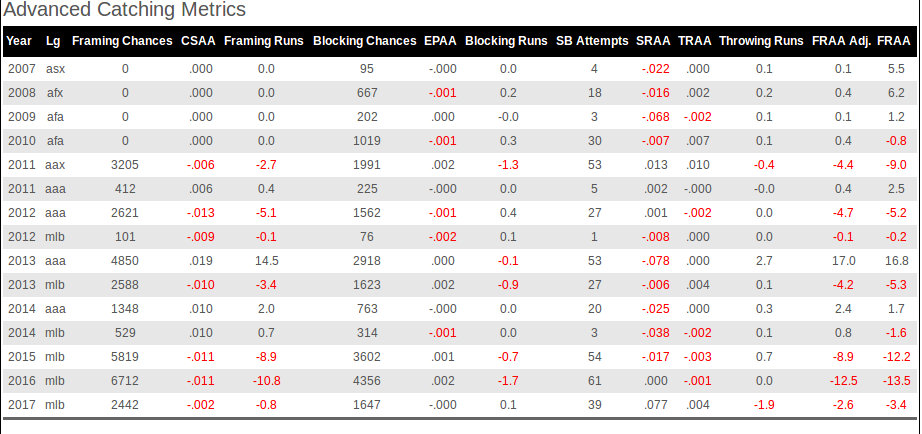 But for the past three years, that's just been the cost of doing business with Vogt's bat. His career isolated power mark of .158 is borderline elite by catcher standards. His career True Average is .266, which is not great, but also not exactly mitigating the value of all that power. Vogt has been bad this year, but he's also been a little bit unlucky (evidenced by a .242 BABIP versus his .276 career mark).
You've heard him referred to frequently in the past few days as "two-time All-Star Stephen Vogt," and in light of that casual fans could be forgiven for assuming that we just inexplicably got a superstar for free. But that's not the case. At his best, Vogt is a little bit better than replacement level. If a change of scenery is enough to kick him back to that level, the Brewers just upgraded their backup catcher spot. And if not, they can move on from Vogt in a couple of weeks, recall Jett Bandy from AAA, and forget this whole thing ever happened.
Vogt's career ISO is a hair lower than Bandy's (by .012) but his TAv, BB percentage, and K percentage are all significantly better. And as Jack Moore showed at BPMilwaukee earlier this week, Bandy has deteriorated from a top-tier backup to, well, a guy who needs something to change. Thankfully, the demotion seems to have energized Bandy, who launched a monster grand slam in his first game with the Sky Sox:
Jett Bandy grand slam HR in his 1st game with the #SkySox. pic.twitter.com/hmIRyEeAuR

— Brewers Prospects (@BrewerProspect) June 28, 2017
Vogt has played in just 477 Major League games, but he's 32 years old and a catcher. For all we know, he could be finished. But if he's not, and he's an improvement over Bandy, that makes the Playoff Stretch Brewers just a little more capable of hanging with the Cubs and Cardinals. And, obviously, it gives the team a capable, three-deep depth chart behind the plate.
Andrew Susac, once thought to be the team's catcher of the future, is off track at Colorado Springs. Susac is slashing just .190/.241/.410 and striking out a ghastly 32.8 percent of the time. If an injury were to sideline Manny Pina for any extended period of time, calling that up to the big-league level in the heart of a playoff race is simply not acceptable. Adding Vogt might seem targeted at Bandy, and there's no doubt that getting him back on track is essential, but it's also a buffer against Susac being forced into big-league duty before he can fix whatever's wrong.
Like David Stearns's prior waiver-wire gambles, this is a smart bet, made with a player that could provide a payoff on this particular roster. The big difference is the time frame of the move. Milwaukee's front office, in claiming Vogt, has said, if tepidly, that winning in 2017 is a priority. It will be interesting to see how that mindset shapes the rest of the summer's moves.