The Brewers started the back half of their schedule by taking two of three from the Miami Marlins to successfully start their homestand.
| | | |
| --- | --- | --- |
| | Marlins | Brewers |
| Friday June 30 | 2 | 3 |
| Saturday July 1 | 4 | 8 |
| Sunday July 2 | 10 | 3 |
New acquisition Stephen Vogt provided all the offense the Brewers needed in their win on Friday night, hitting two home runs to push the Brewers to a 3-2 victory. Those two homers equaled half of his season output with Oakland, which helps to explain why he was available on the waiver wire in June.
Vogt's two home runs came on low pitches: a 93 MPH sinker from Edinson Volquez on the inner half of the plate and a 96 MPH fastball from David Phelps middle away. While the Volquez sinker was clearly a mistake in location, the pitch from Phelps was where pitches want to attack Vogt. He spent two years as a full-time catcher in Oakland, and the book on him was to throw away, preferably low: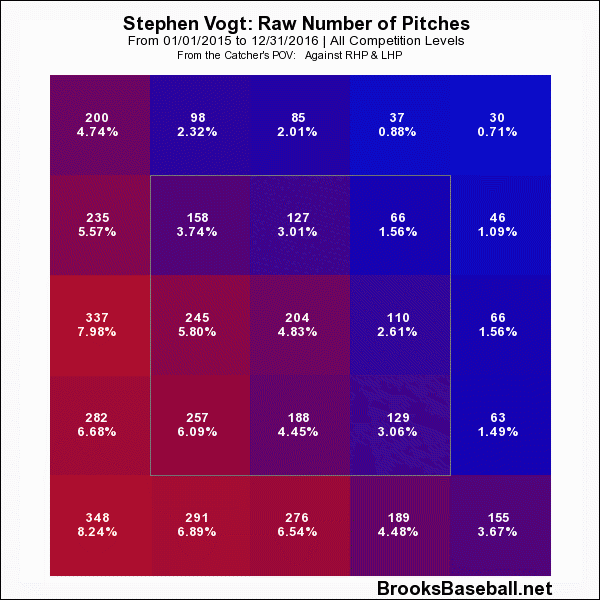 Whereas before 2017 Vogt was still productive facing this plan (.286 and .262 TAv in 2015 and 2016), the bottom seemed to fall out this year. The fly ball revolution has been one of the biggest stories in baseball this year, but Vogt is hitting more ground balls than ever. His current ground ball percentage of 38 percent is a career high. Even worse, when he is hitting the ball in the air, he's been ineffective with a 19.6 percent infield fly ball percentage.
Looking deeper into the numbers, Vogt can still catch up to a fastball and send it far. Before coming to Milwaukee he was slugging .511 on four seam fastballs, slightly higher than the previous two years. Unfortunately, Vogt has been sub-replacement level on every other pitch this season. Vogt used to be able to generate power on sinkers, curves and cutters, forcing pitchers to choose wisely when deciding what to throw, but that has been gone for two months. Pitchers have picked up on this and are throwing him fewer hard pitches as he flails at the breaking stuff. As a thirty two year old catcher, Vogt will probably never return to his peak performance, but as part of a catching platoon who can punish fastballs, Vogt can be reasonably productive over the next few months.
Eric Thames received a two day break last week to take a break and try and reset himself due to his recent struggles. The rest was preceded by a ten game stretch where Thames went 3-37 with three walks. During the slump, breaking balls became a serious bugaboo:
| | | |
| --- | --- | --- |
| | Before June 18 | June 18-June 28 |
| Breaking Balls Faced | 22.80% | 30.92% |
| Whiff Percentage on Breaking Balls | 15.27% | 27.66% |
| Swing Percentage on Breaking Balls | 33.82% | 46.81% |
The breaking balls were causing so many problems that he couldn't hit fastballs anymore. So, upon his return to the lineup, Thames went 2-6 with two walks and a homer over the two games. The home run came on a 92 MPH fastball middle in. While that's a pitch that someone like Thames should crush, he hadn't been. We'll see if his renewed focus leads to April results.
The home stand continues as the Baltimore Orioles make their first visit to Miller Park since 2014. The Orioles recently endured a streak of twenty games where they allowed at least five runs, which saw them sink to fourth place in the American League East.
| | | |
| --- | --- | --- |
| | Orioles | Brewers |
| Monday July 3 | Wade Miley (4.52 DRA) | Brent Suter (7.85 DRA) |
| Tuesday July 4 | Ubaldo Jimenez (6.20 DRA) | Jimmy Nelson (3.37 DRA) |
| Wednesday July 5 | Chris Tillman (8.68 DRA) | Matt Garza (4.48 DRA) |