The Brewers had yet another disappointing weekend, continuing their streak of losing every series since the All-Star break. This weekend was especially painful since it came at the hands of the Cubs, who increased their division lead to 2.5 games. Milwaukee's offense was lifeless throughout the week, averaging fewer than two runs per game.
| | | |
| --- | --- | --- |
| | Cubs | Brewers |
| Friday July 28 | 1 | 2 |
| Saturday July 29 | 2 | 1 |
| Sunday July 30 | 4 | 2 |
The Brewers traded for reliever Anthony Swazak on Wednesday and promptly used him in his first two games in a Milwaukee uniform. Swarzak has lived a journeyman's life: the Brewers are his fifth team across eight seasons in MLB. The biggest difference between Swarzak now and the guy who signed as a free agent with the White Sox in January has been the massive jump in swinging strike rate. This has been quite the trick for Swarzak to pull off. To wit, here's his plate discipline numbers. In 2017 compared with his career averages, Swarzak has thrown more pitches in the strike zone and induced more swings while dramatically lowering contact on his pitches. These changes arrived a year after changing his pitch mix to become exclusively a fastball/slider pitcher, throwing each pitch around half the time.
Over Swarzak's two appearances last weekend, he threw an inning in each game, striking out two batters, walking one, and allowing one hit (a home run). He threw fourteen fastballs and sixteen sliders, inducing five swings and misses (in line with his numbers this season). That one blip was a home run.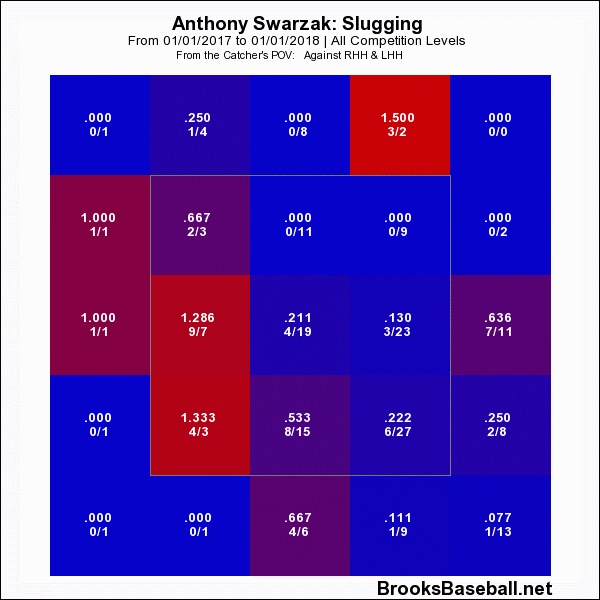 Normally, Swarzak is throwing his pitches in the bottom right squares on that plot, and that's where he's had great success this year. The pitch to Baez was in one of those deep red squares on the other side of the plate, which was an inside pitch to Javier Baez. So long as Swarzak stays where's he's had success against both righties and lefties, then he should continue to produce for the Brewers. When he misses his spots, the ball goes far.
After his seven innings during Sunday's start, Zach Davies has now pitched at least seven innings in three straight starts for the first time in his career. While Davies pitched a strong game, allowing only three runs across those seven innings, he ran into trouble after he recorded two outs in the sixth inning. He allowed four straight hits, all solid contact except for a dribbler infield single. Davies ran into trouble because he lost the strike zone. He's not the most reliable strike thrower in baseball, throwing in the strike zone on 43.67 percent of his pitches. Among pitchers who have thrown at least 1,000 pitches this season, which seems like a good separator of starters and relievers, only twenty three pitchers out of 153 have a lower zone rate.
Davies threw a first pitch ball to every batter who got a hit in that sixth inning. Here are Davies' numbers based on whether the first pitch of an at bat is a ball or a strike:
| | | | |
| --- | --- | --- | --- |
| Count | BA | OBP | SLG |
| After 1-0 | .281 | .387 | .524 |
| After 0-1 | .272 | .311 | .382 |
Obviously, batters are going to draw more walks when spotted a ball, but the big difference is in their slugging percentage. Batters tee off on Davies when he starts them off with a ball. If Davies keeps missing the zone, then he needs to aim more for the heart of the plate, which is where mistakes happen. It's a shame that this four batter run rained on an otherwise excellent day for Davies. Unfortunately, on a day where the bats were silent, the Brewers lost the game in this stretch.
Up Next: The Brewers have today off the regroup, and possibly add another piece to the roster before the Trade Deadline closes. Then the Cardinals come into Milwaukee for a three game series, continuing one of the more difficult stretches of the season for the team. With the Brewers now in second place, the Cards are breathing down their necks, only two games behind.
| | | |
| --- | --- | --- |
| | Cardinals | Brewers |
| Tuesday August 1 | Carlos Martinez (3.15 DRA) | Jimmy Nelson (3.11 DRA) |
| Wednesday August 2 | Adam Wainwright (5.08 DRA) | Brent Suter (5.85 DRA) |
| Thursday August 3 | Michael Wacha (3.96 DRA) | Brandon Woodruff (First GS) |