The Brewers pitching staff was dominant this weekend in Tampa. Across three games, the Rays only managed two runs. Unfortunately, the bats weren't quite as strong, but the team scored enough to take two of three from the Rays, capping off a 4-2 week that stopped the recent slide. The Brewers are now only a half a game behind the division leading Cubs.
| | | |
| --- | --- | --- |
| | Brewers | Rays |
| Friday August 4 | 2 | 0 |
| Saturday August 5 | 3 | 0 |
| Sunday August 6 | 1 | 2 |
Brandon Woodruff set the tone for the series in his MLB debut on Friday. He tossed 6.1 innings, allowing seven hits and two walks, while striking out six and allowing no runs. Woodruff features a three pitch arsenal: fastball, slider and change up, where his fastball is plus and the slider is an "out pitch."
He had a bit of a rough time in the first inning. The three outs required twenty eight pitches, the highest single inning pitch count in the outing, and his strike percentage was 57.14 percent, his lowest percentage of the game. While the singles came on hitable pitches, he had a four pitch walk on all fastballs, only one of which was close to the zone.
After the first frame, Woodruff continued to have some trouble throughout the start on his non fastballs. His changeup (42.86 percent) and slider (45.45 percent) were thrown out of the zone at high frequencies. Sixty one of his ninety seven pitches were fastballs. He induced thirteen total whiffs on the pitch, of which eight came from fastballs. Woodruff leaned on the fastball, using it eighty percent of the time when he fell behind in the count, as well as using it as his primary two strike pitch. That link also shows that he pretty much abandoned his changeup when facing right handed batters.
Though the slider was described as his out pitch, it only got two whiffs. Woodruff threw it more to right handed hitters, with it serving as more of an option when the count was tied or he was ahead. Batters hit two singles off the slider, but each was in the bottom part of the zone, where he wants to be burying that pitch.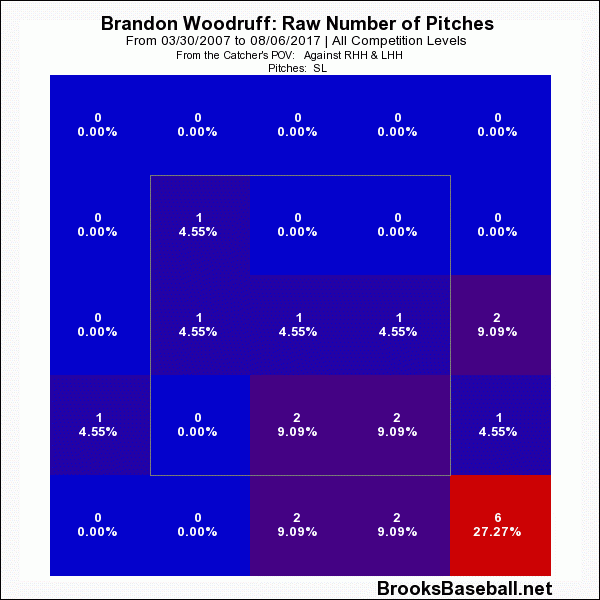 Looking at his slider placement for the day, Woodruff was looking to throw the slider glove side low. While he evenly distributed the location of the pitch to lefties, five of those pitches in the bright red plot were to righties. That's a dangerous pitch to make a living off of, but if Woodruff can consistently hit his spot low and away to rights and low and in to lefties, that slider is going to get him out of a lot of jams.
Over the three game series, the Brewers had eighteen total hits. Orlando Arcia had five of those hits in ten at bats, covering a double, a triple and two home runs. Arcia has made some changes to his approach in 2017 which have allowed him to take a step forward offensively. His TAv has risen from .217 to .261 this year, mainly fueled by the jump in his batting average. The biggest change has been on pitches in the zone:
| | | | | | |
| --- | --- | --- | --- | --- | --- |
| | Zone Rate | Swing Rate | Zone Swing Rate | Zone Contact Rate | Swinging Strike Rate |
| 2016 | .4905 | .5234 | .6804 | .7727 | .2947 |
| 2017 | .4724 | .5427 | .7390 | .8439 | .2523 |
Arcia is swinging at more pitches in the zone and making contact with them more often. It's difficult to argue with the results when it seems like he can handle most pitches in the zone. This approach isn't leading to much power, but considering that he's batted eighth or ninth in all but five games this season, his goal should be the get on base for the top of the lineup.
One weakness in Arcia's season to date has been his performance against non-fastballs. While he swings at a lower rate against non-fastballs, he also whiffs on a higher percentage of those swings. While pitchers generally threw Arcia the same percentage of fastballs throughout the first few months of the season, that rate dropped below 50 percent in July. While it's climbed through the first week of August, if the July approach holds for the rest of the season, Arcia is going to need a new approach to deal with offspeed and breaking balls.
Up Next: After steadying the ship against St. Louis and Tampa Bay, the Brewers face a week of opportunity with series against the Twins and Reds. The matchup with the Twins is an interleague special of back to back home and home series, with two games in each city. Those are fantastic!
| | | |
| --- | --- | --- |
| | Brewers | Twins |
| Monday August 7 | Brent Suter (5.83 DRA) | Ervin Santana (3.62 DRA) |
| Tuesday August 8 | Matt Garza (4.41 DRA) | Adalberto Mejia (5.04 DRA) |
---
Photo Credit: Kim Klement, USA Today Sports Images