"Ten Cent Beer Night." The phrase evokes a kind of disbelief in baseball fans of a certain age, that there could be a time when ballparks would run promotions that in hindsight seem like they would have such predictable consequences. Cleveland's ten-cent beer night is up there with "Disco Demolition Night" as one of baseball's all-time ill-advised promotions.
But, on June 18, 1971 Milwaukee held their own ten-cent beer night. Milwaukee's was three years years before Cleveland's, and for whatever reason it isn't remembered in the same way. Perhaps it was the rain-dampening attendance cooling off the fans (or hydrating them through osmosis), or maybe Milwaukeeans held their alcohol better that season (unlikely, from the game reports afterward). Whatever the reason, Milwaukee's ten cent beer night has mostly been lost to a few bemused newspaper accounts and parts of memories from those in attendance that night. Its legacy is not even a minor footnote in Milwaukee baseball history, but still an enjoyable look back at what was certainly a different time in the Brewers' early struggles in Beertown.
The Promotion
Dick Hackett, then the Brewers' ticket sales director, argued in newspapers that weather had been keeping attendance down in the team's second full season in Milwaukee. Being 10.5 games back of the Oakland A's probably wasn't helping, either. So it was with optimism that the day before the game Hackett announced that advance ticket sales were up to 15,000 and the rather bold prediction that the Brewers would outdraw their season-high of 45,000 from opening day.
The promotion was announced in early June in papers across the state, from towns far away as Eau Claire and newspapers as small as the Manitowoc Herald-Times. In those press release-type announcements, then-team owner Bud Selig announced that local breweries would be setting up stands around the stadium and perhaps a bit idealistically called it "an example of community collaboration that will make this franchise the great franchise we know it will be."
Looking back almost 50 years later, now-Commissioner Emeritus Selig recalled the idea being his in a telephone interview with me, but noted that several other clubs were trying out the promotion before that time. Normally, beer was going for 50 cents a cup at County Stadium, which itself would be an unprecedentedly wild night at current-day Miller Park. Considering inflation, that ten cent discounted promotional price for a beer would amount to 60 cents today.
In preparation for the promotion, Selig made 1,000 barrels of beer available, and the Sheboygan Press added that the Brewers would also include "strolling groups of colorfully-dressed minstrels, an array of barbershop quartets, a dixieland band 'The Red Hot Sevens,' and an antique beer wagon." It really makes you wonder what ideas were rejected from the night.
For the gameday operations staff, it was another day at the ballpark prior to the game. Dan McKinney, 80, has been a vendor at Milwaukee baseball games since 1954, and spoke with me recently about his experience and ten-cent beer night in 1971. "It was a new thing, we didn't really know what to expect," he said.
The Game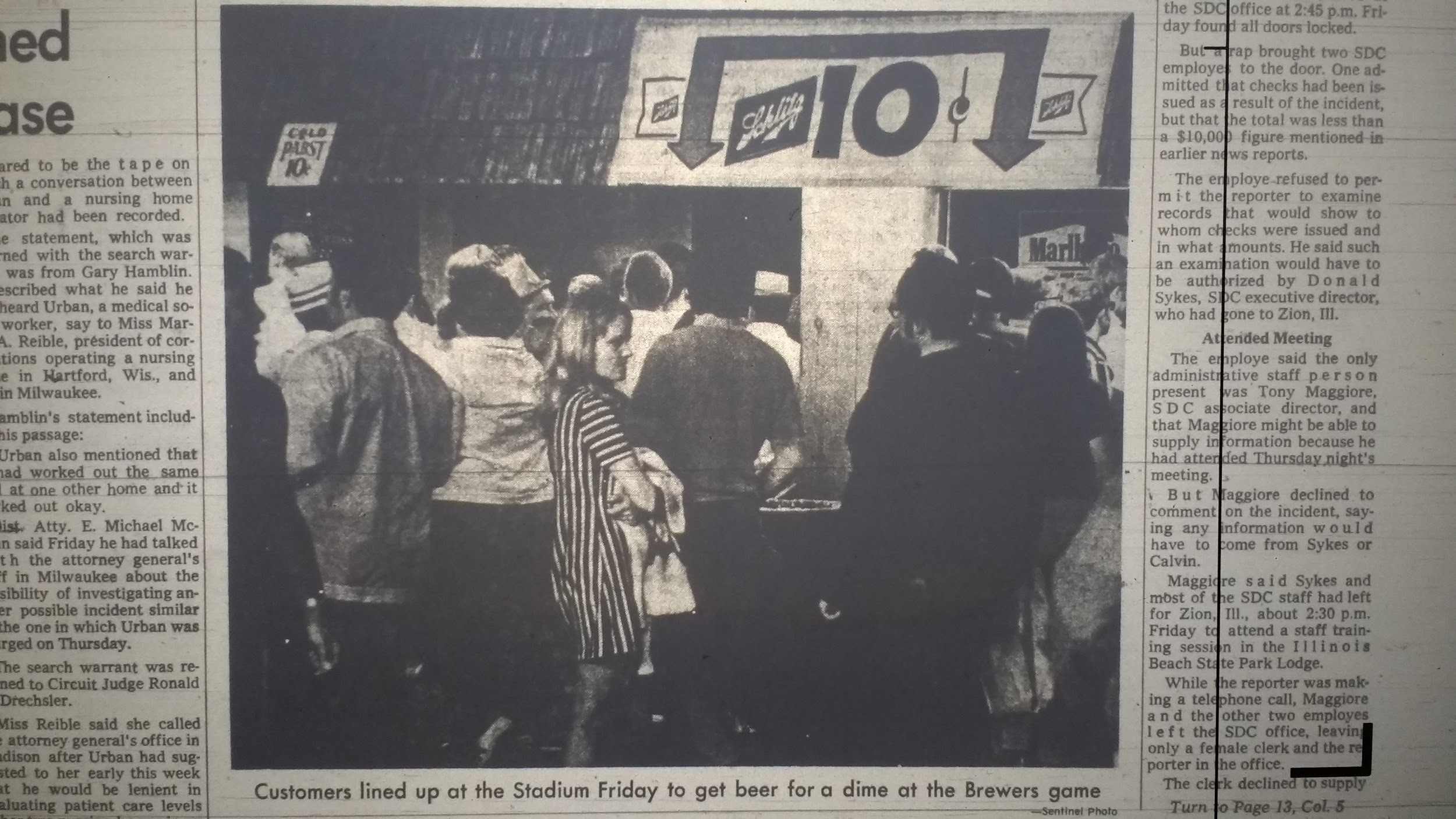 Photo from Milwaukee Journal, June 19, 1971 
Coming into the game, the Brewers were on a 2-10 stretch and things weren't going to get any easier facing the first-place A's at County Stadium. It was a season that would mark the beginning of the A's early-70s dominance. They had finished in second place in the AL West in 1970, and the 1971 season would be the team's true breakout, winning over 100 games and finishing with an unbelievable 55-25 record on the road. Reggie Jackson by then was already an All-Star and appearing on MVP ballots. Oh, and Catfish Hunter was starting.
The rain again foiled the Brewers' attendance plans as they drew a disappointing 27,474, far short of the 45,000-plus the club hoped for. Ticket director Dick Hackett thought a pregame downpour cost the team at least 10,000 in ticket sales.
Brewers manager Dave Bristol was in no mood for the festivities, barbershop quartets or not. After the team's most recent loss before the Friday home game, he gave his team "a tongue lashing" and held practice on Thursday, a scheduled off-day for the team. Up to that point in the season, the Brewers had been led offensively by left fielder John Briggs, who came into the game slashing .266/.361/.461. Skip Lockwood was set to toe the rubber against the fearsome A's the day after the director of baseball operations, Frank Lane, told reporters that the pitching staff "can't be in awe of hitters with reputations like the Robinsons and Boog Powells."
Lockwood gave up a leadoff single to Bert Campeneris, but quickly forgot about his awe of the A's hitters after the Brewers caught Campeneris stealing; Lockwood struck out Joe Rudi and got Reggie Jackson to pop up to the shortstop. Catfish Hunter faced the minimum in the Brewers' half of the frame, erasing a Dave May bunt single with a double play to end the inning. Both pitchers set down the opposing lineup in order in the second, but it came unraveled for the struggling Brewers in the third inning.
Facing the bottom of Oakland's potent order, the play-by-play reads:
Strikeout
Single to RF
Single to CF
Single to RF
Single to LF
Reached on E6
HBP
Sac Fly
Picked Off (Jackson scores)
If fans weren't ready for ten-cent beer night yet (they were), the three unearned runs probably convinced them.
The Milwaukee Journal reported that "fights broke out in all sectors of the park," and oddly, in the same article reminisced that "It was Old Milwaukee. It was the glory days of carry-ins and rowdy crowds at Braves games."
The reports from during the game are a monument to excess and the inherent problems when beers are nearly free at a ballgame. A sampling:
"One man ordered 130 beers and his group finished them by the sixth inning."
"Four youths from Rockford, Illinois still had 24 cups left when the game ended and at last sight were seen finishing them off."
"A companion…said that the group [of 4] had finished 104 beers by that point."
Dan McKinney, the long-term beer vendor saw much of the same. "It was all night, long lines and multiple orders. People had trays, they had boxes, anything where they could carry a large number," he said. "They weren't necessarily for a lot of people–mostly for themselves."
The A's win expectancy at that point was 92 percent and the Brewers never really threatened for the rest of the game, not that the fans in attendance necessarily noticed. One fan was removed unconscious in his seat by police. His friends were quoted in the Milwaukee Sentinel, unconcerned, saying "we have to pick him up at the station on our way home."
In fact, the lack of documented police action is shockingly almost non-existent from the game, given the Journal's report that "a favorite pastime of fans seemed to be fans, police, and ushers with cups of beer- and the contents therein." Milwaukee County unfortunately only retains arrest records and case reports for seven years, so it's hard to say exactly how involved officials had to get during the game.
For the most part, though, eyewitnesses at the game don't remember the insanity of Cleveland's ten cent beer night or Disco Demolition in Chicago.
By his own estimates, Ken Gniotczynski was going to 40-50 Brewer games a year in the 70s. He prides himself on not needing Google to look up information about the games, and he was pretty much dead on about his verifiable recollections when I talked to him in June. He admits he and his friends took advantage of the discounted beers but that they weren't really the trouble-making type.
"The stands got a little crazy at times, but I don't remember any real trouble," Ken said. "The thing I remember the most was Reggie Jackson wearing a helmet out in right field. He probably thought something was going to happen out there…The outfield players for both teams kept turning around to see what was going on and were watching for thrown beer."
At least one unnamed Brewer reliever after the game seemed to agree with Ken's recollections. "I've never seen anything like it…It was the wildest crowd I've ever seen. They were throwing beer and beer cups all over the place."
The Brewers finally gave the home crowd something to cheer about (well, something on the field to cheer about, anyway) in the bottom of the third as they broke through with a run-scoring sacrifice fly off Hunter. Skip Lockwood righted the ship in the fourth without any damage from the bottom of the A's order.
First baseman Frank Tepedino led off the Brewers' half of the fourth with a home run, getting the Milwaukee nine as close as they would come to the A's that night. It was Tepedino's first of six career home runs. "Naturally, it was quite an occasion for me," Tepedino said after the game. But perhaps not wanting to get too ahead of himself, followed up by saying, "but it's too bad it didn't mean anything. It's just another time up and another hit, really, when you lose."
John Morris came in to replace Lockwood with one out and one on in the 5th, and Morris and Hunter held the game without any more scoring through the 7th.
The party in the stands continued unabated.
"I worked in the upper deck in those days," said Dan McKinney, the beer vendor. "The big thing I remember was I was glad when it was over. It was non-stop. People came to us, we didn't go anywhere."
The legal drinking age in Wisconsin at that time was 18, and there was no stadium policy as far as how many beers a patron could purchase in one transaction, as there is now. The Journal noted that some fans didn't even leave the vending areas throughout the game.
It'd be easy to imagine that few in the stands noticed Catfish Hunter's RBI single to score Dick Green in the 9th to end the scoring for the night. After that, Catfish was back on the mound and completed the game for one of his 16 complete games that year, a new career high.
The final out came with Rob Ellis being thrown out on a 9-6-2 putout at home. Ellis said afterward that he stumbled over third on his way home, but third base coach Cal Ermer tried to take the fall for his player, saying "it was my fault entirely."
The hometown team had lost and failed to turn around their season against the powerhouse A's, but there was still joy in Mudville. A busload of fans from Waterloo and Beaver Dam were returning home, and told a Sentinel reporter that they had finished off ten cases of beer before they got to the stadium (WHY?!?) but still thought they had enough for everyone to have a six-pack on the drive home.
Vendor Dan McKinney recalls "a lot of litter with cups all over after the game, and spillage from people trying to carry all those beers." The A's won by a final score of 6-2. The game, for the beleaguered players, gameday staff, and probably just some poor fans that wanted to enjoy a game on a Friday night who purchased their tickets months in advance and wanted no part of ten cent beer night, was mercifully over.
After the Game
The Brewers would also drop the next two games against the A's after ten cent beer night, but followed up that 2-13 stretch with a 9-2 run. Frank Tepedino's homer wasn't quite the spark that would carry the Brewers to a Cinderella season, as they would go on to finish the season in last place in the AL West and fourth-last in attendance. Ten cent beer night couldn't be held responsible for that, though, as that game was the club's fifth-highest attended game of the season.
And even though there weren't any documented serious problems that arose from the promotion, it's probably telling that the club never tried it again.
"Dollar hot dog nights are really popular," said Dan McKinney, the beer vendor. "The thing is, hot dogs don't change your behavior that much. It's [ten cent beer night] probably not the best idea."
Perhaps unable to escape the numbers and statistics that define baseball, the Brewers released the final report on ten cent beer night the following day: 700 kegs tapped and 140,000 cups sold for an average of five 10-ounce cups of beer per fan. In other words, for every child in attendance that was too young to drink, there was a fan who drank 10 beers over the course of nine innings.
In addition to one feeling thankful that they weren't in attendance that night, you might also feel relieved that nothing too serious happened. For all the light-hearted treatment of the fans who overdid it at the game, it really is fortunate that it didn't end up worse — certainly for the safety of players and fans, but also for baseball in Milwaukee. The nascent franchise was just in its second year and already struggling with attendance, so who can say what might have happened if the city or the game in Milwaukee were given a black eye right from the start.
But luckily for Milwaukee fans, it didn't, and baseball is alive and well. Instead, Milwaukee's ten cent beer night is simply an anomaly in the city's baseball history, a product of a different time and attitudes toward drinking and public relations.
Perhaps the mindset and thought process of the wild time in 70s baseball, for MLB as a whole and certainly the young Brewers franchise is best captured during my conversation with Commissioner Emeritus Selig.
"Ultimately, was the promotion a success in your mind?"
We're talking during a Brewers get away day game, and there's a long pause as the former owner and commissioner watches a Brewer hitter single up the middle.
"What was the attendance?"
---
References and Resources
Milwaukee Journal, June 19, 1971. "Fans have blast, dime at a time."
Milwaukee Sentinel, June 19, 1971. "Thirsty Brewer fans quaff for a dime."
Baseball-reference.com box score, June 18, 1971
The Capital Times, June 19, 1971. "Brews' beer night draws by 27,474."
Wausau Daily Herald, June 21, 1971 "Brewer fans like their brew."
Sheboygan Press, June 18, 1971 "Brewers hope for big crowd."
Sheboygan Press, June 16, 1971. "Brewers plan jolly homecoming to end nine-game road trip."
CPI Inflation Calculator, Bureau of Labor Statistics.
Phone interview with Bud Selig, June 22, 2017.
Phone interview with Dan McKinney, August 7, 2017.
Email interview with Ken Gniotczynski, June 12-13, 2017.
Image: Milwaukee Brewers