A week ago, the sky was falling. The Brewers had lost their fourth straight game in a six-game losing streak, dropping to third in the NL Central. Fans asked if this was the stretch where the Cubs would pull away from Milwaukee, and I wrote an article dreaming about a Brewers team with the 2016 versions of Ryan Braun and Jonathan Villar.
Related Reading:
Dreaming on Braun and Villar
Now, the Brewers have won four straight and sit right near the top of the NL Central race, 1.5 games out of first after the sweep of the Pirates. As for Braun and Villar, my dreams are coming true. The duo is batting a combined .400 since my article was posted. Each player's recent surge looks legitimate as well.
Braun
After an injury-riddled first half, Braun has returned to form in the second half of the season. In 40 first half games, Braun slashed .259/.342/.545. So far in the second half, entering Wednesday's getaway game, he has slashed .347/.407/.541.
Braun has had success against just about any pitch throughout his career, but he feasts on fastballs.

The righty outfielder had a slow bat throughout the first half, whiffing on 8.6 percent of sinkers, about two percentage points higher than his career total. Braun struggled against fastballs throughout the first half.

In the second half, however, Braun has regained his dominance of hard pitches. He has only whiffed on 5.8 percent of sinkers and his average against fourseamers has skyrocketed.

Villar
Villar looked like quite the bust just about all year until August 10. In the five games since then, Villar has hit a homer, notched eight hits and stolen two bags. The switch-hitting infielder has looked like his 2016 self recently. Last season, Villar stole a ton of bases and mashed lower-third pitches.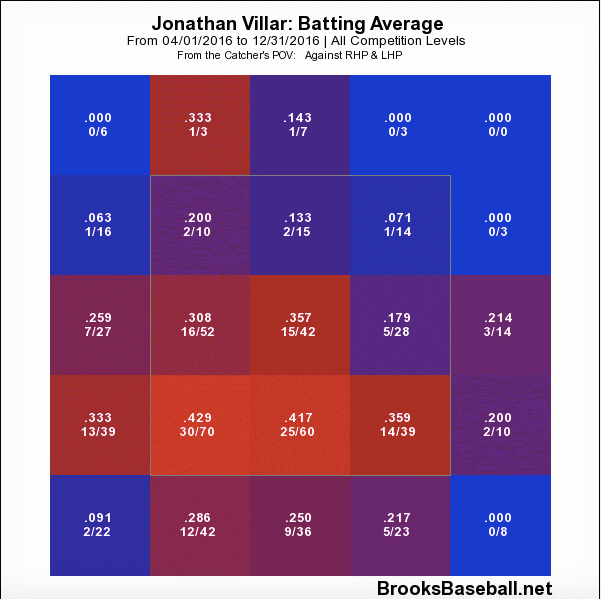 Villar dominated the bottom of the strike zone. The success didn't fully carry over into 2017, however. Prior to August 10, Villar didn't cover the lower pitch as well.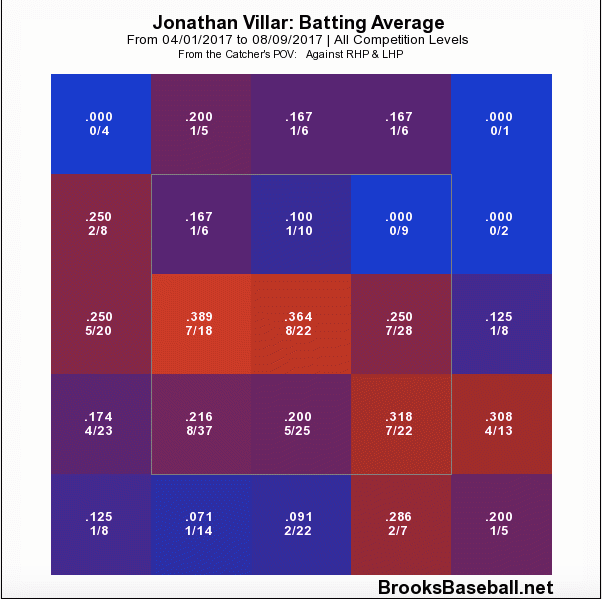 In the last five games, however, seven of Villar's eight hits have come on lower pitches. It's a small sample size, but Villar looks like the pitch scooper he was in 2016.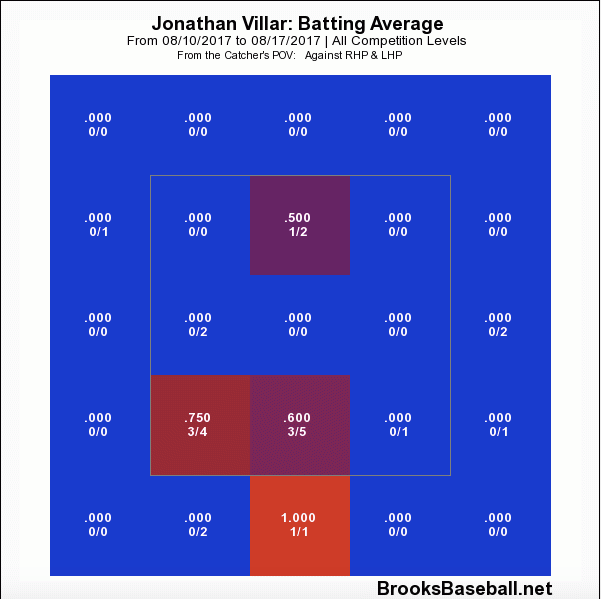 A short stretch of production doesn't pave a clear path towards legitimacy for either Braun or Villar. However, the two are hitting again, and in the same way they have during successful career stretches. If the Brewers continue to win, they'll have their two 2016 studs to thank for returning to form.