The Brewers concluded another up and down week at its highest point, completing a sweep of the Chicago Cubs over the weekend to bring the squad within two games of the division lead. The weekend once again featured strong pitching performances from the starters and the bullpen. The Cubs mustered only three runs over the three games of the series, including a shutout in the Friday opener where their bats had yet to wake after their arduous trek from Cincinnati.
| | | |
| --- | --- | --- |
| | Brewers | Cubs |
| Friday September 8 | 2 | 0 |
| Saturday September 9 | 15 | 2 |
| Sunday September 10 | 3 | 1 |
On Friday, Jimmy Nelson cruised through the Cubs lineup for five shutout innings. His turn came up to bat in the fifth and he singled to left, then hurt his shoulder diving back into first base, ending his season. Jimmy Nelson is a career .103 hitter with a .102 TAv in 2017. To lose him in such a freak occurrence is devastating, especially considering how rarely he actually gets on base.
In Nelson's place, Josh Hader stepped in and sustained the shutout for two more innings, allowing the Brewers to skip their iffy middle relief corps and get the game to the shutdown duo of Anthony Swarzak and Corey Knebel. The two inning stint was Hader's longest outing since he went three innings on August 12. Hader allowed one baserunner, via walk, which was his first walk allowed in September, covering four previous outings.
Hader has a BB/9 of 5.20 this season, but he stayed out of trouble by pounding the zone. For a Josh Hader outing, this is a pretty clean strike zone plot: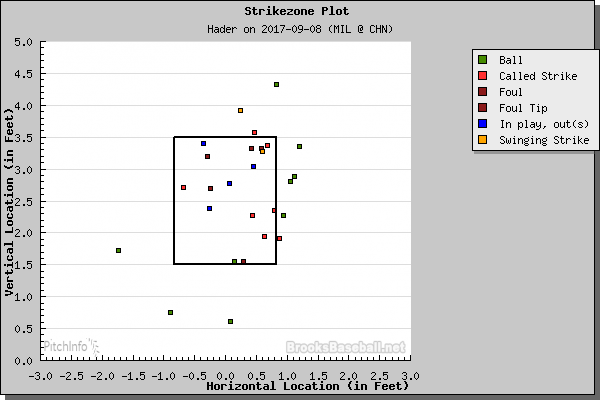 In a rarity  for Hader, he was working both of his non-fastballs on Friday. Hader's arsenal consists of a fourseam fastball, which he throws over 80 percent of the time, plus a slider and a change up, which he throws at a 2:1 ratio in favor of the slider. However, he doesn't really have a slider and a change up; in an outing, he seems to pick one of those pitches to play off against his fastball, but he doesn't usually use both. In sixteen of his twenty eight outings, he didn't throw one of those pitches. In another five, he only threw one of the disfavored non-fastball for the evening. To bring this point home, Friday was the first time Hader had thrown at least four sliders and four changeups on the same outing.
Hader's pitch usage is something to keep an eye on. After using the fastball 82.86 percent for the whole season, including a monthly high in August of 85.07 percent, it's down to 75.76 percent in September. As a one inning reliever, Hader can live with two pitches. As a multi inning reliever, he's better off giving batters another pitch to watch out for. And if the end game is Hader as a starting pitcher, then he needs to continue to develop a third pitch. If he is getting confidence and getting the feel for throwing both pitches in the same outing, then that bodes well for Hader's future, both for the rest of this season and into 2018.
Staying on Friday's game, Ryan Braun hit his 300th home run for the Brewers' only runs of the game. It was Braun's fifteenth of the season, which is actually in line with his career pace of 29.17 home runs for every 140 games. While the injuries have hurt his counting numbers, Braun has actually kept pace with his PECOTA 50th percentile projection for Total Average (.288 projected TAv against .287 actual TAv).
The most noticeable aspect of Braun's aging have not been his numbers, but how they're compiled. Throughout his career, Braun could access his power throughout the strike zone. The linked chart shows few holes in his power game. His biggest weaknesses were low and out of the zone, and inside at the top and bottom of the plot. Everywhere else, Braun had decent to great numbers, including away in the zone.
In 2017, the colors on the chart are much different. Braun can still rake on those inside pitches, but he's not really able to do anything with pitches towards the outer edge of the zone, and he no longer has much power on pitches out of the zone if they aren't inside. This suggests he's cheating on fastballs to make up for a loss of bat speed. Further evidence is apparent when we look at his power numbers on non-fastballs. His career numbers show, good coverage throughout the zone, showing that Braun has demonstrated the ability to stay back and drive off speed and breaking pitches. This year unless those pitches are far inside, Braun hasn't been able to do anything with them. Pitchers still haven't caught on and tried to exploit this potential weakness. He's still seeing fastballs on two thirds of his pitches faced this year, and his monthly numbers aren't showing an uptick in non-fastballs either.
While his dramatic resurgence last season was a welcome sight in a dismal season, Braun is aging gracefully into the last stage of his career. He's still dangerous enough to hit in the middle of the order and scare pitchers, as his power numbers suggest, but there are ways to get him out. As long as pitchers keep pumping fastballs though, Braun will do damage.
Up Next: The Brewers have nine games until they meet the Cubs again. They will face Pittsburgh for six remaining games, with three at home this week and three in Pittsburgh next week. In between, they'll have a weekend series in Miami, though that's not 100 percent certain following Hurricane Irma. The Pirates were just swept by the Cardinals (who are also tied with the Brewers at the moment) and have now lost five straight, scoring six runs while allowing twenty four in that span. After receiving some publicity for clawing back into the Wild Card race, the Marlins have lost twelve of fourteen to slink away from contention.
| | | |
| --- | --- | --- |
| | Pirates | Brewers |
| Monday September 11 | Steven Brault (7.63 DRA) | Brandon Woodruff (4.60 DRA) |
| Tuesday September 12 | Gerrit Cole (3.64 DRA) | Brent Suter (6.16 DRA) |
| Wednesday September 13 | Tyler Glasnow (7.48 DRA) | Matt Garza (5.61 DRA) |
---
Photo Credit: Jim Young, USAToday Sports Images