The Brewers made it to the final weekend of the season still eligible for the postseason, but were officially eliminated from playoff contention in Game 161, their only loss of the weekend against the Cardinals. There will be plenty of debate on the appropriate reaction to this season (see here for some thoughts on a squandered opportunity) and the proper offseason course, but we can save that for a another day. The Brewers took us on an exciting and sometimes maddening ride this year and it's worth taking the time to appreciate the journey of the season before looking forward.
| | | |
| --- | --- | --- |
| | Brewers | Cardinals |
| Friday September 29 | 5 | 3 |
| Saturday September 30 | 6 | 7 |
| Sunday October 1 | 5 | 1 |
Domingo Santana went 5-9, including a home run, during Friday and Saturday's games before sitting out the season finale on Sunday. Those two games represented a fitting closing kick as Santana was arguably the team's best hitter in September, and the performance constituted a true breakout performance in his first full season in MLB.
Santana set a new career high in TAv with .306, while improving his plate discipline with career highs in walk rate (12 percent) and strikeout rate (29.3 percent). Normally when one sees numbers like that, there are obvious swing holes which are papered over or a hitter tightens up his approach. However, Santana swung more than ever this season. His swing rate jumped to 46 percent, up from 41 percent in 2016. It didn't matter whether the pitch was a strike (zone swing rate 68.64 percent from 62.26 percent in 2016) or a ball (out of zone swing rate up to 25 percent from 20.17 percent in 2016). Yet even with this increased swing rate, his swinging strike percentage only jumped from 30.85 percent to 32.27 percent.
Looking into his zone charts, there are some subtle shifts which explain the step forward at the plate. Coming into 2017, Santana at bats ended in a proportionately higher rate of pop ups, with this zone chart showing that many of those popups came in inside pitches that Santana should have been able to drive or lay off. This year, he significantly cut down on the pop ups, turning more of those pitches into fly balls and line drives. Santana actually ranked 7th among all qualified hitters in pop up rate, showing his growth in this area. He also ranked 5th in line drive rate among qualified hitters. Fewer pop ups, more fly balls, and more line drives is a good recipe for success. If Santana can maintain or even improve his performance in these areas, he's going to be a star for years to come.
Aaron Wilkerson got the last start of the season and threw a perfect game through six innings, before letting up a pinch hit single to Jose Martinez. In total, Wilkerson pitched seven innings, allowing one run on two hits and no walks, while striking out five. It was Wilkerson's second start for Milwaukee, and a chance to make up for his disaster ten days ago when Milwaukee was still in playoff contention.
Wilkerson pitched off his four seam fastball, throwing it for forty three of his eighty six pitches, reducing his rate from his other start this year. His average fastball velocity was down to 89.8 MPH, .5 MPH slower his speed in late September, perhaps the result of a career high in innings this season by a fairly significant margin.
While Wilkerson struck out about a batter an inning in Class-AA, he hasn't shown swing and miss ability at the big league level yet. On Sunday he generated five whiffs on the fastball and one each on his changeup, slider and curveball, better results his performance against Pittsburgh, but his five strikeouts were more than in his other two MLB appearances combined. Part of the issue may be that he throws too much in the strike zone: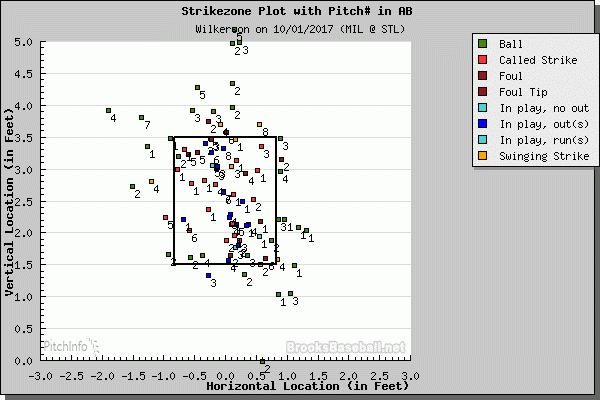 There's not many pitches for batters to chase in that plot. Of course, his approach may have been tailored to his opponent. While he was facing the St. Louis Cardinals, he wasn't actually facing a team most would recognize. After Randal Grichuk and Aledmys Diaz, the Cardinal with the most MLB plate appearances in 2017 was Luke Voit with 120. No one else had more than 100.
Going forward, Wilkerson pitched himself into the mix as an up and down guy for 2018. He should move up to Class-AAA and strong performances will keep him in line as a candidate to fill in as a sport starter or a long man in the bullpen. Unless his stuff moves a tick forward, which is unlikely for a player who just finished his age 28 season, he'll never be a rotation regular, but Wilkerson can fill a key role as a player who could provide innings and competence when the team is short staffed. Those types of players can be the difference between the playoffs and going home early.
Up Next: One could make the argument that after your team's season ends, you've reached the cold abyss of the offseason, with only rumors and player acquisitions to tide one over until the birds emerge from winter's darkness and it's time for spring training. However, baseball is fun and there are plenty of reasons to be excited about the playoffs, even without Milwaukee's participation. Take joy in potential early round exits from the Cubs and Rockies! Root for a World Series drought to end! Regardless, enjoy the baseball and hope that the Brewers make the right moves so they're participating next year.
---
Photo Credit: Jeff Curry, USAToday Sports Images