Maybe none of yesterday's American League teams appealed to you all that much. Maybe you've decided "screw it, I'm already having a short-term fling with a strange team, why not double my pleasure and pick one from each league?" Maybe you're just still unable to cope with the late-season elimination and you're desperately reading this website in search of meaning to your life. No matter your dilemma, though, I've got you covered.
Related Reading: American League Rooting Guide
Today: The National League
Los Angeles Dodgers
Regular Season Results: From August 26th, against the Brewers, to September 11, the Dodgers lost 16 of 17 games. They still managed to finish 104-58 overall, the best record in baseball. At no point this season were the Dodgers considered anything less than 60 percent favorites to win the division.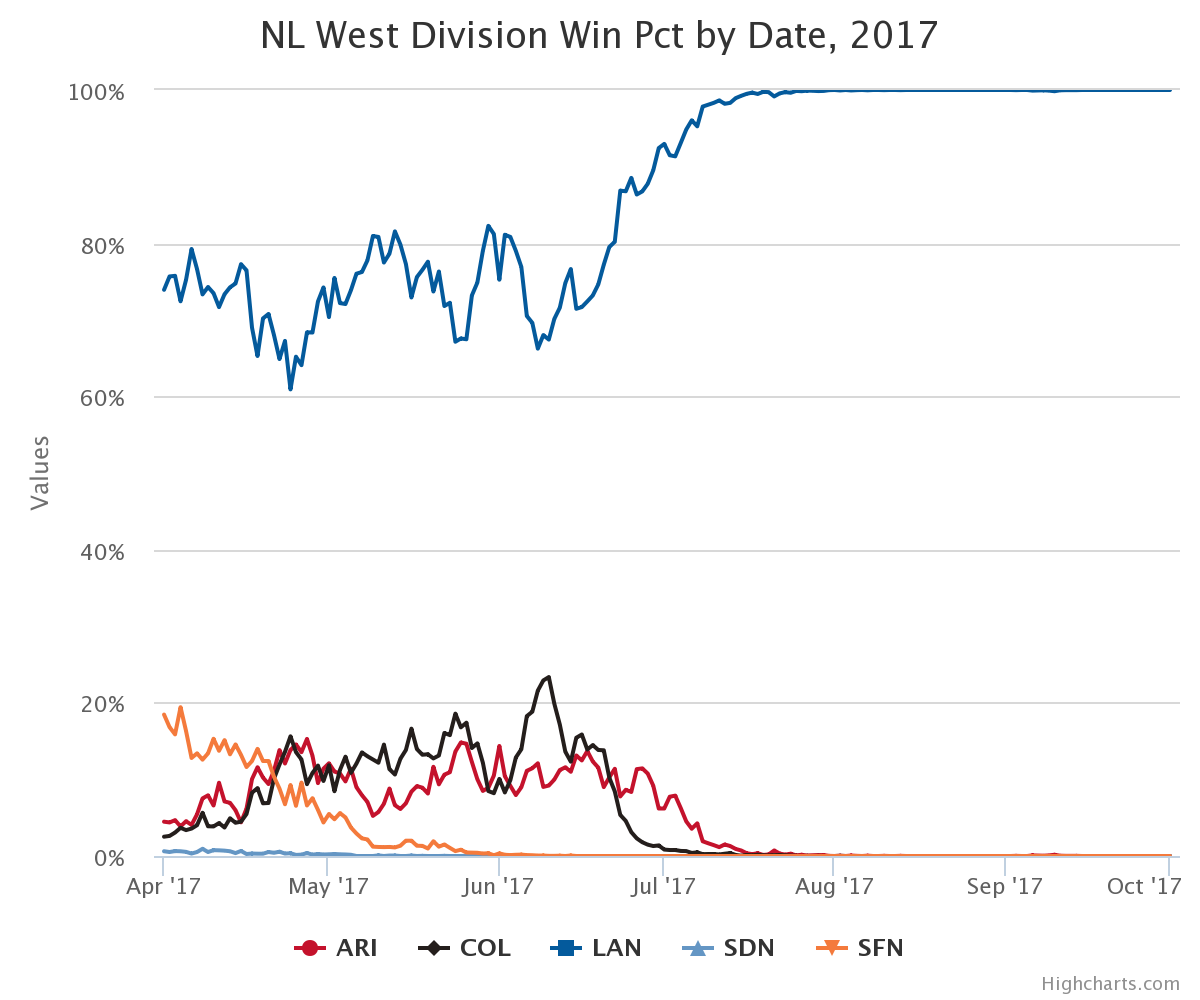 Remember, that's the division that both of the wild-card teams came from. In case you couldn't tell, these guys are good.
Brewers Connection: There's no cross-pollination to speak of between the two rosters, but I dug deep. The playoff-bound 2008 Brewers rostered a reserve outfielder who was coming out of retirement named Gabe Kapler. Today, Kapler is the Farm System Director for the Dodgers. Also, the seemingly-immortal Ryan Braun for Yasiel Puig trade rumors sorta count as a connection, I suppose. That being said, if you're basing your playoff loyalty on former Brewers, the Dodgers basically score a .1/10.
Why You Should Root For Them: In a lot of ways, the Dodgers are the model 21st century franchise. They amass stupid amounts of depth, treat their players very cautiously with regards to injuries, and stubbornly refuse to err on the side of overtaxing their pitchers. Clayton Kershaw is the kind of player you'll tell your grandkids about seeing. Yasiel Puig is controversial and fun in all the ways that Brewers fans are fond of. Corey Seager and Cody Bellinger are both young and exciting. Austin Barnes is a C/2B, which feels like a positional combination picked by a video game AI at random and I immediately love it.
Why You Shouldn't Root For Them: I'll refer you to the graph of every team's projected World Series odds: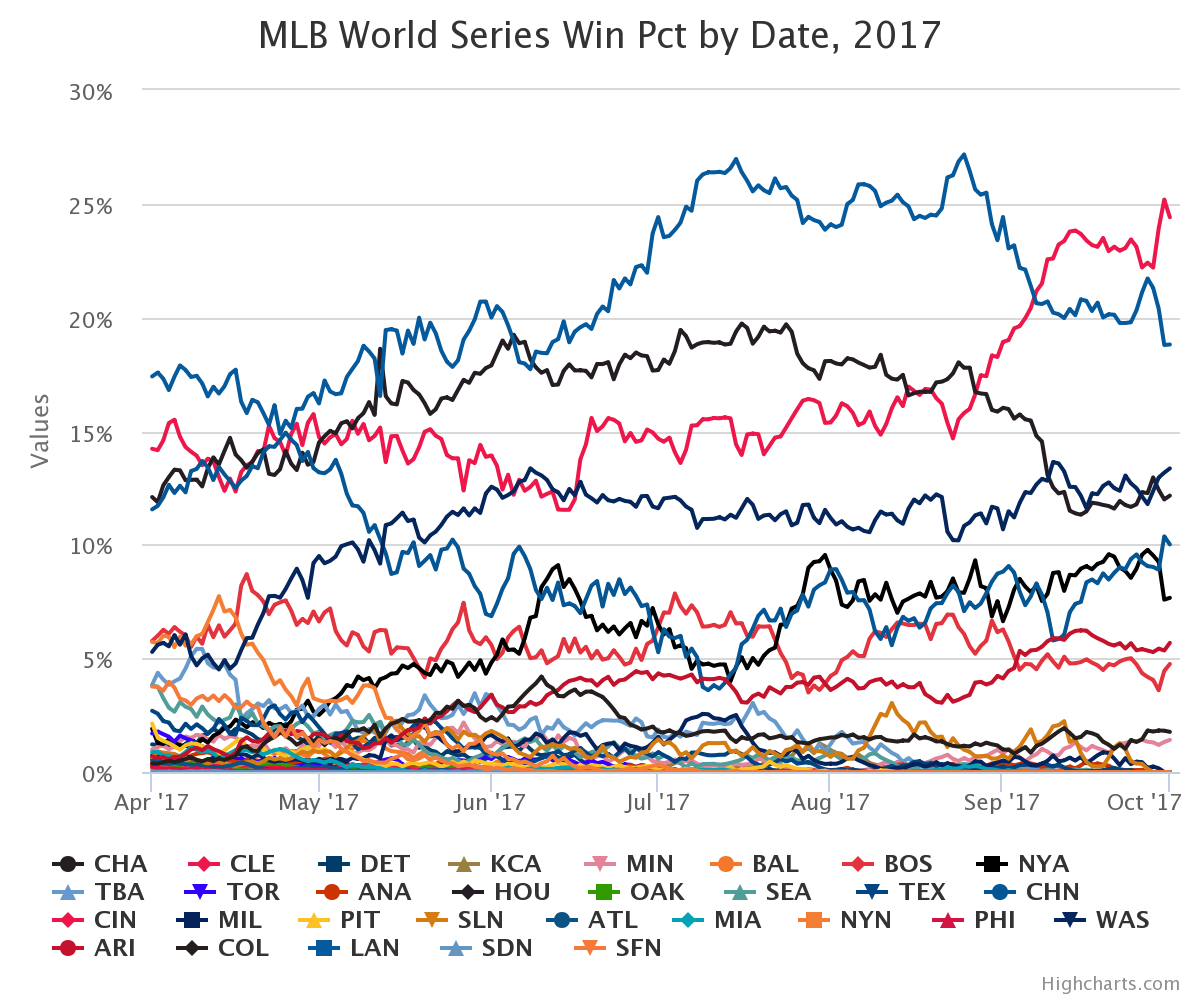 The 2017 Dodgers are a testament to the immutable fact that, given a financial advantage and competent people calling the shots, victory is all but certain. Save for a three-week stretch late, this was a team that won because they were supposed to win. Cleveland might be a trendier bandwagon pick at the moment, but if so that's only because picking the Dodgers was so mindlessly easy for most of the season. They're not the trendiest bandwagon pick, but they're undoubtedly the easiest.
Plus, Wisconsin sports fans generally tend to absolutely loathe the West Coast, and California in specific. That alone is going to be a dealbreaker for a good number of people. If it makes you guys feel any better, my wife and I have been out here five years now and the cheese still sucks.
Washington Nationals
Regular Season Results: 97-65, winning the NL East with a 20-game cushion. If the Braves' current iteration of a rebuild turns out to be a dud, these guys could own the division for a decade-plus. Jose Fernandez and the Marlins were basically the best shot to do it in the next year or two, but Fernandez has been gone for over a year and Miami is shopping Giancarlo Stanton (Note: Brewers front office staff who might be absentmindedly skimming this article in your downtime, this is the moment you should perk up and pay attention.).
Brewers Connection: Adam Lind, baby.
Lind's 2016 with Seattle was a nightmare, and the Nationals were able to scoop him up on the super-cheap this year: $1 million with a mutual $5m option in 2018. With playing-time incentives that $1 million ended up turning into $1.8 mil. Whoop de do. For this meager compensation, all Lind did was slash .303/.362/.513 in part-time action, filling in both at first base and in the outfield as the Nationals were ravaged by injuries.
Why You Should Root For Them: Bryce Harper, Anthony Rendon, and Daniel Murphy are all .300/25 guys with .900+ OPS numbers across the board. Max Scherzer is the most fun pitcher to watch this generation, and it's a joyful bonus that his unique mound presence is paired with one of the filthiest arsenals a starter has ever deployed. Their bullpen was literally improvised and constructed through trades in July when the first half was a neverending parade of late-blown games. But most importantly, they're playing the Cubs in the first round.
Oh, and you know you've got your old #AdamLindAppreciationSociety membership card buried in a drawer around here somewhere. That thing never expires, hombre.
Why You Shouldn't Root For Them: Remember what I said back in the beginning of this section, about the rudderless mess that is the rest of the NL East? If the Braves are following the Marlins path, only five years later in time, the Nationals should be able to win this division every single year for the next decade. There's a really good chance that you're going to be completely sick of seeing these guys every October in another three years.
Beyond that, Bryce Harper throws a helmet like 50 Cent throws out a first pitch:
Yeah, that's right. Throw at Harper if you dare this postseason. Your second baseman will suffer the consequences.
Chicago Cubs
If you're planning to root for the Cubs this October you can just go right ahead and drop off all of your Brewers apparel in a garbage bag in front of the turnstiles at Miller Park. The Cubs are the worst, the Cubs' fans are the worst, and the moment the Cubs are eliminated from the playoffs will easily be one of the top-5 highlights of 2017 for me. Remember, this is a guide to the playoffs for Brewers fans. If you consider yourself a Brewers fan, and you want to adopt the Cubs as your bandwagon team, you can't come back.
In fact, to enjoy the postseason while staying faithful to the Milwaukee Nine, you might want to go the opposite route instead by forgoing one steady bandwagon fling and shamelessly flirting with whoever is playing the Cubs at that given moment, then following the team that beats them the rest of the way out of loyalty.
Arizona Diamondbacks
Regular Season Results: The Diamondbacks won 93 games, second-most in franchise history, but never stood a chance of winning their division thanks to the wire-to-wire stompfest the Dodgers unleashed upon the NL West. Still, you could make a very strong case that the Diamondbacks' 93 wins in the West was far more impressive than the Nationals' 97 wins in the moribund East. The advanced metrics support this: Arizona ranked second in the NL to the Dodgers in team WARP, and first in the league in team DRA.
Arizona won the Wild-Card Play-In Game on Wednesday. They opened up a 6-0 lead on the Rockies, saw the lead evaoprate to 8-7, and then finally won 11-8. The Diamondbacks were very nearly a case study in "how to get hosed by a stacked division." Instead, they'll get a best-of-five chance to upset the Dodgers and make that regular-season dominance a mere historical footnote.
Brewers Connection: Yesterday, we caught up with our old friend C.C. Sabathia. But he's not the only former Milwaukee ace on a potential adopt-a-team. Zack Greinke came into Spring Training throwing slower than he ever has, but the veteran made it work with a 3.20 ERA, 9.6 K/9, and 5.8 wins above replacement, anchoring a vastly-improved rotation.
The Diamondbacks also employ Jorge De La Rosa, a 36-year-old who pitched for Milwaukee from 2004-06. It's a deeper connection than you'd think originally. De La Rosa appeared in 61 games for the Brewers, starting just three of them. The Royals and Rockies, his employers from 06-16, used him almost primarily as a starter. This year, De La Rosa made 65 relief appearances for the Royals.
So, hey! Zack Greinke on the hill, with Jorge De La Rosa coming in out of the 'pen when he starts to lose his shine! That sequence of events never once happened, never even came close to happening, but just roll with it. You can pretend that it's a version of the Brewers that Kim Jong-Un "expertly" recreated for a North Korean propaganda film.
Why You Should Root For Them: There's David Peralta, a onetime minor-league pitcher who evolved into Arizona's leadoff hitter. There's Paul Goldschmidt, a superstar for years, making his first postseason appearance. There's J.D. Martinez, who was cut by the Astros when they were perennial 100-game losers before resurrecting his career in Detroit. And there's one of the best pitching staffs in baseball, start to finish. Greinke, Robbie Ray, Zack Godley, and Taijuan Walker can go toe to toe with anybody else's playoff rotation. After them Fernando Rodney, Archie Bradley, and Andrew Chafin lock down the back innings.
Clearly, the Dodgers are the superior team. But they're not superior enough to where it's difficult to see Arizona taking three games. And rooting for the second-place finisher over the powerhouse is what playoff bandwagoning is all about! How often can you do that and feel somewhat confident in yourself?
Why You Shouldn't Root For Them: Because lovable as Zack Greinke might be, he's overshadowed by the thick vines of St. Louis Cardinals connections dangling from this roster. Tony La Russa's their Chief Baseball Analyst, Daniel Descalso plays second base when Brandon Drury isn't there, notable Brewer-killer Jeremy Hazelbaker appeared in 41 games for them, and Shelby Miller is injured and on the roster.
On the one hand, yeah, they're a fun underdog taking on the Dodgers, with better odds than you might think of pulling something magical out of their ass. On the other hand, for the same reasons you can't root for the Cubs as a Brewer fan, you probably shouldn't support the Western Annex of the Cardinals, either.
---
Photo Credit: Gary A. Vasquez, USAToday Sports Images