Hi everyone. During the NFL season I write a regular piece on the strangest items you can find in the pro shop of every Green Bay Packer opponent, and as it's the holiday season, the height of commercialism, I thought I would take a look at the Milwaukee Brewers' shop in case you need to purchase any last minute gifts for your loved ones. Who wouldn't enjoy this $3000.00 painting of "Ritchie" Sexson, for instance?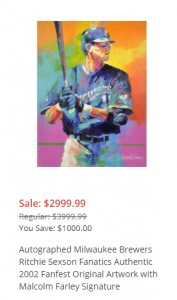 Malcolm Farley's exquisite 2002 FanFest artwork is truly breathtaking, as is the fact that the pro shop spells Richie's name wrong, making it impossible to find for anyone who might consider buying.
After you hang Ritchie here on your wall, you'll need something to help you appreciate your new art while your stroke your chin and comment on the quality of the brush work. A nice glass of red is the perfect complement, and you can't go wrong with the 2015 Brewers Club Series Cabernet.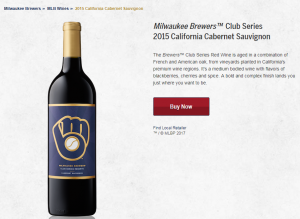 With hints of blackberries, cherries, and spices, nothing will class up the joint more, or pair better with Secret Stadium Sauce.
Hank!
Hanks is everywhere, probably because there are secretly two of him. Kidding, kidding, but given his presence in the pro shop doing all manner of things, you'd be tempted to think so, even though the Brewers have absolutely confirmed it isn't so.
He's sitting on a barrel with the Bratwurst for $68.00,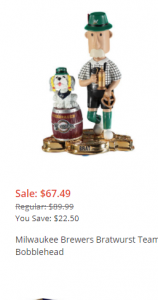 There are several half human, half Hank, "WereHank" monstrosities,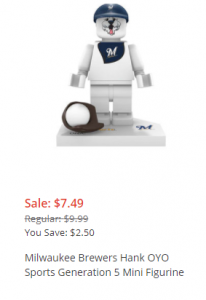 And a delightful book on our favorite little guy.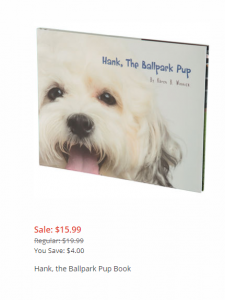 I wonder which Hank it's about.
KILL IT WITH FIRE
Ghosts are supposed to be scary, but not like this.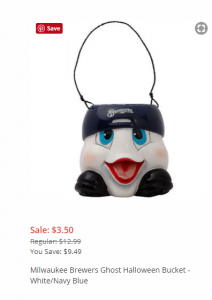 This creepy white pile of goo who constantly stares up at whoever is carrying it is the perfect Halloween bucket for your small child. Lacking either the kitsch of a jack-o-lantern or the capacity of a pillow case, the Brewers Ghost Halloween Bucket will have his or her friends asking "What is that?" and "Can you get it away from me?"
Bad This Shirt Is
Star Wars is all the rage right now so it's no surprise to see t-shirts like this truly unfortunate Yoda number…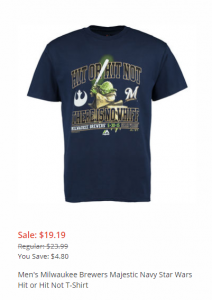 And this is even worse than putting your actual last name on a jersey. Do not put your actual name on a jersey, it's always a bad decision, and a key indicator of a fan that will be pointed out to an usher at some point during the game.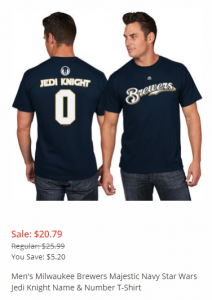 Do not do this, it is bad. That said, not everything in the Star Wars' line is bad. This is both awesome, and flies in the face of retconned George Lucas canon: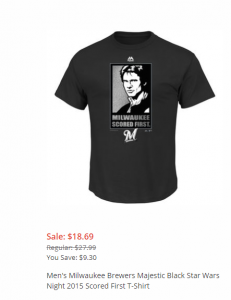 I'd buy that shirt, well done.
Finally
I don't know what Tokidoki is or what's going on here, but I do like donuts. In any case, if you're interested in a fake-anime girl wearing a donut dress and carrying a wheat stalk, the Milwaukee Brewers have you covered.
Happy Holidays everyone.