The Brewers had another successful week, going 4-2 against Cleveland and Colorado. Since both teams are currently over .500, those will count as Quality Wins, showing that the Brewers have earned their spot as leaders of the NL Central. Other than a Coors Field slugfest on Friday night, the pitching provided the backbone of the strong week as the Brewers won every game in which they scored at least three runs.
| | | |
| --- | --- | --- |
| | Brewers | Rockies |
| Thursday May 10 | 5 | 2 |
| Friday May 11 | 11 | 10 |
| Saturday May 12 | 0 | 4 |
| Sunday May 13 | 7 | 3 |
The people want more Freddy Peralta and we here at Baseball Prospectus aim to please. As a companion to the mother site's scouting breakdown of Peralta and our own site's look at how he fits in the general team building strategy of the organization, we're going to break down his phenomenal debut. Peralta pitched 5.7 innings, allowing no runs and one hit while striking out thirteen Rockies.
The BP scouting report detailed that Peralta pitches mainly off his fastball, which has deceptive movement and that he can throw at different speeds. His second pitch is a slider that sits in the mid 80s, and while he doesn't have a consistent third pitch, he'll throw a changeup. Peralta went to an extreme version of his pitch mix on Sunday. He threw 98 pitches, of which 90 were fastballs. Though he threw almost all fastballs, Peralta played with the pitch speeds: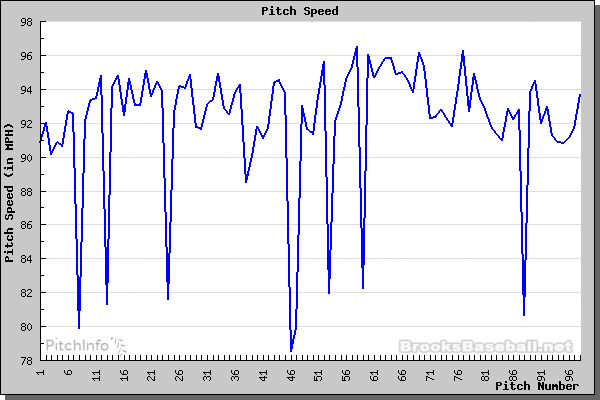 Every pitch outside of the low 80s was a fastball. He manipulated the fastball to throw it an average velocity of 93.2MPH, with around 88 MPH at the low end and 96.6 at the high end. That's a good speed differential between a fastball and a changeup, let alone what's supposed to the same pitch. By keeping hitters slightly off kilter with the change in speed, batters were flailing all afternoon. Of the ninety fastballs, Peralta got swings on forty of them and whiffs on eighteen. It seemed like he was looking to really pump the gas when he got to two strikes.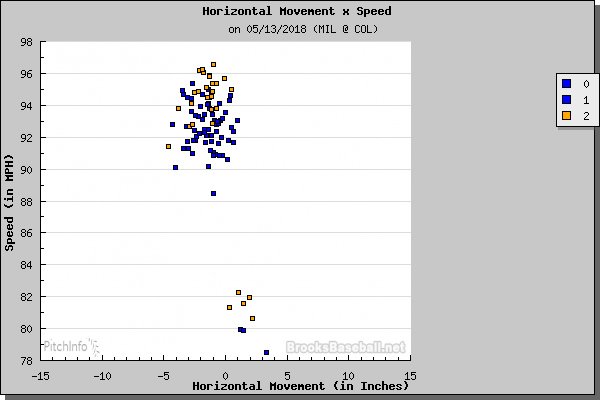 The y-axis in that graphic indicating velocity is what I want to focus on. The big cluster of dots at the top of the chart are all of Peralta's fastballs, with the yellow dots indicating his two-strike pitches. Generally, his fastest pitches on the ball came with two strikes as he sought to bring more heat to get the strike out.
The BP scouting report indicated that the slider was his preferred two strike pitch because it induced whiffs, especially when he kept it up in the zone. While Peralta mainly shelved his slider, the five times he did throw it came with two strikes. He got one strikeout on the pitch, which came in the 2nd inning against Carlos Gonzalez. Contrary to the scouting report, he buried it below the zone after enticing Gonzalez with two meaty pitches in the middle of the zone, plus a ball high and away.
After his performance, Peralta has surely earned another start. Going forward, he'll need to continue to mix in his slider; after all, there's only one Bartolo Colon. He can mix up the speed and movement of his fastball, making it appear to be several different pitches, but developing an effective changeup and mixing in his slider earlier in the count can help to keep batters guessing and possibly get some more whiffs.
One thing to keep an eye on is his average and maximum velocity. Peralta was touted as having a fastball between 89-93. However, if the velocity spike in this start wasn't just first start nerves and proves somewhat sticky, Peralta's floor and ceiling greatly improve. There's a huge difference between sitting at 93 and touching 96 compared with his minor league velocity. Velocity isn't everything but Aaron Nola certainly has more room for error than Joey Lucchesi.
---
The road trip continues this week as the Brewers are out of Milwaukee for the week. They leave Denver to fly to Arizona to take on the Diamondbacks, giving them three chances to add more Quality Wins to their resume. After making through the first week in May without losing a series, the Diamondbacks have now lost five in a row. They're still leading the NL West, though they have slightly outperformed their underlying numbers. Afterwards, the Brewers will have a travel day before a weekend series in Minnesota.
| | | |
| --- | --- | --- |
| | Brewers | Diamondbacks |
| Monday May 14 | Junior Guerra (4.45 DRA) | Patrick Corbin (1.91 DRA) |
| Tuesday May 15 | Jhoulys Chacin (6.47 DRA) | Zack Greinke (1.41 DRA) |
| Wednesday May 16 | Brandon Woodruff (3.71 DRA) | Matthew Koch (3.36 DRA) |
---
Photo Credit: Isaiah J. Downing, USA Today Sports Images