The Brewers had the potential to make this one of the best weeks of the season. After splitting two games with Pittsburgh, they took the first two games of their weekend series against St. Louis as the Cubs lost the first two games of their series against Cincinnati. Unfortunately, their bats fell asleep again on Saturday and Sunday as the team lost both games, resulting in a series split against the Cardinals. Compounding the pain was a surprising sweep of the Cubs by the Reds. Even with that disappointing end to the week, the Brewers are still in first place and now have the best record in the National League.
| | | |
| --- | --- | --- |
| | Cardinals | Brewers |
| Thursday June 21 | 3 | 11 |
| Friday June 22 | 1 | 2 |
| Saturday June 23 | 3 | 2 |
| Sunday June 24 | 8 | 2 |
After acquiring Brad Miller two weeks ago, it was only a matter of time before management would call him up to the Brewers. The move occurred on Saturday, as Miller took Domingo Santana's spot on the roster. Miller was the starting second baseman and batted eighth for the team. He doesn't have an immediate full-time role with the team, but he had been playing shortstop in the minors and spent most of time in Tampa Bay this year at first base.
Though he plays multiple positions, his defense has consistently rated below average according to Fielding Runs Above Average (FRAA). Offense is where his real potential lies. In 2016, Miller hit 30 home runs and produced a TAv of .280, which was the sixth best TAv amongst qualified shortstops that season. That was his age twenty-six season. Unfortunately, he hasn't come close to replicating his success, which is how the Brewers were able to acquire him so cheaply.
From 2016 to 2017, his batting average plunged forty-two points, yet his on base percentage rose by twenty three points. While getting on base more often is a good thing, there's a problem if the batter is becoming too passive and not seeking to drive the ball. According to Baseball Prospectus, Miller's plate discipline profile progressed in the following way:
| | | | | | | | | |
| --- | --- | --- | --- | --- | --- | --- | --- | --- |
| YEAR | ZONE_RT | SWING_RT | CONTACT_RT | Z_SWING_RT | O_SWING_RT | Z_CONTACT_RT | O_CONTACT_RT | SW_STRK_RT |
| 2016 | 0.4793 | 0.4897 | 0.7302 | 0.6679 | 0.3256 | 0.7917 | 0.6142 | 0.2698 |
| 2017 | 0.4417 | 0.4520 | 0.6845 | 0.6416 | 0.3019 | 0.7079 | 0.6452 | 0.3155 |
| 2018 | 0.4468 | 0.4931 | 0.6813 | 0.6966 | 0.3287 | 0.7525 | 0.5593 | 0.3188 |
| Career | 0.4776 | 0.4771 | 0.7354 | 0.6494 | 0.3201 | 0.7924 | 0.6283 | 0.2647 |
From 2016 to 2017 Miller did swing less while swinging and missing more. When he did make contact, it wasn't the good kind. He made less contact in the strike zone and more contact on pitches outside the strike zone. As a result, he hit more grounders and fewer line drives and fly balls. To drill that down further, Miller's launch angle lowered to below the MLB average, he hit fewer balls hard, and wasn't getting the barrel of his bat on the ball. Miller's numbers sank against all types of pitches across those two seasons, so there's not even one area to point out where he could improve his approach. Lastly, the injuries he suffered don't seem to be cause of his struggles. His triple slash line from the start of the  season to his first trip to the disabled list mirrors his season ling numbers.
However, all hope is not lost, and there may still be life in Miller's bat. Though his whiffs have stayed at an elevated level, his other plate discipline stats have recovered. He's swinging more and making more contact in the strike zone. He's also missing more pitches out of the zone. One can interpret that as good news that he's not hitting pitches he won't hit hard, but also maybe bad news because he's swinging and missing at bad pitches.
Going back to those Statcast numbers, Miller is actually hitting the ball harder than he ever has and is getting more consistently good contact. He's raised his launch angle to a career high as well. While expected metrics are not predictive of future performance, his expected stats are below his current season line; it's not unreasonable to expect more production from him to finish the year.
If Miller sticks with the team and earns more playing time, it'll be because his bat has created opportunities for him or one of the current double play combo plays himself out of a regular spot in the lineup. The team saw something in Miller (and some deficiencies on the big-league roster), and the components are there for him to regain some of his past success.
---
On Friday, Junior Guerra pitched five innings, allowing one run on three hits and four walks, while striking out seven Cardinals. Guerra has great stuff, but high pitch counts can prevent him from going deep into games. He has the best Deserved Run Average (DRA) of any regular in Milwaukee's rotation, but he hasn't completed more than eighteen outs all season. Guerra is currently walking 3.5 batters per nine innings, which amazingly is not a career high. However, it is above the league wide rate of 3.3 batters per nine innings.
Guerra's two best pitches for swings and misses are the slider and splitter. They're effective pitches and batters haven't made a lot of solid contact against either this season. However, they've been balls when thrown 46 percent of the time. The movement on these pitches is amazing because there's no reason batters should be swinging at pitches with this zone profile: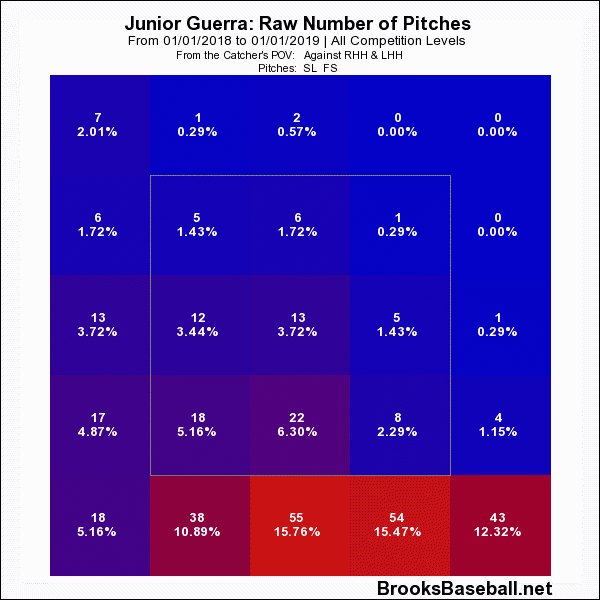 Of course, that also illustrates why Guerra will always be a high walks, high pitch count, non-innings eating starter: his bread and butter pitches are balls. He wants to live on the edge of the zone. Since he needs to throw these pitches to be effective, the team needs to live with more walks than the average pitcher.
---
The Brewers will have a day off today, then conclude the home stand with two games against Kansas City. The Royals have the worst record in MLB. They've scored the fewest runs and allowed the most runs this season. They were also last in the last Baseball Prospectus Hitlist. Milwaukee then travels to Eric Thames's house for four games against the Reds.
| | | |
| --- | --- | --- |
| | Royals | Brewers |
| Tuesday June 26 | Jake Junis (5.17 DRA) | Freddy Peralta (2.87 DRA) |
| Wednesday June 27 | Danny Duffy (6.99 DRA) | Brent Suter (4.71 DRA) |
---
Photo by Jeff Hanisch, USA Today Sports Images