For the second straight week, the Brewers split a two game series and a four game series to go 3-3 during the week. While the team still leads the division, the week's results are disappointing because both the Royals and Reds have played poorly this season. The two weekend losses were spurred by silent bats and bullpen blowups. Milwaukee only scored five runs on Saturday and Sunday after they averaged 5.75 per game earlier in the week. The bullpen allowed sixteen runs over those same two games, extinguishing any hope the team had to prevail.
| | | |
| --- | --- | --- |
| | Brewers | Reds |
| Thursday June 28 | 6 | 4 |
| Friday June 29 | 8 | 2 |
| Saturday June 30 | 3 | 12 |
| Sunday July 1 | 2 | 8 |
Travis Shaw had a quiet weekend in Cincinnati. After battling through a wrist injury, he went 3-for-12, all singles, while walking five times and only striking out twice. The walk and strikeout numbers are emblematic of the step forward he has taken this season. Shaw has increased his walk rate to 13.6 percent. This is the fourth straight season he's increased his walks, and if he can sustain this pace, it will be the first season of his career in which he's walked in more than ten percent of his plate appearances. Also of note in that linked chart, his strikeout rate is down 18.1 percent. This would be his first season with a sub 20 percent strikeout rate. Shaw has always been dogged by his high strikeout numbers, so cutting his strikeout rate so dramatically in the highest strikeout environment in MLB history is particularly impressive.
Shaw has cut down his whiffs to a career low rate of 19.9 percent, which is the first time he'd finish a season with less than 20 percent. However, he's swinging at about the same rate as 2017. There's a negligible difference in his zone swing rate, but he has cut down his swings on pitches out of the zone from 29.6 percent to 26.7 percent. The dip in swings on balls probably doesn't fully explain to walk rate spike, but the two are not a coincidence.
There's a similar small profile change which may be the cause of the drop in strikeouts. Shaw's contact rate has crept up to 80.1 percent, which would be a career high. While he's making slightly less in zone contact, his contact rate out on pitches out of strike zone has jumped to 68.4 percent. Based on the previous three paragraphs, you will not be surprised to learn this is another career high.
The changes in his approach have produced a career high TAv of .295. However, Shaw's numbers could be even better going forward. His BABIP has been .251, which is a career low, even when looking at his minor league numbers. His infield flay ball rate is a career high 16 percent. Since those are pretty much automatic outs, they're definitely driving down his BABIP. Shaw has also lowered his launch angle and isn't getting the barrel of his bat on the ball as much as last season. He has fewer areas where he's generating power than in 2017.
The shape of his production has changed but Travis Shaw's plate discipline numbers are a huge step forward and make him a better player than he was before. If he can pair together his newfound patience and selectivity with some better contact and a healthy wrist, he could have a monster second half for the Brewers.
---
On Saturday, Craig Counsell called on the day's starting catcher, Erik Kratz to pitch the eighth inning for Milwaukee. Kratz made it through the full inning, allowing two runs, one of which was unearned, on hits and a walk with one strikeout. He's now made three appearances on the mound, with his last two coming back in 2016 for both the Astros and Pirates. Kratz's average fastball was 79.9mph, though he did get in one at 84.3 mph.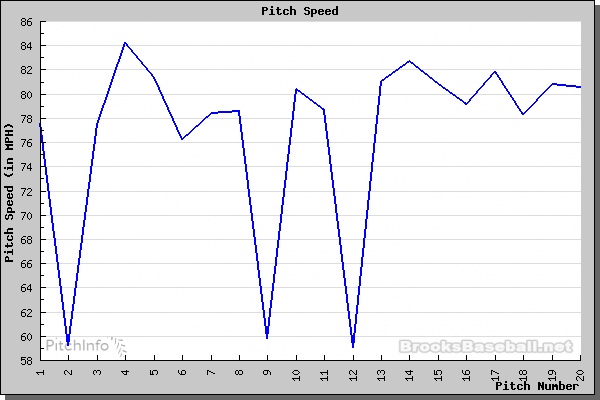 None of Kratz's other fastballs got over 82.5 mph, so his maximum speed was definitely an outlier, which unfortunately means his velocity has dropped in the two years between appearances. He also maxed out higher back then. Kratz pitched primarily off his fastball, using a changeup and curveball sparingly in the appearance.
While Kratz struck out Eugenio Suarez on a curveball which barely tucked into the top corner of the strike zone, that called strike may have been a product of the score of the game as opposed to the quality of the pitch. Batters didn't swing and miss at a single pitch and didn't seem to be inclined to swing at anything. Then again, he clearly didn't have a feel for the strike zone. He was wild, and it was not effective.
This is the second time that Counsell has used a position player to pitch this season. The tactic is being utilized now more than ever as mangers see it as an effective strategy to save valuable arms from unnecessary pitches, save a tired and short staff, and maybe toss a little fun into games that are all but over. If Counsell utilizes this strategy again this season and selects Kratz to take the mound, Kratz needs to do a better job finding the strike zone. While the inning moved along smoothly enough, the goal should be to get the ball over the plate and have the batters swinging at everything. Kratz needs to work on that.
---
The Brewers have a full slate of games at home this week. Minnesota arrives first for three games, then Atlanta plays four at Miller Park. The Twins ranked 23rd in team TAv and DRA, which accounts for why they rank in the bottom third of MLB in both runs scored and runs allowed. The Braves swept the Cardinals over the weekend and now have the best record in the National League. They rank fifth in both TAv and DRA, so the weekend series will be a good test for the Brewers.
| | | |
| --- | --- | --- |
| | Twins | Brewers |
| Monday July 2 | Kyle Gibson (3.91 DRA) | Bret Suter (4.48 DRA) |
| Tuesday July3 | Jake Odorizzi (5.70 DRA) | Junior Guerra (4.45 DRA) |
| Wednesday July 4 | Jose Berrios (3.77 DRA) | Chase Anderson (5.24 DRA) |
Photo Credit: Aaron Doster, USA Today Sports Images