The Brewers won on a Sunday for the first time since the final Sunday in May, capping a great week in which they went 6-1 against the Twins and Braves. While the team played three close games against Minnesota, they outscored the Braves 23-14 over the weekend, with their lone loss coming in a game in which the Brewers only scored once. Keeping an eye on the scoreboard, the Cubs went 4-1 last week, so the Brewers extended their lead in the division to 1.5 games, and they also have the National League's best record.
| | | |
| --- | --- | --- |
| | Braves | Brewers |
| Thursday July 5 | 2 | 7 |
| Friday July 6 | 4 | 5 |
| Saturday July 7 | 5 | 1 |
| Sunday July 8 | 3 | 10 |
Friday's win almost turned into an embarrassing loss. Freddie Peralta pitched six innings and only allowed one run. Then Jacob Barnes came into the game in the top of the seventh and all hell broke loose. All five batters he faced reached base and four runs had already scored when Craig Counsell opted to use Dan Jennings to clean up the situation. With runners on second and third and no outs, Jennings struck out pinch hitter Danny Santana then induced two ground outs to get out of the inning. The outing produced his highest WPA of the season (.368).
While Jennings has generally been a part of the late inning bullpen rotation, appearing in the seventh inning or later in thirty four of his forty two appearances this season, he hasn't been called upon in fireman situations. Jennings' aLI (where greater than 1.0 is high pressure) for the game was 3.24, his highest figure since early April.
Jennings got the job done by keeping the ball down and out of the strike zone.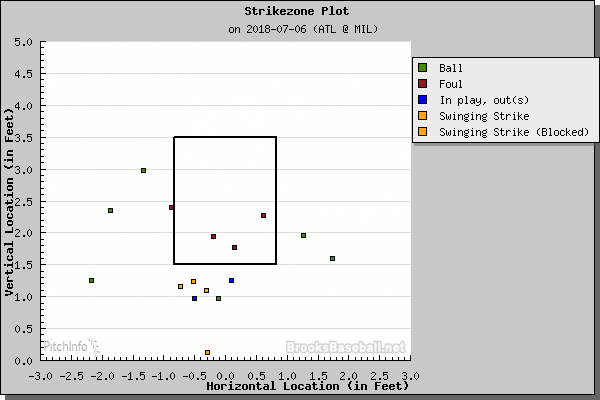 He threw three, maybe four strikes the whole inning. All of his whiffs and both groundouts came on low pitches, out of the zone.
Jennings is not your prototypical 2018 reliever who throws 95+ and looks to strike out every hitter he faces. Though his strikeout rate has ticked up to 18.8 percent this season, it's still below the MLB average of 20.7 percent. The game plan when he's on the mound is to induce weak contact on those low pitches and get some groundouts. He's thrown only 40.1 percent pitches in the strike zone, a career low for him. Amongst pitchers with at least 500 pitches thrown this season, only fourteen have pitched less in the zone.
Accordingly, the sinker is his go to pitch. Jennings has thrown it on 54.9 percent of his pitches and it's his weapon of choice in almost every situation, except those where he's ahead in the count. He's consistent on where he wants to place the pitch. It's staying on his arm side and he's keeping it low, though he can get a grounder from anywhere in the strike zone. On Friday, the two groundball outs were exactly where he wants to place the ball.
Jennings utilizes the slider more when he is ahead in the count because it's the pitch most likely to get a swing and miss, not only this season, but throughout his career. This season, he's thrown it a lower rate when facing right handed hitters when compared with lefties, which makes his plan of attack against right handed hitter Danny Santana on Friday so unusual. Half of his eight pitches were sliders, including the first and third pitches of the at bat. Jennings buried the sliders in the area below the plate where he can reliably get whiffs and righties don't do much damage.
Milwaukee's bullpen is one of the best in baseball, which means that in every situation, Counsell has multiple good options when making pitching changes. Jennings has not been the most effective pitcher out of the bullpen this season, but he was the best option to keep the ball on the ground and he represents another good option on nights where the best arms in the bullpen are not available or Counsell wants to wait to use them until later in the game.
---
Keon Broxton was called up to Milwaukee on June 26, and has played some of the best center field defense in MLB over the past two weeks. Playing full time last season, Broxton was worth -8.2 Fielding Runs Above Average (FRAA), which ranked 63rd out of 68 players who spent time in center last season. However, thanks to some amazing plays, he currently has the 14th best center field defense in MLB. That number is amazing because FRAA is a counting stat and every player above him on the list has played at least two and a half times as many games as Broxton. He may not be this good at defense, but his defensive numbers last season were his worst since his first full season in the minors, so he's not as bad as he rated last season either. If Broxton can provide league average defense, then he has a career as a useful fourth outfielder ahead of him.
As his defense has wowed, Broxton has produced nothing at the plate. Since his two home run game on June 29, Broxton has one hit and three walks in twenty four plate appearances with ten strikeouts. Broxton's swinging strike rate has spiked to 45.9 percent, higher than his 41.3 percent in 2017. No position player who has seen as many pitches as Broxton has swung and missed more. Broxton is actually swinging less this year. His swing rate is down around 3.5 points but the contact woes have gotten worse. Unfortunately, unless he can find a way to hit the ball, he'll never harness his talent and become a starter on a team that's trying to win. His defense could guarantee him a bench spot for years to come, but his bat will determine his ultimate role on a team.
---
The Brewers have a full slate of games for the last week before the All-Star break. The good news for them is that their opponents are not daunting. Milwaukee will travel to Miami for three games then move on to Pittsburgh for five games, including a Saturday double header, to close out the "first half". The Marlins have the worst record in the National League and ranked 27th in last week's BP Hit List. Miami ranks 24th in team DRA, 26th in team TAv and have somehow managed to slightly outperform their Pythagrorean winning percentage, which is based on their runs scored and runs allowed. Milwaukee actually has a losing record against the Pirates this season having lost three of their five games so far. After a good start, Pittsburgh has gone 11-21 since June 1.
| | | |
| --- | --- | --- |
| | Brewers | Marlins |
| Monday July 9 | Chase Anderson (5.10 DRA) | Jose Urena (3.86 DRA) |
| Tuesday July 10 | Jhoulys Chacin (4.95 DRA) | Pablo Lopez (7.36 DRA) |
| Wednesday July 11 | Freddie Peralta (2.79 DRA) | Dan Straily (4.72 DRA) |