After 85 games and just over 300 plate appearances this season, Ryan Braun has been worth just 0.5 Wins Above Replacement Player (WARP) on the heels of career-lows in batting average (.246), on-base percentage (.294), slugging (.442), and True Average (.259).
Rightfully, a lot of attention has been paid to his extremely unlucky .272 Batting Average on Balls in Play (BABIP), which represents a career low and wide margin of about 20 points. Furthermore, Braun has been hitting the ball hard according to Statcast metrics, which have his hard-hit rate even higher than in 2015, when he was in the top 6 percent in the league in that particular measure. That, coupled with an average exit velocity that is right around his career average since the Statcast era began in 2015 have led to an xSLG of .509, again a Statcast-high for him.
Those numbers may suggest that "Ocho" is due to turn it around and has simply hit the ball hard, but right into the defense. That's probably true to some extent, but there are other indications that might explain the historically low offensive performance from Milwaukee's most highly decorated player.
Braun is walking less and striking out more than his career average numbers, but neither are career-worsts. And the rate of pitches he's swinging at outside the zone is at its lowest point since 2013. That suggests he's seeing the ball and tracking pitches well enough.
The big difference has been in his contact rates at pitches both inside and out of the zone. While his in-zone contact rate is down about 2 percentage points, his contact on pitches outside of the zone is down almost 6 percentage points and easily a career low. It could be that Braun is recognizing balls and strikes but having more trouble hitting pitches that he used to be able to get to.
That could explain how he has so many well-hit balls without much success. Braun has a career-high line drive rate, and his best fly ball rate since 2013, with little to show for it, at least in terms of overall production.
Perhaps Braun is compensating for physical limitations, either due to aging or simply the back issue that has nagged him off and on all season. He could be committing to swinging earlier as he recognizes the pitch coming in, but has trouble adjusting as the pitch comes in on him. As a result, you'd expect to see hard-hit balls as he gets an early jump on them and is able to square them up, but you'd also see less contact overall.
For their part, pitchers seem to have adjusted to just such an approach, as they are challenging him in the zone to a degree he hasn't seen since his first two years in the league: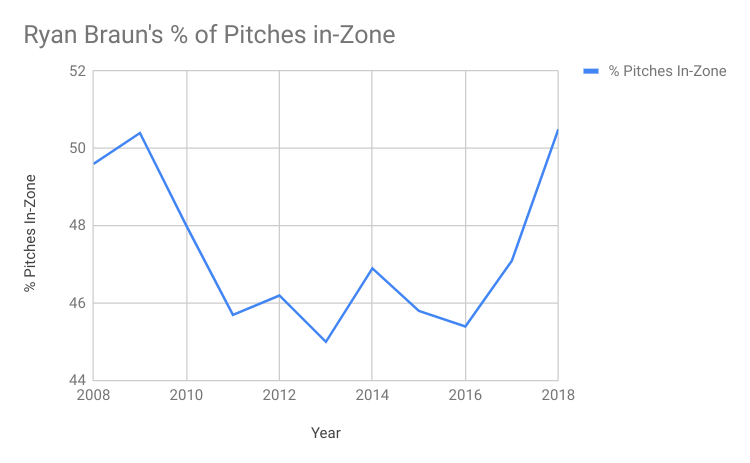 Braun is getting more pitches to hit than ever and doing less with them, at least in terms of outcomes. Pitchers have adjusted to whatever the reason is for the additional swing-and-miss in the outfielder's approach at the plate.
Depending on your outlook, you might say that given those career highs in batted ball type and underlying Statcast measures that's a good thing, and it's only a matter of time before Milwaukee's long-time face of the franchise turns his luck and goes on a tear for the stretch run in a pennant race.
On the other hand, it'll be up to Braun to make pitchers pay for throwing him in the zone, and thus far pitchers have not had to make that adjustment. Whether this is a season-long trend or longer, due to recoverable ailments or the start of age-related decline, a BABIP down season or a more aggressive but less effective approach, remains to be seen.