On July 20, in a move that was largely buried under trade speculation and losing streak hysteria, the Brewers signed outfielder Rymer Liriano to a minor league contract and sent him to Colorado Springs. Until now, the Brewers hadn't made an appearance on the back of any of Liriano's baseball cards, but this is the 27-year-old's second stint with the organization. The first came in early 2016, when Liriano was scooped up after a surprising DFA and installed into a weak crop of outfielders jockeying for a starting job on a rebuilding club. Liriano never got the chance to get going in Spring Training. The outfielder had worked his way into 13 games and accumulated all of 34 plate appearances before suffering multiple facial fractures on a devastating hit-by-pitch which forced him to sit out the entirety of the 2016 season. In his stead, Keon Broxton, Kirk Nieuwenhuis, and Ramon Flores all suited up for an Opening Day loss to Madison Bumgarner and the Giants. Liriano was claimed off waivers by the Chicago White Sox the following offseason.
It was a disappointing tenure from a narrative standpoint, from the frightening injury to the anti-climactic end. Liriano had been a compelling prospect, offering an intriguing blend of power, speed, and defense, and ranking among the game's best 100 prospects before the 2012 and 2013 seasons. He missed the entire 2013 season after Tommy John surgery, did not impress during a 2014 cup of coffee in San Diego, and found himself out of options and suffering from prospect fatigue. The Brewers saw his strong .290 True Average (TAv) at Triple-A El Paso the season before, and thought he could enjoy a breakout season with a patient-enough big league club. Liriano could have become the kind of low-key acquisition that plays through a rebuild and emerges a few years as a valuable piece on a contending roster.
Baseball has a way of creating its own storylines, though: The Brewers are suddenly fighting for a division title with an overstuffed outfield, and Liriano is back in the organization and trying to rewrite history. Prior to his free agent signing, he had authored a respectable .268/.343/.523 line for the Salt Lake Bees, the Triple-A affiliate of the Los Angeles Angels. No longer a prospect, and robbed of valuable developmental time by his injury history, Liriano is more under-the-radar now than he has been for most of his playing career. Below the surface, his changing numbers and approach reveal a player who is struggling to find his path forward.
Scouting reports on Liriano have long made note of his athleticism and raw power. But throughout much of his career, his game power played more as an average tool. Throughout his time in the Padres organization, Liriano never tallied more than 14 home runs in a season (2014, 2015), and his Isolated Slugging Percentage (ISO) only ever ran up over .200 during an insane 71-plate-appearance stretch in AAA in 2014, wherein he hit .452/.521/.661 and was promptly called up to San Diego for his major league debut (whereupon his ISO plummeted to .046). For reference, the National League average ISO was .134 that season.
Since missing out on the 2016 season, though, Liriano has refashioned his swing to generate more loft, perhaps inspired by the late-career successes of Josh Donaldson, Daniel Murphy, and others. Here he is in 2015, lining a thigh-high middle-inside pitch to his pull side for a double: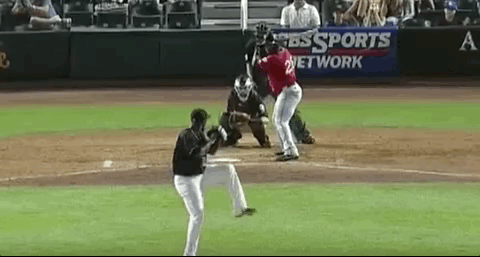 And here he is earlier this season, turning on a waist-high pitch for a long home run: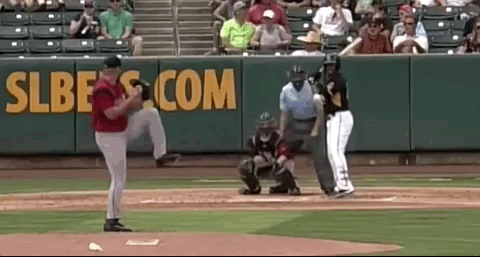 The differences aren't hard to spot. In 2015, Liriano crouched at the plate and held his hands up behind his ears. As the pitcher delivers, he times his swing with a small step, really more of a tap. He sees that the ball is down in the zone, so he deepens his crouch, reaches down, and uses a level swing to rip a shot down the third-base line.
In 2018, the stance is a little more open, and Liriano has ditched the crouch for a straighter pose. His hands are noticeably lower, and he's changed to a more exaggerated leg kick. He plants his front foot firmly in the dirt, then turns on the pitch with everything he's got, showcasing a swing clearly designed with loft in mind.
The resulting power gains are significant. Liriano whacked a career-high 17 home runs in 500 plate appearances last season, and (entering this week) was already up to 19 home runs in 316 plate appearances in 2018. His ISO is almost equal to his batting average, at .254, and he's hitting the ball in the air at a 43.8 percent clip, up considerably from the mid-30s figures he posted earlier in his career. Part of this is attributable to his offensive environment, but it's clear that this surge is fueled by more than thin air.
For one thing, there has been a clear and inevitable tradeoff in Liriano's profile: contact. And unfortunately for Liriano, he didn't have much of that to trade in the first place. Between 2012 and 2015, Liriano's minor league strikeout rates hovered around 24 percent, high enough to be concerning, but low enough to be chalked up to youth and inexperience. When he got back onto the field with the White Sox organization in 2017, that number spiked to 26.6 percent. This year, it's even higher: 31.2 percent at Salt Lake, and 36.2 percent in a limited sample with the Sky Sox. He's taking his walks (9.5 percent walk rate), but not quite enough of them to compensate for all the whiffs. And with the new feast-or-famine approach, Liriano has connected for only eight doubles on the season.
There's evidence that other aspects of his game are eroding, too. This year, Liriano has stolen only seven bases, and been caught eight times. Never the best at getting jumps, he used to be able to rely on sheer speed to generate value on the basepaths. But he's been worth -2.6 baserunning runs on the year, which is hardly the contribution one would want from a fast player with a fringy hit tool.
Liriano's journey has been rockier than most, and he's seen his perceived ceiling fall from above-average regular to useful fourth outfielder along the way. He still possesses good athleticism and strong defense, but is no longer a great option to man center field. The newfound power would play in a corner, but Liriano was only able to get there by forsaking a hit tool that never projected to above-average in the first place. The Brewers already possess Keon Broxton in the dingers-and-defense category, and Keon offers a lot more value with the glove and on the bases. If Liriano converts some of the fly balls into line drives and is able to shorten his swing and make more contact, he could carve out a nice role on a major league bench. Of course, that particular profile is largely what Tyrone Taylor has to offer, and Taylor is three years younger. This leaves Liriano in a somewhat precarious position: He's running out of time to make his mark before he's slapped with the "org filler" label, and his new contact profile is extreme even in the dawning three-true-outcomes era. Liriano has adjusted once before; ironically, he might have a better chance of reaching the majors again if he's able to adjust back.