TOP PLAY (WPA):  With two outs in the third inning, Carlos Gomez stepped to the plate with the bases loaded and the game tied at 0-0. The Brewers' center fielder got under a hanging slider from Brandon Beachy — preventing a monstrous grand slam — but ultimately got enough of it to bounce it off the wall for a bases-clearing double. The Brewers then led by three runs early in the contest (+.282 WPA).
Beachy hadn't pitched in the majors for roughly 23 months, so an ample amount of rust should have been expected. The right-hander only threw 59 percent of his pitches for strikes on Saturday evening. He fell behind Gomez with the bases loaded and tried to capitalize on Gomez's aggressiveness by throwing an offspeed pitch, rather than the conventional fastball. Unfortunately, the rust showed for Beachy and he left the slider up in the zone. The change-of-speed still fooled Gomez enough to keep him from crushing it 450 feet; however, the terrible location allowed Gomez to still do damage with the pitch.
Lost in the shuffle, perhaps, was Adam Lind's effort on the basepaths. The two-out scenario allowed Lind to take off at the crack of the bat and the sheer hangtime on the baseball gave Lind extra time to round the bases, but it remains impressive that Lind — who is slow and relatively unskilled on the base paths — managed to score from first base on a double to left-center field. Extra runs are vital, whether or not the final score suggests they were ultimately needed. Gomez deserves praise for muscling a hanging slider to the wall. But plays that fail to get caught on camera, such as Lind's hustle for a team that began the night 14-games under .500, shouldn't be forgotten or ignored.
BOTTOM PLAY (WPA):  Justin Turner grounded into a double play in the fourth inning, effectively ending a no-out rally and keeping the Brewers ahead by three runs (-.123 WPA)
In the minors, Jungmann routinely fell behind hitters and worked himself into three-ball counts. That hasn't been an issue in the big leagues, but the right-hander doesn't have premium stuff and can't afford to get behind. Thus, when Jungmann walked Joc Pederson and surrendered a single to Howie Kendrick to lead off the fourth inning, things became rather uncomfortable with the Brewers. It got worse when Jungmann fell behind 1-0 on Justin Turner, who has been one of the hottest hitters in baseball over the last month. The Brewers' right-hander battled back and spotted consecutive fastballs on the outside and inside corners, respectively, to take control of the at-bat. He spun a nice curveball on a 2-2 count and got Turner to pound it into the ground, starting the double play and undercutting the threat the Dodgers built earlier in the inning.
Jungmann had a quality curveball on Saturday evening against one of the best offenses in baseball. Out of the 21 deuces that he unleashed, the former first-round pick got six swing-and-misses and five called strikes. It was a very good pitch on Saturday and something that he'll desperately need to continue in order to find consistent success against major-league hitters as he faces teams for the second and third times.
KEY MOMENT
In many ways, the purpose of this season is becoming more about development rather than about winning. It's about young players battling through adversity and learning their craft. On Friday, many people criticized Craig Counsell for leaving Jimmy Nelson in the game against back-to-back lefties with the game on the line; however, Nelson needs to experience those moments. He needs to know his manager trusts him to wiggle out of tough jams. He needs to fail in those scenarios in order to find success in them later. As a fan, perhaps that's frustrating to a certain extent. Personally, though, I find immense enjoyment in the developmental process of baseball — both of the team and individual players. I'm cataloging the seventh inning on Friday in my mind and try to look for improvement from Nelson the next time he finds himself in a similar scenario.
That's why the key moment on Saturday, for me, came in the eighth inning — when the game had pretty much been decided. The Brewers led by seven runs. Taylor Jungmann, though, had one of those developmental moments when the game was seemingly out of reach. He dished up a lead-off double to Yasmani Grandal. Again, not a game-changing play, but it was important in two ways:
(1) When the pressure has been removed, young pitchers can lose their concentration and unwittingly allow the opposing team — who was presumed dead — to scratch their way back into the game. Brewers fans have watched numerous games where a blowout suddenly became a save situation, and K-Rod needlessly was forced to warm up and enter the game.
(2) Jungmann had the opportunity to go the distance and save the bullpen. As Julian Assouline showed last week, the Brewers' bullpen has been overworked due to the inability of the starting rotation to work deep into games. Young pitchers must learn to bounce-back from late struggles and limit damage in an effort to save the bullpen.
Taylor Jungmann understood his role in the eighth inning. Instead of getting cute or overthinking the situation, the right-hander attacked the very next batter (Yasiel Puig) with six-straight fastballs and trusted his ability to get a ground ball. The worst scenario would have been issuing a walk or hanging a breaking ball. Instead, he pounded fastballs to Puig and got a ground ball. In fact, Jungmann only threw fastballs the rest of the eighth inning. He pounded the zone and forced the Dodgers to hit their way back into the game. They were unable to do so, and Jungmann ultimately tossed the complete game.
Say what you want about Gomez's bases-clearing double or any of the run-scoring plays earlier in the game, the key moment of the contest was Taylor Jungmann's ability to dig deep and close out the game. It illustrates his strong mental state and the quality game-calling ability of Jonathan Lucroy.
TREND TO WATCH
Gerardo Parra is now hitting .309/.344/.496 with nine homers and six stolen bases. His .345 BABIP is 20-points above his career average, but that's largely due to his increased line-drive rate in 2015.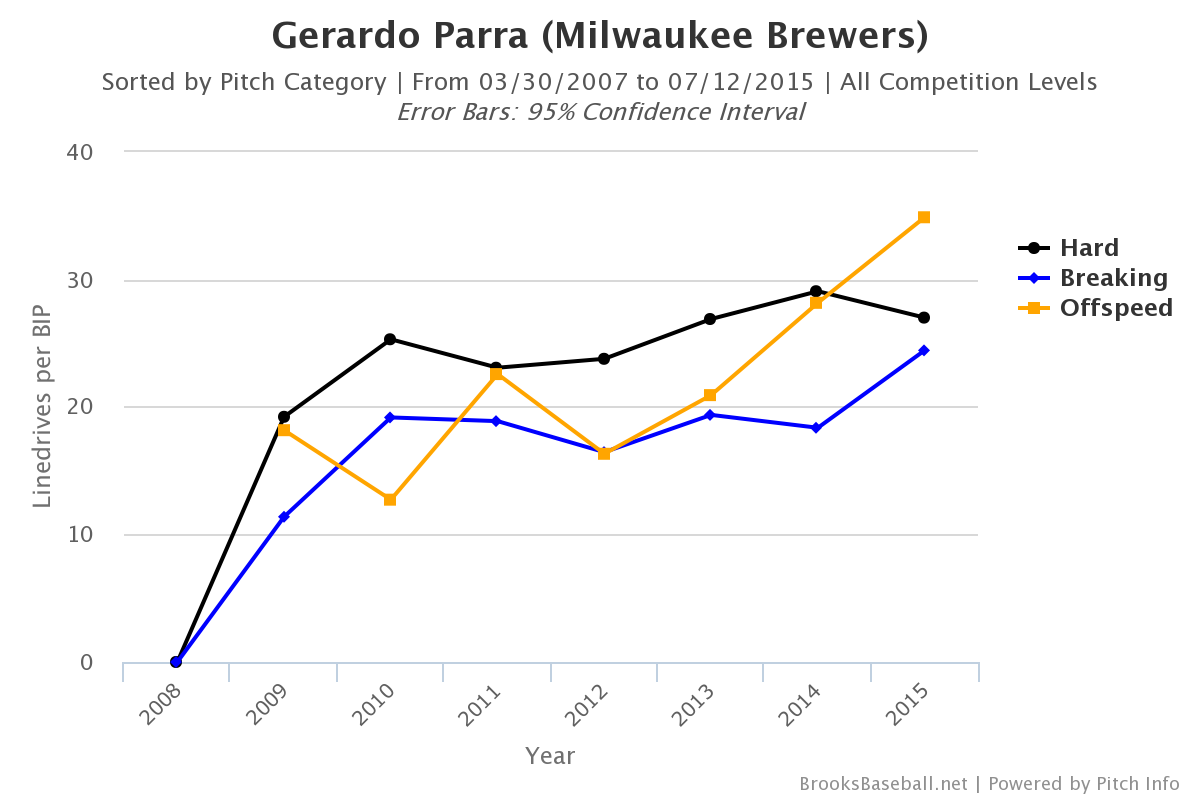 Particularly notice Parra's increased line-drive rate against non-fastballs. Over his career, he has only hit .220 against breaking balls and .230 against offspeed pitches. This year, though, he's hitting .262 and .255, respectively. That's particularly due to his increased line-drive rate against those pitches, as it reflects his ability to drive those pitches with more power than he had in previous seasons.
Often, baseball fans glance at BABIP and decide it's "lucky" or "unlucky" without considering the building blocks of BABIP. It's dependent upon speed and batted ball profile, as much as it is random variance. If Parra is hitting line drives at an unprecedented rate, we should perhaps expect his BABIP to be near a career-high and perhaps it should be considered sustainable as long as his batted-ball profile remains the same. As such, Gerardo Parra is on pace for a career season, and I would argue that it's a reflection of improved core abilities. Whether those improvements will continue or are sustainable is, of course, a different question.
COMING UP NEXT
The last game before the All-Star Break, Kyle Lohse gets another chance to right the ship. He will face lefty Brett Anderson and the Dodgers at 3:10pm CT.
It's been a demoralizing season for the veteran right-hander. He hasn't been able to hold opposing hitters under a .280 batting average in any of the four months this season. In other words, the long ball has gotten the vast majority of the attention, as Lohse has allowed 20 homers this year, but the issues extend beyond that point. Lohse has simply been hit hard all year. Opposing hitters are hitting for average and power. They're hitting .297/.336/.501 on the year — which is like facing the equivalent to Yoenis Cespedes (.299/.325/.503) in every single at-bat. That's not good.
The veteran right-hander will look to turn it around again on Sunday afternoon, as the Brewers seek to win their final series before the All-Star Break and get to only a dozen games under .500.