Last week, the Brewers announced that Doug Melvin will be stepping down as general manager and will be transitioning to more of an advisory role with the team. Melvin is currently the fourth longest active GM in the big leagues, going back to September 26, 2002 when he was first hired.
Since Melvin has stepped down, a couple of pieces have been written about his overall legacy — including one by our own Michael Bradburn. Bradburn seemed to conclude that Melvin was an average GM, predominantly assembling mediocre, never great or never terrible, teams. He did, however, suggest that Melvin faired well in the draft. Dave Cameron, of FanGraphs, offered somewhat of a different take. Cameron cited that the Brewers faired well in their first round draft picks from 1999-2008. Perhaps this is a weird take considering Melvin's first draft as a GM took place in 2003. He also stated that after 2009 the well started to dry up. From 2009-2012 the Brewers drafts weren't very good. This was one of the three key elements that doomed Melvin's tenure. Both takes, however, were mostly constrained to first round picks; therefore, I wanted to examine the issue a little further.
First, let's acknowledge that Doug Melvin, while being the general manager, is far from the only person involved in the draft process. There are a number of scouts that work diligently all year to provide a myriad of scouting reports, so that when the draft clock starts to count down, the front office has the necessary information to make an informed decision on which players to draft.
Secondly, evaluating a team's success in the draft can be difficult. Players drafted go into the minor-league system. After that, they become assets that can be used in various ways — becoming utility players, trade chips, or organizational players. Simply put, just because a player doesn't have a major impact on the main roster, it doesn't mean he wasn't an important part of the organization, especially if he was a later-round pick.
That being said, unfortunately there are few ways of determining whether a GM or a team excels at drafting. One of them is looking at the number of players that teams drafted, and how many times those players made it into the big leagues. The data was mainly compiled at Baseball-Reference. I went back to 2003, since that was the first year Doug Melvin served as the general manager of the Brewers during a draft.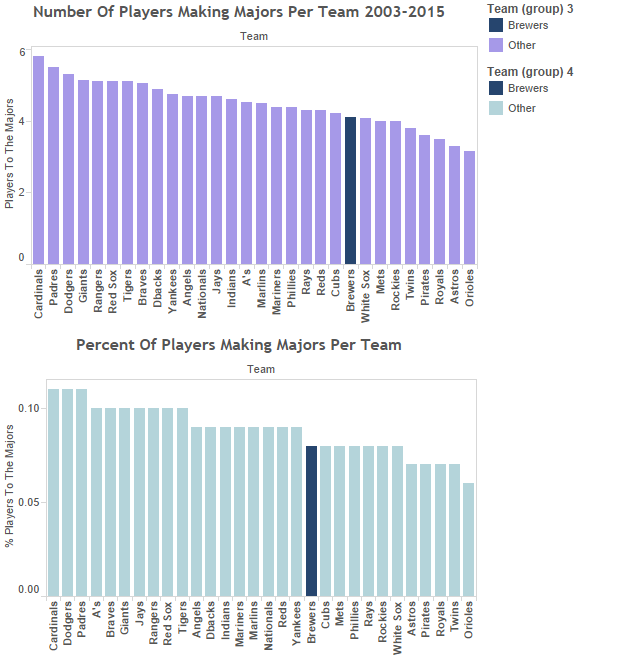 As you can see, I included the percentage of players that made the majors. In both cases, though, the Brewers were not among the league leaders in both categories — ranking 19th out of the 30 major-league teams in the percentage of players who made the majors and 22nd in the raw number of players who made it to the majors.
At the top are some of the usual suspects. The Cardinals, Dodgers, Giants, Rangers, Red Sox are all known for having great farm systems and producing a multitude of talented homegrown big leaguers. With that being said, the Padres and Tigers also rank highly on this list, which may mean this methodology is flawed. And of course it is. While a team may bring a lot of players to the big leagues, it doesn't mean that they turned into great players or that they "won the draft." Just look at the Pirates' 2005 draft. Only four of the 50 players they drafted made an appearance in the big leagues, yet they drafted Andrew McCutchen with the 11th-overall pick. No sane person is going to argue that the Pirates had a poor draft.
When doing this sort of analysis, value obviously needs to be taken into consideration. Using Baseball-References' draft database, I looked at the average rWAR of every team from 2003-2015. When doing this, I did find some errors in the database. For example, apparently the Brewers drafted Jake Arrieta and Andrew Bailey in 2005. This, of course, is technically true, but neither signed with Milwaukee. The Orioles drafted and signed Arrieta in 2007 and the A's did the same with Bailey in 2006. I did my best to correct for every error I could find, but one should keep in mind that some slight ones may exist — although, I'm fairly certain I grabbed the egregious errors.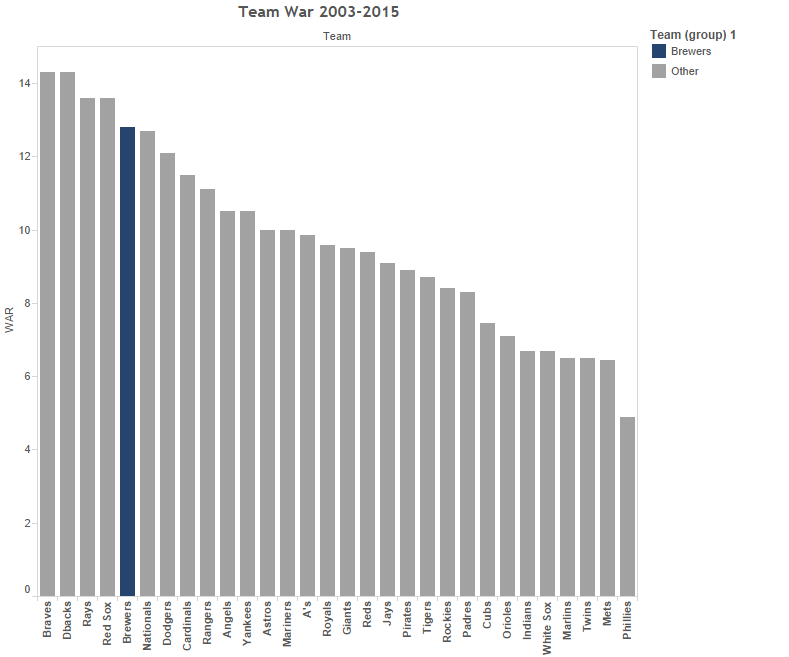 From 2003 to 2015, the Brewers averaged 12.8 rWAR per draft, which ranks fifth in all of baseball. During that time, the Brewers did well with their first-round draft picks, selecting players like Ryan Braun, Jeremy Jefferies, Rickie Weeks, and Brett Lawrie in the first round. But they also drafted quality big leaguers in the later rounds. Take, for example, the 2009 draft, where they drafted Khris Davis (7), Scooter Gennett (16), and Mike Fiers (22) in later rounds. All these players, while not stars, are quality major leaguers who have helped out the organization, even if they're not part of the long-term plan.
The Brewers, therefore, have had good drafts during the Doug Melvin era. There are, of course, many other factors that must be considered to properly evaluate the Doug Melvin era in Milwaukee. He, for example, was never able to build a good pitching staff. Since he was named general manager of the Brewers, the Brewers never had a DRA- under 100 (100 is league average, lower is better), though Melvin was strapped with a small-market team. His payrolls and team salaries were generally low, which affected his ability to author big moves and sign top-tier free agents. But when it comes to the draft, Doug Melvin faired well — even though the team hasn't drafted overly well in the past half-dozen years, he's recently been able to revamp the system with a few creative trades this deadline. Melvin's legacy will be mixed — that's part of the business — but the drafts that happened under his watch should not be constituted for criticism.