It seems as though every year pitchers with little expectations get promoted and immediately find significant success. Last year, we saw Jacob deGrom and Matt Shoemaker climb into the spotlight. This year, to a lesser extent, there's Taylor Jungmann.
TAYLOR JUNGMANN
Jungmann was picked twelfth overall in the first round of the 2011 draft. Yet, throughout his minor-league career, he was never seen as a top prospect. He was never the Brewers' top prospect — over the past few years, of course, that would not have been high praise, but he also never came close to any of Baseball Brospectus' Top 100 lists. Yet this year, he's been arguably the Brewers' best and most consistent pitcher. Not only that, but he's also been one of the best rookie pitchers in the league.
In most years, this might not have been such high praise, but this year it's a different story. Many have noted the high volume of talented prospects to make their major-league debut in 2015. The most surprising thing, though, is that just last year we were talking about how the jump from the minors to the majors had never been harder. Now, that narrative has just about gone by the wayside. One of the reasons is that rookie hitters are doing better than ever. With, the emergence of Kris Bryant, Carlos Correa, Kyle Schwarber, and many others, it's no surprise to see rookie hitters performing so well, but what about rookie pitchers?
Thanks to the help of the great Rob McQuown, I was able to look at all rookie pitchers dating back to 1969. Here is a look at the league-wide trends for rookie starting pitchers and Brewers starting pitchers (min 100 innings pitched).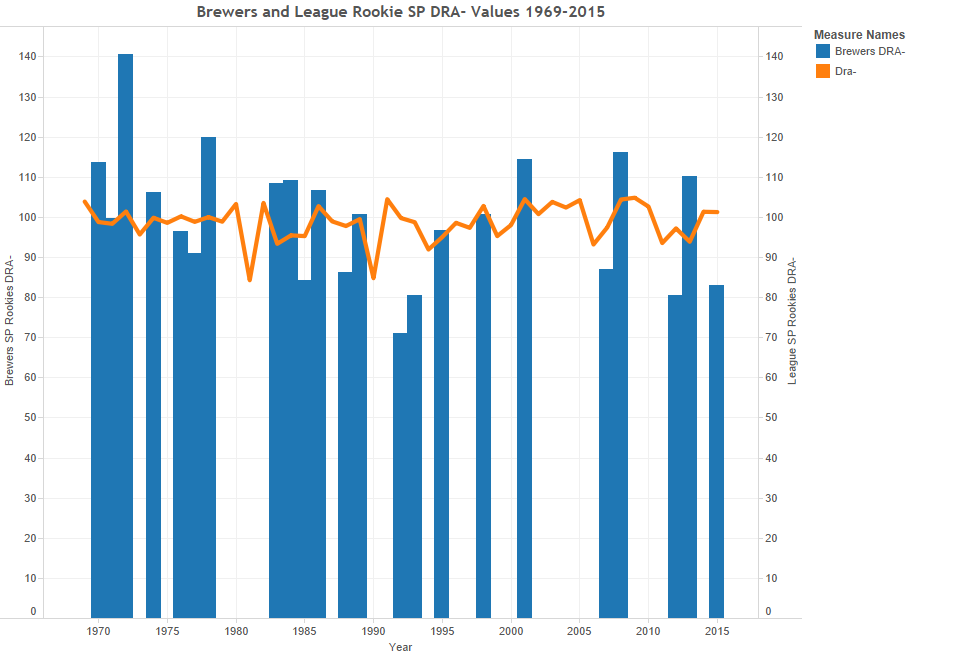 Since 1969 rookie starting pitchers have averaged a DRA- of 99. This year the average is 101. So, while this might be a historic rookie class, it isn't a historic rookie class for the starting pitchers. Jungmann, though, has been a bright spot — not only for the Brewers but also for all rookie starting pitchers. He's currently sporting an 83 DRA-, which is much better than the league average.
But comparing Jungmann's success to this year's rookie class is somewhat unfair to Jungmann. He deserves better, and so I wanted to compare him to every single rookie starting pitcher, dating back to 1969.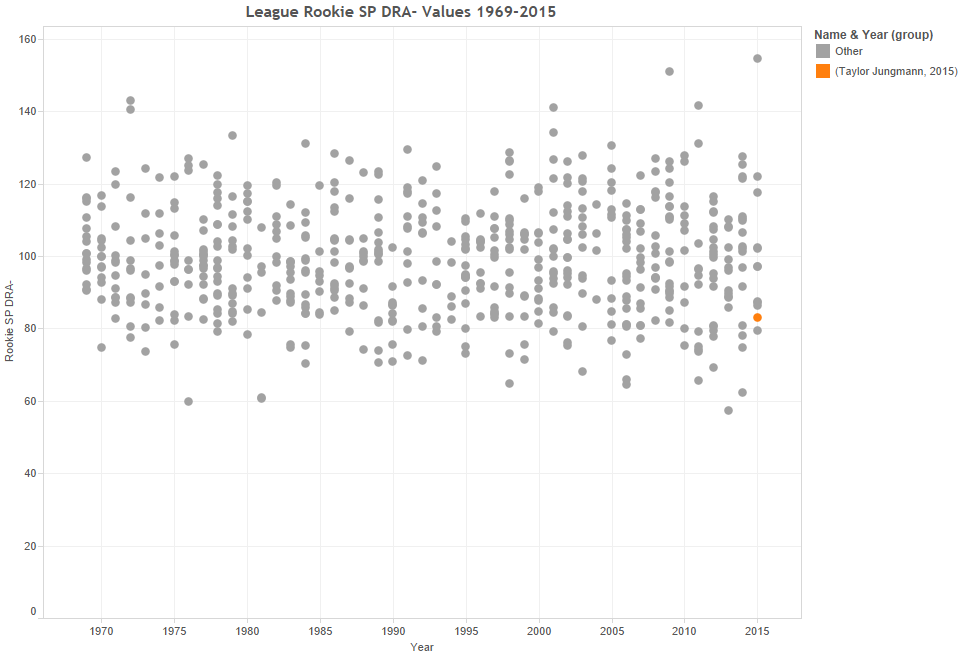 You see that orange dot at the end of the graph? That's Jungmann. By DRA-, he's been the second-best rookie starting pitcher this year, just behind Eduardo Rodriguez of the Boston Red Sox. But, as the visual clearly illustrates, Jungmann has not only been great while comparing to 2015 rookie starting pitchers, but he's been great as compared to all rookie starting pitchers.
If Jungmann can also keep up this dazzling performance for the rest of the season, he would finish with the fourth best rookie performance for all Brewers rookie starting pitchers. This is, at this point, a far better outcome than even the most optimistic Brewers fans could have hoped for.
MICHAEL BLAZEK
While Jungmann has been good this season, Michael Blazek's rookie performance might be even more impressive. Okay okay, I don't actually mean that. I understand that Blazek is a relief pitcher — and thus has less value — but he's been tremendous nonetheless, especially if we compare him to other rookie relief pitchers.
But first we'll look at this rookie class as a whole. Here are the rookie relief pitchers dating back to 1969 (min. 50 innings pitched).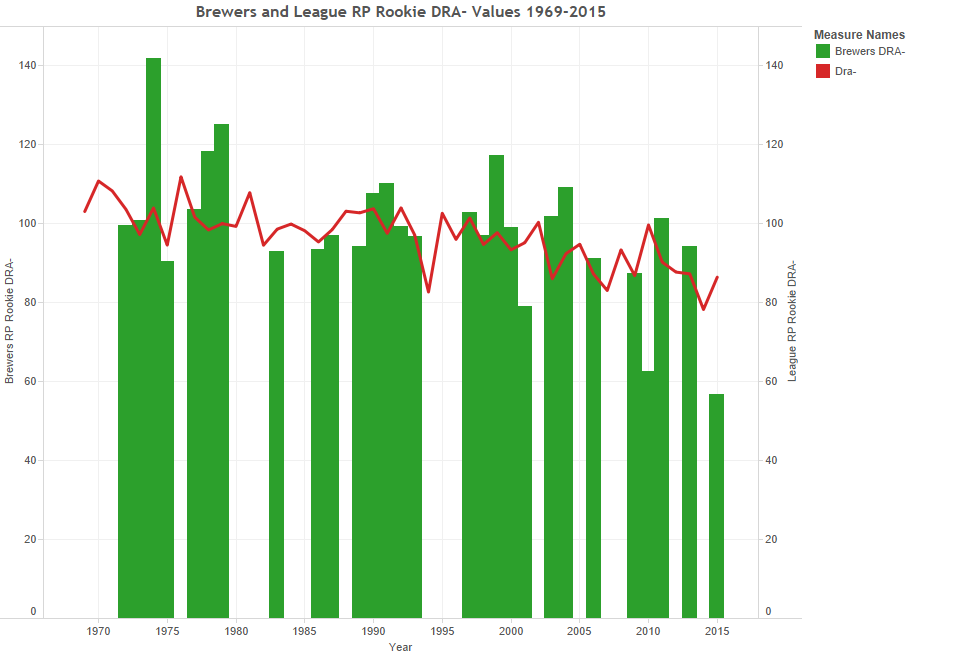 Since 1969, the rookie relief pitchers have averaged a 96 DRA-. This year they've averaged an 86 DRA-, which is the fourth-best mark since 1969. Therefore, while the starting pitching class hasn't been historically great this year, for rookies, the relief pitching class definitely has.
With that being said, while this mark is historically great, it only looks cute when comparing it to Blazek's DRA-, which stands at 56. Oh, and if this mark holds, this would be the greatest rookie relief pitching season in Brewers history, which is pretty good for someone who was never supposed to amount to anything.
Let's now, though, sing Blazek's praises a little louder. Here's Blazek as compared to every rookie relief pitcher dating back to 1969. Blazek is the dot in blue.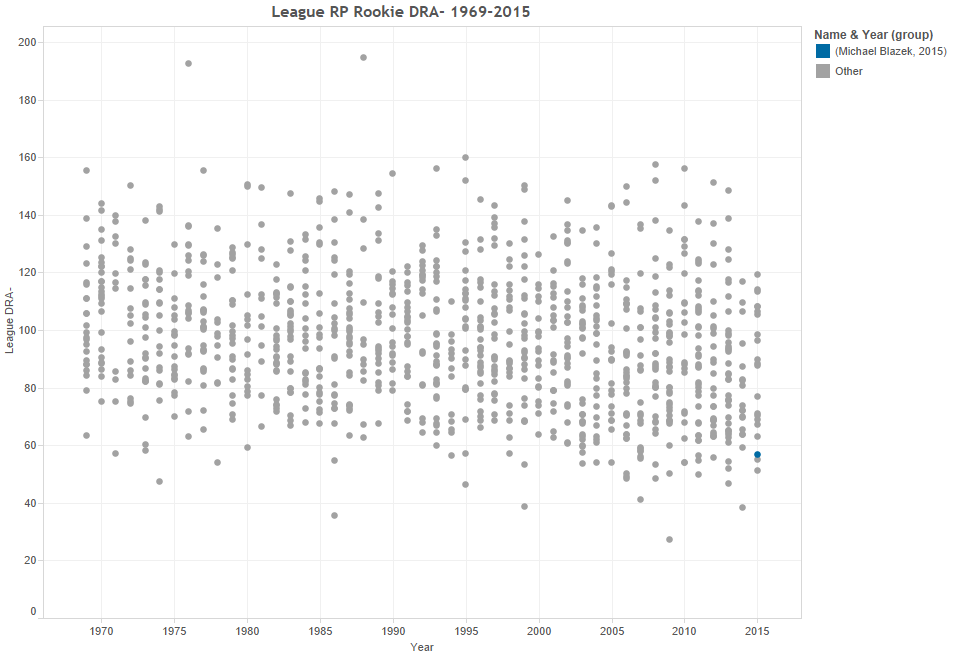 The only rookie relief pitchers that have been better than Blazek this year are Ken Giles of the Phillies and Andrew Chafin of the Diamondbacks. Again though, as the visual shows, Blazek has not just been great as compared to rookie relief pitchers this year, but he's been great when comparing him every rookie relief pitcher dating back to 1969. In fact, since 1969 he's got the thirty-fifth best DRA-.
We'll have to see whether both of these performances will hold, but there's a relatively good chance they will, considering we are nearing the end of September. It will also be interesting to see whether both pitchers will be able to duplicate their performances next season. BP's cFIP stat seems to think both pitchers are about league average, which means the Brewers should expect some sort of regression next season.
Whatever happens next season, or in the future, both pitchers have been a bright spot in an otherwise gloomy season for the Brew Crew. And it's nice, sometimes to sit back and simply appreciate what went well in a season. Even if the end result were not as good as one would hope for.
BONUS
I probably do these bonus sections too often, but oh well. I usually end up with a lot of data and enjoy playing around with it. Below is a visual of every rookie pitcher dating back to 1969. The DRA- is sorted by the color, therefore, the more it's green the better DRA- the pitcher had. The bigger the circle the more innings the pitcher pitched, and the higher up, the better PWARP the pitcher had.
The biggest outlier is Mark Fidrych who finished with a 6.79 PWARP, the highest all time for a rookie pitcher, dating back to 1969.