One of the most interesting things about baseball, for me, has always been the fact that people succeed in so many diverse ways. A slugger such as Yoenis Cespedes can provide value by swinging at everything he sees, while the Joey Vottos of the world bide their time, take free passes, and do damage on their pitches. David Ortiz helps his team at the plate, and Billy Hamilton earns his keep on the basepaths and in the field. Even when two players appear identical, their underyling strategies can differ immensely.
After a 2014 season in which the Brewers' hot hitting carried them to the brink of the playoffs, they prayed that 2015 would bring more of the same. With Carlos Gomez and Aramis Ramirez regressing (and departing via trade), Jonathan Lucroy playing hurt and Jean Segura remaining terrible, those hopes didn't come to pass. The season brought three real offensive bright spots: Adam Lind — who has since moved — continued his solid performance from the prior two years; Ryan Braun, who rebounded from a couple of injury-ridden campaigns; and Khris Davis, who took the proverbial next step as a sophomore.
As the two best projected hitters on the team for 2016, Braun and Davis will probably garner the most attention this offseason. In terms of their past numbers, we can see an interesting development. Both have undergone similar changes, with the same end product: incredible hitting to the opposite field.
Entering 2014, Braun had always done fairly well when poking the ball to right. From his rookie year in 2007 to his injury-marred 2013 effort, his .408 wOBA on such plays ranked 16th in baseball. But, as my colleague Jack Moore observed in July, he's since taken that to a new level, with a .544 opposite-field wOBA. For 2015, he posted a .533 wOBA, trailing only Bryce Harper among hitters with 50 balls in play. A few spots behind him on that list? Davis, with a mark of .504. That represented a significant upgrade from the preceding year, when his .458 wOBA to right field came in at 16th — on par with Braun's original place. In this regard, Milwaukee's corner outfielders both went from great to unbelievable in the blink of an eye.
Oddly enough, however, they traveled different paths to arrive at this point. Davis became more patient on the outer portions of the plate: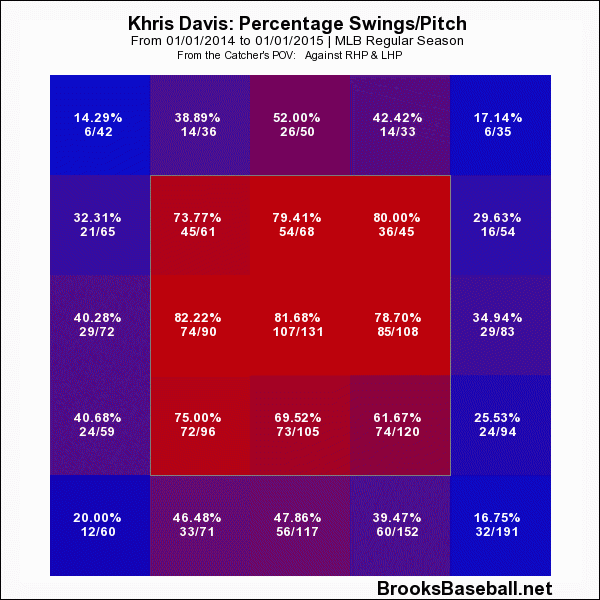 Pitches in this area go to the opposite field the most often, since the batter can most easily drive them the other way. Given this — and given that the overall location against Davis shifted this year — it would seem that Davis abandoned aggression for selectivity on pitches away to his benefit. (This likely had a hand in Davis's walk-rate spike as well.)
By contrast, Braun didn't stray from his prior approach. As a matter of fact, his swing rate on outside pitches went up: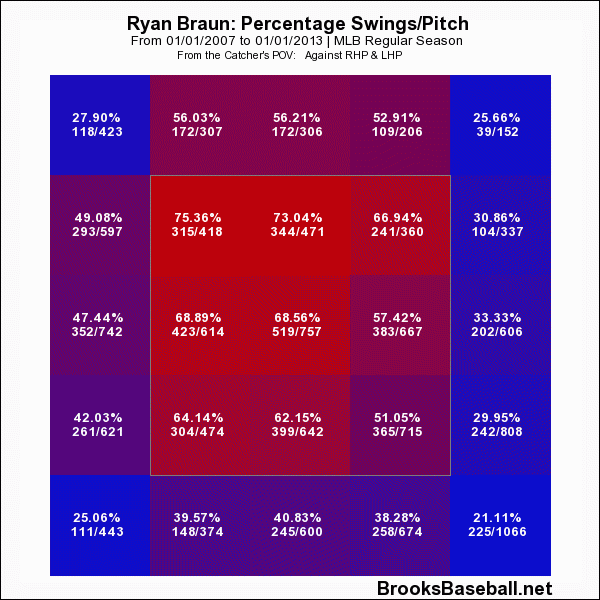 Moreover, pitchers didn't avoid Braun any more than they used to. In his case, he simply did more with what they gave him. While it obviously diverged from Davis's methods, we can't argue with the results.
Both Braun and Davis became insanely good at cutting down on their swing and pushing the ball the other way. But each accomplished it uniquely, and to different extents as well: Davis's opposite-field rate fell from 23.4 to 20.1 percent, while Braun pumped his up from 26.3 to 31.0 percent. For 2016 and beyond, the Brewers should have two similar hitters to anchor their lineup, even if they come at the game from opposite ends of the spectrum. It just goes to show that baseball isn't a one-size-fits-all-game — everyone skins this cat in their own manner.