On Sunday, Rymer Liriano was struck in the face by a pitch from Dodgers pitcher Matt West. Liriano was beaned in the eighth inning of the spring training game and was carted off the field. It was a scary situation all around and brought a sober reminder of the dangers the game of baseball can bring.
For the most part, we don't often think of baseball as a contact sport, but as my colleague Jack Moore wrote yesterday, it doesn't mean there aren't risks associated with the game.
Being hit in the face with a 90 mph fastball is definitely one of the games biggest risks. Not only do hitters have little time to react, but they aren't wearing a cage in front of their face, and do to the events rarity, players aren't constantly looking out for a pitch that might hit them in the face. It's hard enough to hit a baseball, especially nowadays when pitchers are throwing gaze and all have some kind of breaking pitch. This makes it intuitively even more difficult for hitters to get out of the way.
Thus far, we only know that Liriano suffered multiple fractures to the head. This is one of the possible consequences from being struck by one of these pitches. The other is the concussion.
Concussions in baseball are definitely not as rampant as football or hockey, but they still happen and they can still be devastating injuries. Just look at Justin Morneau and Joe Mauer. Both players were stars and former league MVP's, but their careers were hampered by concussions.
In statistics causality is a very hard thing to find. But, if a player gets struck in the face by a baseball and then suffers a concussion, then we have a pretty good idea of the cause and effect. Finding the causes of concussions can yield a few incites. It can tell us where and when players are at the most risk. By knowing this we can then start coming up with plans and stipulations to reduce the chances of a player getting a concussion from a certain event.
In order to find the cause of concussions, I used my concussions database, which I created back in my Banished to the Pen days. In that article, I explained my methodology as to how I gathered the data. Again to find the cause of the concussion I looked at baseball prospectus profile pages (which are no longer being updated) and most importantly I looked through Rotoworld player news. At Rotoworld, they detail how the injury occurs which allows me to link the injury type to the cause. This is a very, very manual process and takes up a lot of time, as I have to find, in the player's profile page, the specific date as to when the injury occurred. Sometimes, though, the information simply isn't there, so I don't have the cause of injury for every player in my database. In total, my database has 259 total concussions and dates back to 1908. Unfortunately, only 34 of those are before 2000. Since 2000, the data is much more accessible through sites such as Pro Sports Transactions (my primary source) and other helpful sites. Therefore, because the data is so scarce for the years before 2000 I'm only including information from 2000-2015 in my analysis, leaving me with only 203 values to work with.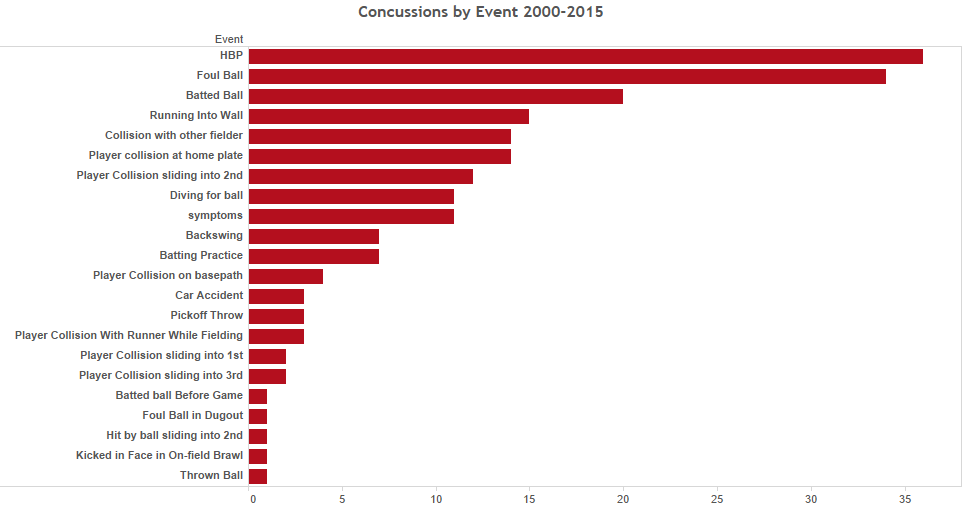 Back in November, I found that foul balls to the mask were the biggest cause for catcher concussions, and it wasn't even close. The data, though, was only looking at catchers. Looking at all players, getting hit by a pitch slightly edges out foul tips to the mask.
With that said, both data points are awfully close to each other and far outweigh any other cause for concussions. It's hard to think of a way in which MLB can reduce players from getting hit in the face. Maybe, more players should wear the Jason Heyward protective face guard. Heyward has continued to where the head gear and it doesn't seem as though it's affected his performance. Making that a rule, however, would probably result in a lot of pushback from players, who think it may affect their performance. This is reasonable, therefore, I think more awareness of the risks of concussions and the probability of the injury happening should be provided for the players, but whether they want to actually where the face guard should be up to them.
I think the same principle should be put in place for the pitcher's protective caps. "Batted Balls", are balls hit by the hitter, who strike the pitcher in the head. They are the third biggest cause of concussions. Last year's protective headgear wasn't very popular. It was quite large and looked ridiculous. Major League Baseball the MLB Players Association, is now introducing a new protective headgear, which 20 big league pitchers are trying out this spring training, according to this article, "Pitchers to debut new protective headwear in spring training", by William Weinbaum.
"The new headgear doesn't provide facial protection, as the stated objective was preventing life-threatening injuries considered most likely to occur as Brandon McCarthy's Sept. 5, 2012, episode did when he was hit on the side of the head." With that said, Alex Cobb who was struck in the head gave it his endorsement, "It felt great and looks good, similar to a helmet with the top cut off".
Dan Jennings of the Miami Marlins said in the same article, "I don't think many guys will wear anything unless it is mandatory".
Comebackers can at times be even more devastating than a hitter getting hit in the head by a pitch.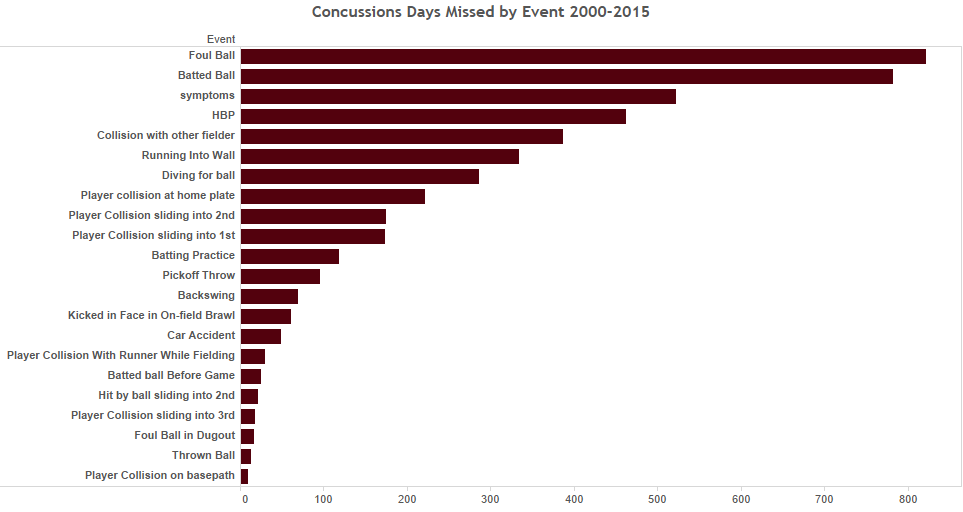 While hitters suffer more concussions from a hit by pitch, pitchers who get hit by comebackers miss more days. Batted balls have caused players to miss the second most amount of time due to concussions. The only reason foul balls are ahead of batted balls is because they occur way more often. On average "Batted Balls" cause pitchers to miss 39 days while catchers hit with foul balls miss 24.2 days and getting hit by pitches only cause players to miss 12.8 days.
This information also signals that players with a more aggressive play style are more likely to suffer concussions. This makes sense as diving for baseballs and running into walls aren't exactly safe plays, and are both big causes of concussions. If a player suffered a lot of concussions, it's probably best for him to play more conservatively.
At third in the "days missed" graph, is symptoms. I put players in this category when the player had come back to action but then had to be removed again because of lingering concussion symptoms. This is essentially, teams who throw players back too early. The fact that it's caused the third most days missed is a huge black mark on teams handling of concussions. It shows that they either didn't properly evaluate how bad the concussion was, didn't properly diagnose the concussion, sent the player back onto the field even though he had a concussion, OR sent the player back into the game even though they hadn't done any tests.
This spring training, Johnny Cueto was hit with a line drive in the head, and then stayed in to finish the game. This shouldn't happen EVEN in a regular season OR playoff games. The worst part is this statement by Bruce Bochy "'He was treated for a contusion,' Giants manager Bruce Bochy said after Monday's game. 'We are going to monitor him tonight and tomorrow for any concussion symptoms.'"
Basically, the Giants let Cueto finish the game, even though they didn't know for sure whether or not he suffered a concussion. This is extremely careless behavior and reoccurring symptoms have caused players to miss 522 days because they were put back into the game before they were fully healed, since 2000. Whether Cueto suffered a concussion or not is irrelevant. The problem was with the process and clearly the train of thought.
Major League Baseball has also implemented a new rule called Rule 6.01(j) which will require runners to make a "bona fide" attempt to reach second base. Rule 6.01 preventing collisions at home plate, if the catcher isn't blocking the plate, has done wonders for concussions from collisions at home plate. Since 2012, I have not been able to find a single incident where a player suffered a concussion from a home plate collision. Collisions at second base are the biggest cause for concussions on the base paths. Reducing these will once again make players safer, and will allow us to enjoy watching the best players play the game we love. Only time will tell whether this rule will have the same effect as Rule 6.01, but it's a good sign that baseball has put a rule in place to further protect their players.
There is still room to grow in terms of concussion prevention. With that said, it's good to see baseball react being more open to change even if that change is unconventional, in order to make players safer. Unfortunately, though, concussions will never be completely out of the game, but the better we can isolate where and how these concussions are happening the better we can start trying to find solutions to reduce the injury.