Baseball is almost back! With the 2016 regular season underway in just five days, the Brewers faithful can hardly wait. But we still have those 120 hours to kill, which means we (meaning I — unless the audience has as little of a social life as I do) will kill our time looking at leaderboards on Baseball-Reference. And from this most fulfilling pursuit came the idea for my final article of the 2016 offseason.
Platoon splits have always existed, and teams have always tried to exploit them. In the epoch of sabermetrics, though, the sport has gained a greater understanding of the mechanisms underneath splits. One of the larger things we've seen is that (most) all pitchers will fare better against same-handed batters. This means that a club wants its righties to face righties and its lefties to face lefties — in other words, it wants to have the platoon advantage. Some teams succeed in this quest; others fall short. As of late, the Brewers have succeeded.
In 2015, the average major-league team had the platoon advantage for 46 percent of its batters faced, per B-R. Milwaukee had the advantage 53 percent of the time, the highest rate in baseball. This continued a trend for the Brew Crew: In 2014, they also led the majors; in 2013, they ranked third; and in 2012, they ranked sixth. (Disregard the fact that they finished 22nd in 2011, as that goes against the narrative.) For some time now, Brewers pitchers have had a leg up on the competition.
Some of this stems from the nature of the pitching staff, which tends to skew right-handed. Teams without many southpaws will have the platoon advantage more often: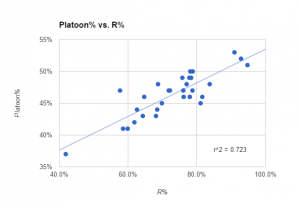 On the bottom left of the graph (which shows teams from 2015), we see the Chris Sale/Jose Quintana/Carlos Rodon-led Chicago White Sox, who ran out a righty for only 41.9 percent of opposing plate appearances. Since most batters are righties, this meant they largely lose out on the platoon advantage. By contrast, batters faced a right-handed Milwaukee pitcher 91.0 percent of the time, the third-highest rate in baseball. Having more righties on your staff means you'll perform better against righty-heavy squads — which is to say most of them — and means you'll have the platoon advantage pretty frequently.
But the lack of lefties on the Brewers doesn't account for everything. The team's righties also tend to face right-handed adversaries. Last season, the average right-handed pitcher on the Brewers saw a same-handed batter 54.2 percent of the time. That's notably higher than the MLB average of 52.6 percent. And it wasn't just one pitcher, either — several of the big names got in on the action:
| Player | IP | TBF | R |
| --- | --- | --- | --- |
| Jimmy Nelson | 177.1 | 752 | 55.6% |
| Kyle Lohse | 152.1 | 665 | 53.1% |
| Matt Garza | 148.2 | 666 | 52.0% |
| Taylor Jungmann | 119.1 | 501 | 51.9% |
| Mike Fiers | 118 | 509 | 55.0% |
| Wily Peralta | 108.2 | 478 | 49.2% |
Nelson and Fiers each beat the average by a significant margin, while Garza, Lohse, and Jungmann hung right around it. Only Peralta had to deal with a lot of lefties, and even then he wasn't in too bad of a situation. They also received some success from their notable southpaws in this area — Will Smith pitched to 43.9 percent lefties and Neal Cotts did so 40.5 percent of the time, compared to a major-league average of 29.8 percent for left-handed pitchers. In the end, it's not surprising that Milwaukee had the platoon advantage so often.
Why do these pitchers get to take on (relatively) easy competition? For most of them, it's because they've played pretty indiscriminately to this point. Only Nelson and Peralta have significant platoon splits. Garza and Fiers have no career platoon splits; for the most part, neither does Jungmann, although his is an odd case. While Lohse has something of a weakness against lefties (.283 multi-year TAv, compared to .263 for righties), it's not too significant. In 2015, the team's pitching sucked — but it sucked evenly, against righties and lefties. Teams haven't had an incentive to stack their lineups with opposite-handed hitters, so they haven't.
So can the Brewers keep this up? I certainly don't see why they wouldn't. According to PECOTA, right-handed pitchers will consume 87.8 percent of their 2016 innings, which would again rank among the major-league leaders. And while they won't have Fiers around anymore, Chase Anderson (career righty rate of 54.2 percent) should fill in for him nicely. With all of the younger arms throwing from the right — only Sean Nolin comes to mind as a developing lefty — this team should continue to rely on right-handers, and take the platoon advantage, for 2016 and beyond.
On Monday, the Brewers will kick off the season against the Giants. Wily Peralta will take the mound versus Madison Bumgarner, and we'll focus more on home runs and strikeouts than on silly peripheral statistics. Still, things such as the platoon advantage matter — the little upgrades can separate the bad teams from the good, and the good from the great. Although the 2016 Brewers will most likely fall into the former group, they should sustain their excellence in this esoteric regard.