Game Recap
On a freezing cold night at Wrigley Field, Jimmy Nelson got into trouble in the 6th inning and the bullpen couldn't bail him out, as the Cubs beat the Brewers 4-3.
Top Play (WPA)
Addison Russell's two run triple in the bottom of the 6th put the Cubs ahead 3-1 (.286). They wouldn't lose the lead. Russell hit the triple off Carlos Torres who came into the game in relief of Jimmy Nelson. Nelson had pitched an inefficient five innings before the fateful 6th inning, allowing one run on two hits and three walks, while striking out 6. Unfortunately, the 6th inning started with Kris Bryant reaching on a fielding error by Aaron Hill at 3rd base. Hill had to charge in to get the ball, but it wasn't a particularly difficult play- it just bounced off his glove. Perhaps the cold weather played a part. After an Anthony Rizzo fly ball to center field, Nelson was pulled after a walk to Ben Zobrist.
The good news for Nelson is that for the first time this year, he didn't allow a home run. The cold weather and wind helped kill some fly balls, as game time temperature was 40, the wind was blowing in, and many players were bundled up during the game. Nelson also threw 109 pitches, his most in a start this season. Unfortunately, it he wasn't terribly efficient with those pitches. He tied his season high with 4 walks, and only induced 8 whiffs, a number he equaled in 95 pitches in his last start.
Worst Play (WPA)
The worst play according to WPA was Domingo Santana's strike out in the bottom of the 8th inning (-.084). The strikeout was immediately after Ryan Braun's pinch hit two run double to make the score 4-3 Cubs. Before the 8th, Kyle Hendricks and Adam Warren had effectively shut down the Brewers, allowing one run. Pedro Strop started the 8th inning and almost gave the game away. He gave up a two walks and a wild pitch before Braun's double.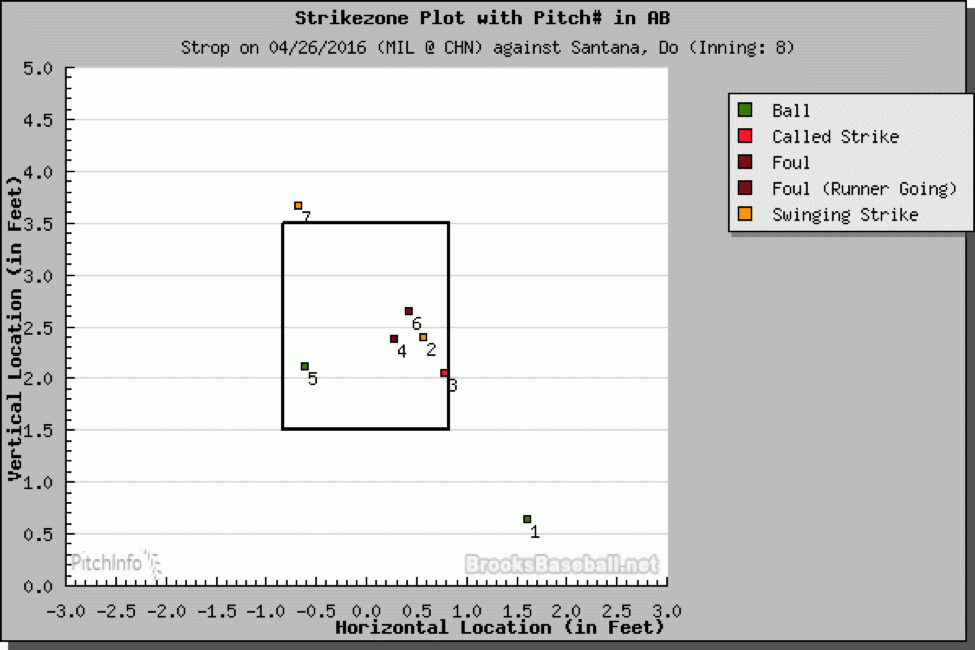 Though he started the inning wild, Strop was able to stay in the zone against Santana, and kept trying to get him on sliders away before going up and in on what Brooks Baseball is calling a slider. Strop was pulled after the strikeout and Travis Wood induced a popup by Villar to end the inning.
Trend to Watch
It makes sense that Aaron Hill is playing. Surely the Brewers are hoping he can get hot and play well enough to induce a team to trade a C level prospect for him. But considering the Will Middlebrooks and Garin Cecchini pickups over the winter, playing Hill is the lowest upside option. His TAv last year was .241, an improvement upon his 2014 season and outside of one outlier season (FRAA of 23 in 2012), he's never been a strong defender.
Unfortunately, we're probably seeing the worst case scenario for Milwaukee and Hill. He has 60 plate appearances, 7th on the team, and the cut off for regular duty on the Brewers. He has the second worst VORP (-3.5) and second worst BWARP (-0.3) on the team, only ahead of Ramon Flores in both categories. While his BABIP won't remain at .196, there's only so much time the Brewers can waste on Hill before they should give up on the prospect depth, and start sorting through their internal options.
Up Next: Another night game in Chicago. Taylor Jungmann will start for Milwaukee. Some guy named Jake Arrieta is pitching for the Cubs. Another pitching prospect chewed up and spit out by the Baltimore Orioles.