In baseball, we often talk about the stars, the great players. We analyze their every move. Put them into historical context. Ask how great they are and how great will they be? How will these players help impact our team? How will they lead our team to the promise land?
When it comes to rebuilding teams, such as the Brewers, we often talk about the next stars. Who will be the next player to bring us joy? Who will break us from this pit of misery? These discussions often happen around top prospects. The one's you've been reading and hearing about for months on end.
When doing so, however, we ignore an entire set of players. And yes, sometimes we'll give time to discuss the short and scrappy player, and even times we'll overrate that player. But, we rarely talk about the players who struggle all their lives to make it to the big leagues.
Many players spend their entire careers in the minor leagues never making it to the show. Others who spend years in the minors, and finally one day get a chance. Today, the latter is what I'll be looking at, even though the former can still derive an interesting discussion.
In order to find out which player spent the most time in the minors, for the Brewers, before reaching the big leagues, I looked at the number of plate appearances players had before getting to the big leagues.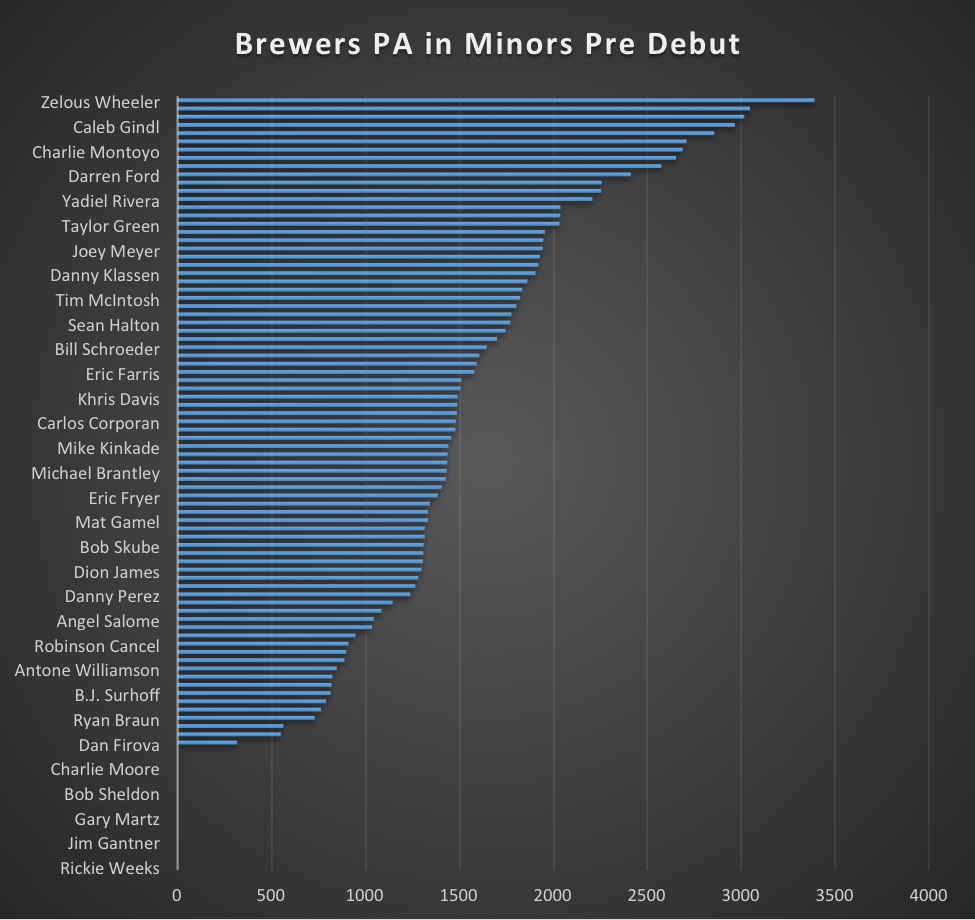 Zelous Wheeler was drafted in the 19th round, 581st overall, by the Brewers in 2007. He signed and was then sent to play for the Helena Brewers – the Rookie-level Pioneer League.
In Helena, Wheeler mostly played third base, but it was clear, early on that the Brewers thought of Wheeler as a utility infielder. In 2008, Wheeler played in A-Ball for the West Virginia Power. This was his first full season with a professional organization, and they had him playing all over the infield. That season, Wheeler played 34 games at second base, 91 games at third (his primary position), 14 games at shortstop, and three games in left field.
We don't often think of teams grooming players to be utility infielders or outfielders, but it's something teams often do especially with late round draft picks.
What's interesting about Wheeler, however, is that he doesn't look like the stereotypical infielder. He's 5'10 and built like a linebacker. "Everyone always says I don't look like a middle infielder…but I'm pretty quick on my feet," Wheeler said with a smile in an interview done by the Journal Sentinel.
Wheeler's body type may not fit the stereotypical infielder profile, but he was nonetheless an average to above average infielder. In fact, in only one of his seasons did Wheeler have a negative FRAA value in the minors and commonly had FRAA values around three.
Defensively, what carried Wheeler through the minors was his strong arm, which in 2010 was named the best infield arm in the Brewers organization by Baseball America. On the hitting side, his plate discipline is what carried him. Wheeler had a .366 OBP throughout his minor league career, which helped him post OPS numbers that always hovered around .800.
In 2012, Wheeler was claimed off waivers by the Baltimore Orioles. The next season he re-signed with the team to a one-year minor league contract. In 2013, he split time between Double-A and Triple-A and produced OPS' in the high .700s.
In 2014, Wheeler signed a one-year minor-league contract with the New York Yankees. He started the season in Triple-A Scranton and tore the cover off the ball, with a .834 OPS.
Then, on July 2nd, 2014, the New York Yankees promoted Wheeler to the big leagues.
Since the time Wheeler was drafted to the time Wheeler was promoted to the majors, seven years had passed. He played for three different organizations and eight different teams. He played all over the infield, some outfield when his team needed him too, pitched in one game, and tried his luck at catcher. Most notable of all, Wheeler had 3,389 at-bats in the minor leagues before he made his big league debut. That's the most at-bats a player has had before reaching the majors when drafted by the Brewers (1984-2015). That's 603 more at bats than Bryce Harper has had in his entire career, major and minor leagues combined. Or, think about it this way, that's 2,649 more minor-league at-bats than Kris Bryant had.
And, in his first major league game here's what Zelous Wheeler did:
After spending seven years in the minors, Wheeler hit a long home run in his second major league at-bat. He finished the game 2-4 with a home run and a single.
Unfortunately for Wheeler, that was the height of his major league career. He then struggled mightily at the plate and had inconsistent playing time. Wheeler was optioned to Triple-A when the Yankees acquired Stephen Drew and Martin Prado. On August 21st, the Yankees recalled Wheeler after Beltran went down with an injury.
In his second big league call up, Wheeler didn't perform much better. Then, after the 2014 season, Wheeler was sold to the Tohoku Rakuten Golden Eagles of Japan for $35, 000.
Wheeler is still playing baseball in Japan. His story isn't one that will finish in the traditional happy ending. It's unlikely that he'll ever get another chance at a big league roster.
Wheeler's story is one of many professional athletes. Not everyone is as talented as Bryce Harper and Mike Trout. Most players struggle through the minors hoping that some day they'll get their chance at the show. Many try and fewer make it.
If there's one solace in this tale, it's that Wheeler got to enjoy one hell of a moment. We all dream of hitting a home run in the big leagues. Each one of us who picked up a bat when we were little. We practiced in our back yards and with our friends knowing full well that that moment was never going to happen. For Wheeler, however, it did. He got his shot and for one day he made the most of it. He got his pitch and he crushed it.