Tl;dr: Zach Davies took a no hitter into the seventh inning, but Chris Carter's two home runs were enough to overcome a shaky appearance by Jeremy Jeffress to beat Oakland 5-4.
Top Play (WPA):
Chris Carter home runs accounted for all of the Brewers scoring. His first mammoth home run of the game occurred in the second inning and made the score 2-0 Milwaukee (.161). In the sixth inning, Carter again hit a monster home run, which plated three runs — thanks in part to Ryan Braun's 1,500th career hit, which started the rally. This was Carter's third multi-home run game of the 2016 season.
The homers came off two extremely different pitch locations: one of which is in his wheelhouse, while the other is atypical for him to handle well from a left handed pitcher.
Chris Carter Career SLG Against LHP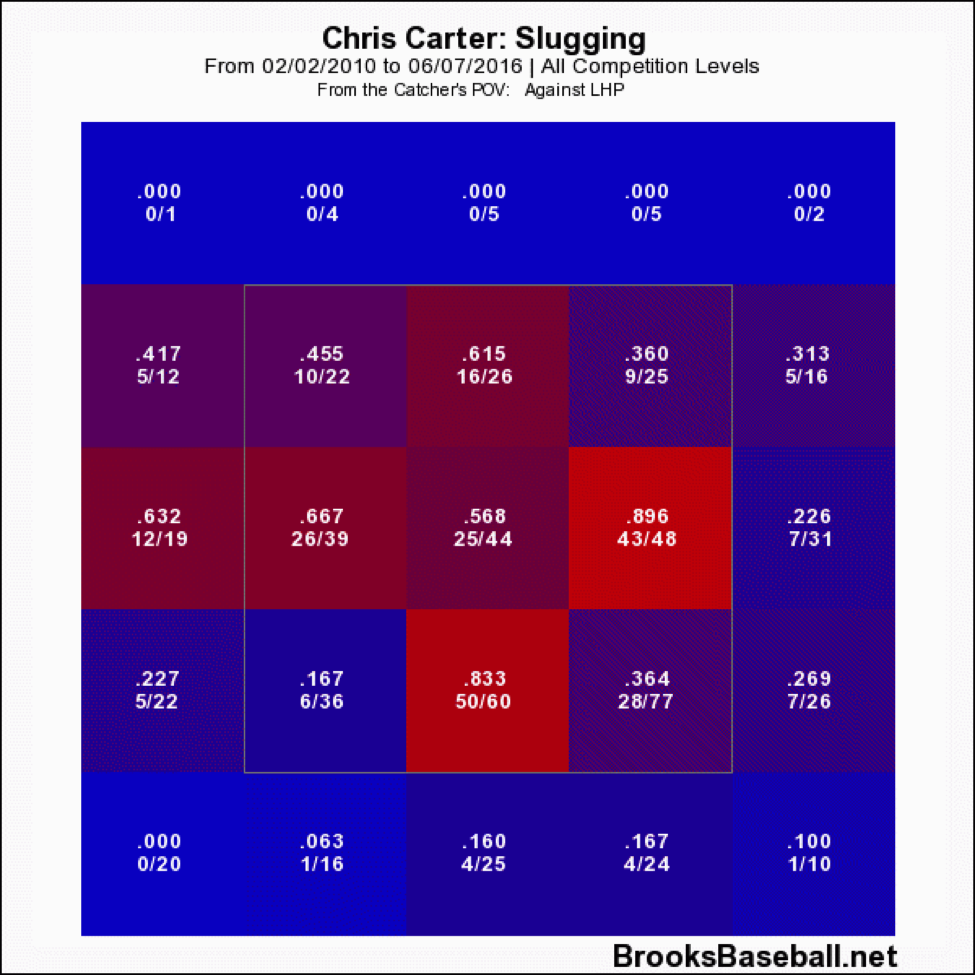 The first home run came on a pitch that shades the extremely brightest red square in that box as well as the purple below it. Basically, any lefty who throws Carter a pitch either belt high or in the middle of the zone is going to get punished. Athletics starter Sean Manaea was in the danger zone. However, the second home run was in the deep blue space at the top of the chart. Carter literally never hits anything there when facing a left hander, but he got a first pitch fastball and crushed it. There's a first time for everything.
Bottom Play (WPA):
The worst play was Marcus Semien's strike out in the 9th inning (-.211). Semien had runners on the corners with only one out, as Jeremy Jeffress had an extremely rough start to the inning. The strikeout was needed to prevent the tying run from scoring on a ground ball or sacrifice fly. Keeping in mind that Jeffress is not a prototypical closer who racks up strike outs (career low 6.4 K/9 in 2016), some Brewers must have been pleasantly surprised with the strikeout.
Jeffress ran into trouble in the 9th. The first two batters reached on an infield single and a double. Jeffress got his first out on a run scoring grounder by Stephen Vogt. Billy Butler, the next batter, also hit what should have been a run scoring groundout, but Jonathan Villar committed an error on the play. After fielding the ball, Villar looked home then didn't seem to focus on the throw, and it got away from him and Carter was unable to catch it. After another single, Jeffress got the huge strike out. He got Semien on three pitches, catching him looking on a low pitch, then finished the game by inducing a Chris Coghlan fly out.
Trend to Watch:
Zach Davies had us sending out the no-hitter alerts last night. He made it 6.2 innings without a hit, before Butler crushed a home run to make the game 5-2. Davies was running a high pitch count and if he'd made it through the 7th, Craig Counsell was likely going to face an imminent tough decision.
This was Davies' second straight strong start. His combined line in June is 15 IP, 5 H, 3 BB, 14 K, 2R, and he hasn't allowed more than 2 earned runs in a start since April. Compared with his last start against St. Louis, Davies went back to leaning on his two-seamer, throwing it for 58 of his 102 pitches, his highest usage rate for that pitch since May 15. However, he did keep up his increased change up usage, once again throwing it more than 20% of the time. Considering he doesn't have an imposing fastball (it's now below 90 mph), perhaps using the changeup is keeping hitters off balance and preventing them from teeing off on the pitch… except for Billy Butler.
Quick Hits: Along with Braun's hit, it was a good night for Brewers milestones. Braun became the fifth player in franchise history to collect 1,500 hits with Milwaukee. After Davies exited the game, righty Tyler Thornburg continued his stretch of unconscious relief work: by retiring Chris Coghlan, Jake Smolinski, and Coco Crisp, Thornburg extended his franchise-record outs streak to 26 consecutive batters (perhaps more impressively, the streak spans nine different relief outings).
Up Next:
Remember when interleague was a fun, new, cool, and exciting thing? Neither does MLB, as we have six random interleague matchups this week. The Brewers will finish their two-game series against Oakland tomorrow, and look to complete the sweep against their fierce rivals from the Bay Area. Pitching for Milwaukee is Chase Anderson, the other Brewer pitcher who came close to a no-hitter this year. Oakland will send out Jesse Hahn, who did not complete this first inning in his last start against Houston. First pitch is 7:10.