In one of the more heartbreaking press conferences I've ever seen, Prince Fielder announced that doctors could not clear him to play professional baseball due to the second surgery on a herniated disk.
It's a sad end to an otherwise great career.
While Fielder played for the Tigers and the Rangers, he will always be known as a Milwaukee Brewer. The first baseman was drafted by the organization seventh overall in the first round of the 2002 draft.
At the time, the Brewers were in the midst of one of the longest playoff droughts in all of baseball. They hadn't made the postseason since 1982 and were traditionally seen as one of the worst franchises.
Fielder certainly didn't turn the Brewers franchise all by himself, but he was one of the most impactful players in its turnaround. Let's, therefore, contextualize Fielder's career with Milwaukee.
Fielder's Year-to-Year Marks
Fielder's best seasons with the Brewers came in 2009 and in 2011.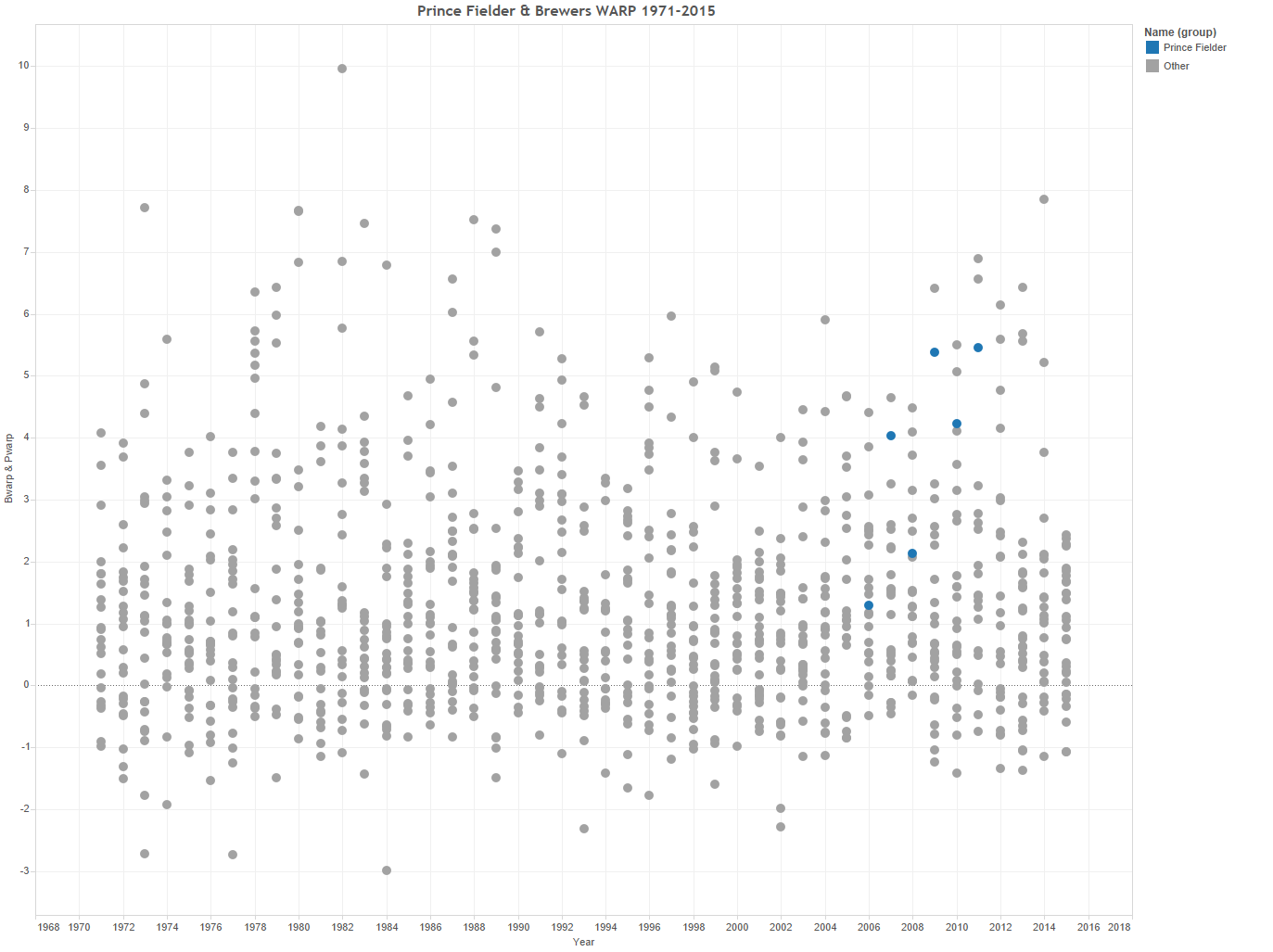 In those seasons he was worth more than five WARP. Fielder was never the best defensive player. In fact, he was yearly one of the worst, but in those seasons the defensive metrics didn't hate him as much as they usually did.
But, what made Fielder so special was his ability to hit the baseball. In those two seasons, he put up monstrous offensive numbers. In 2009 Fielder had a slash line of .299/.412/.602, the best slash line of his career, in 2011 it was .299/.415/.566.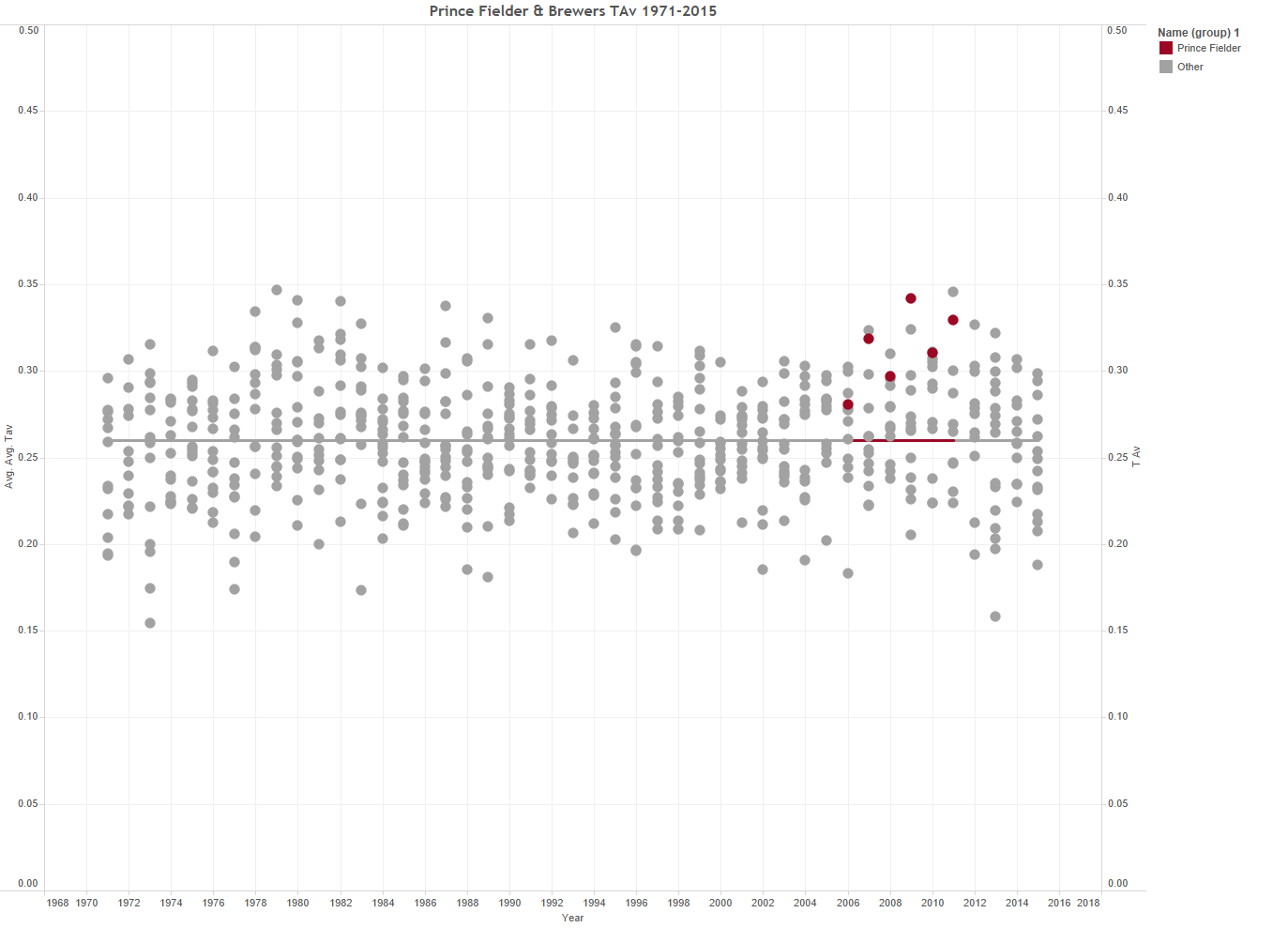 Fielder was never the best player on any Brewers team. He was simply too limited of a player to be that great. His defense and base running always hurt him, but Fielder was always one hell of a hitter, and in 2009 he put it all together to have his best hitting season of his career.
2011 was a magical season for the Brewers. They finished with a 96-66 record, winning their division for the first time since 1982. Fielder was marvelous that entire season, and as was chronicled by my colleague Travis Sarandos, he had one of the more impactful home runs of that entire year.
"RIP, dude. Paulino was annihilated by Fielder's shot so completely that the Rockies designated him for assignment the very next day. The win would kick off a 16-5 run that would see the Brewers, who had entered play 21-23, claim the NL Central lead in a division they would go on to win handily," wrote Sarandos.
That home run on May 5th, 2011 had the highest WPA (at .798) of any play in Fielder's career.
Ranking The Prince Among Brewers All-Time Greats
Now that the Prince's career has come to an end, let's look at where he stands amongst Brewers all-time greats.

Fielder was worth 22.52 BWARP throughout his Brewers career. This may sound underwhelming, but that ranks 12th among all Brewers players, including pitchers. The top three are Robin Yount, Paul Molitor, and Ryan Braun. The reason Fielder doesn't belong in that ilk of players is because he was a slow and lumbering first baseman. The only way those players can truly provide value to a team is by being very good hitters, and Fielder was a very good hitter. In fact, he was a great hitter, but his limitations at the other fundamental aspects of the game are the reasons why he doesn't rank higher on this list.
If we now compare Fielder to other Brewers first basemen, he ranks third.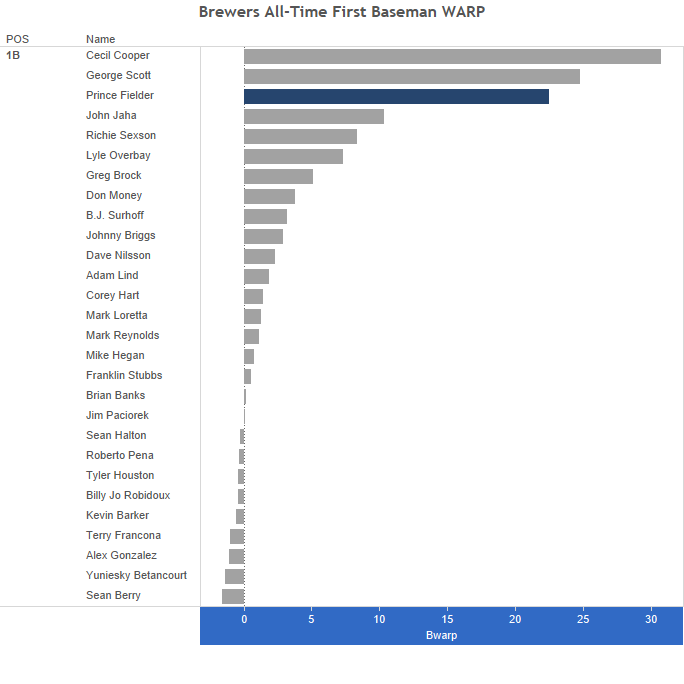 The other reason Fielder doesn't rank higher on this list, or on the all-time list, is because he didn't play his entire career with the Brew Crew. Cecil Cooper, the Brewers top first baseman, played eleven seasons with the Brewers, while Fielder only played seven. Furthermore, in 2005, Fielder only had 62 plate appearances. As you know, WARP is a cumulative stat; therefore, the more seasons one plays, the better chance that player has of accumulating a higher WARP.
George Scott, on the other hand, only played five seasons with the Brewers, but he was beloved by FRAA. In 1973 Scott had an FRAA of 31.4, and in 1974 it was at 35.9. In the seven years Fielder played for the Brewers, he only had two seasons where he didn't have negative FRAA values. Those seasons were 2010 and 2011, and in those seasons Fielder's FRAA was very close to zero. Fielder was actually a much better hitter than Scott or Cooper, but he simply didn't play long enough and his game wasn't well rounded enough for him to become the greatest Brewers first baseman.
That said, being the third best first baseman, and ranking among the top 20 players of all time for a team, is still quite an accomplishment. There's no shame in not being a Hall of Famer, and Fielder still stands as one of the greatest Brewers in its franchises history.
Games Played and Home Runs
How can one honor a player without bringing up some of his greatest feats?
Two elements of Fielder's game that Brewers fans remember strongly is his amazing ability to stay on the field and hit home runs. You've heard this stat before but, from 2009-2013, Fielder only missed one game. While that streak of games played didn't end with the Brewers, it certainly started with them.
But, that's not the only time that Fielder showed a propensity for durability. Throughout his time with the Brewers, he always played more than 155 games a season (not counting 2005).
Fielder is also well known for the being the youngest player to reach 50 home runs in a season, which he did at the age of 23. Unfortunately for the Brewers, he would never reach that feat again, but Fielder consistently hit home runs throughout his career.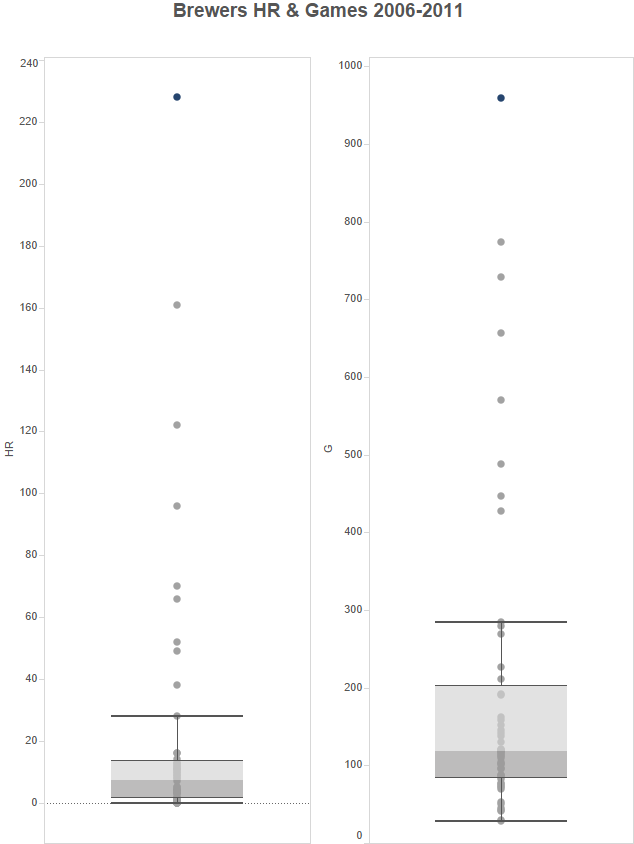 From 2006 until 2011, no Brewer hit more home runs or played more games than Fielder. In fact, it wasn't even close. Fielder hit 228 home runs during that time frame. The second was Ryan Braun with 161.
Fielder also played in 959 games during that time. The second was Corey Hart with 774, a 185 game difference.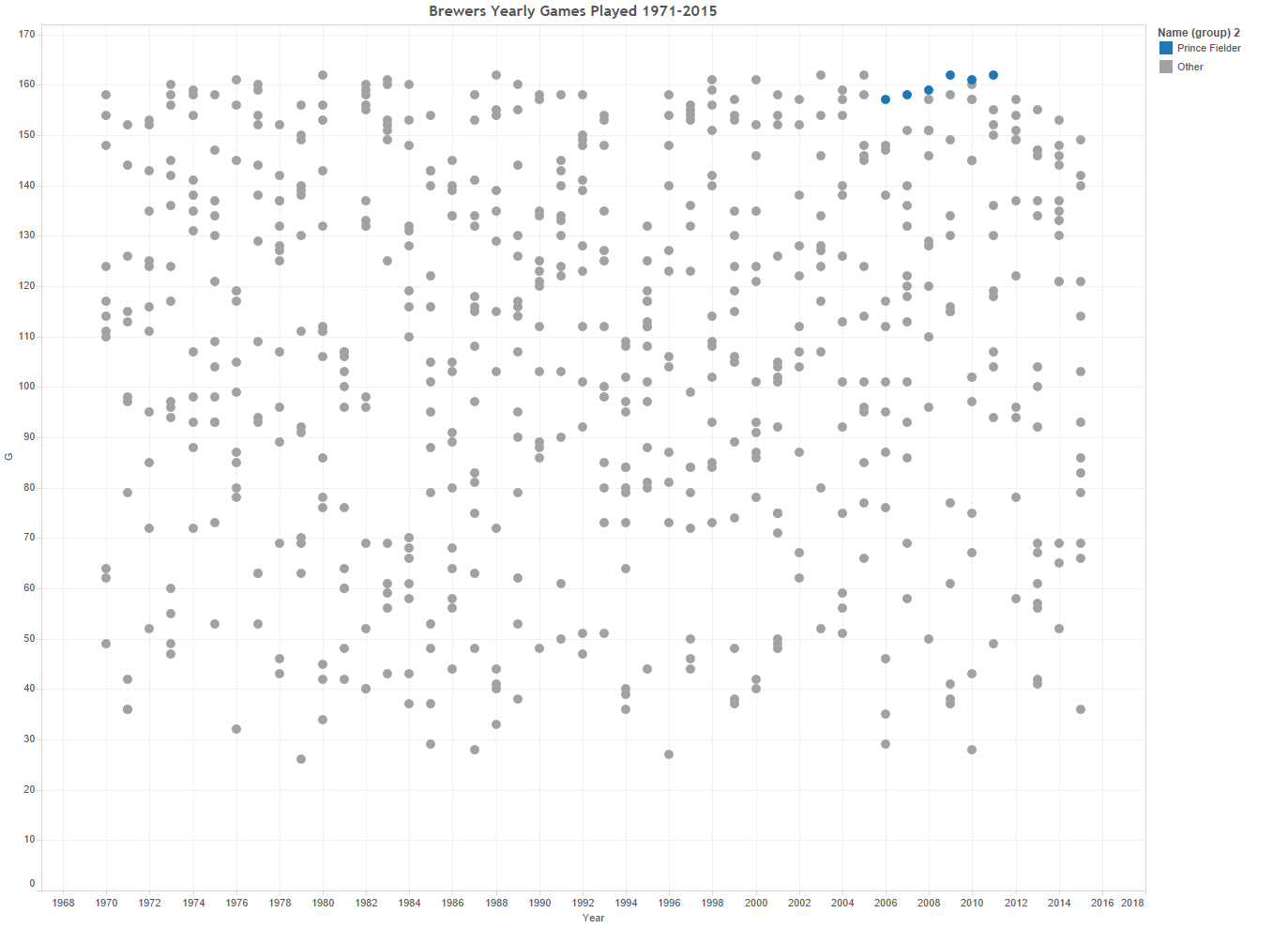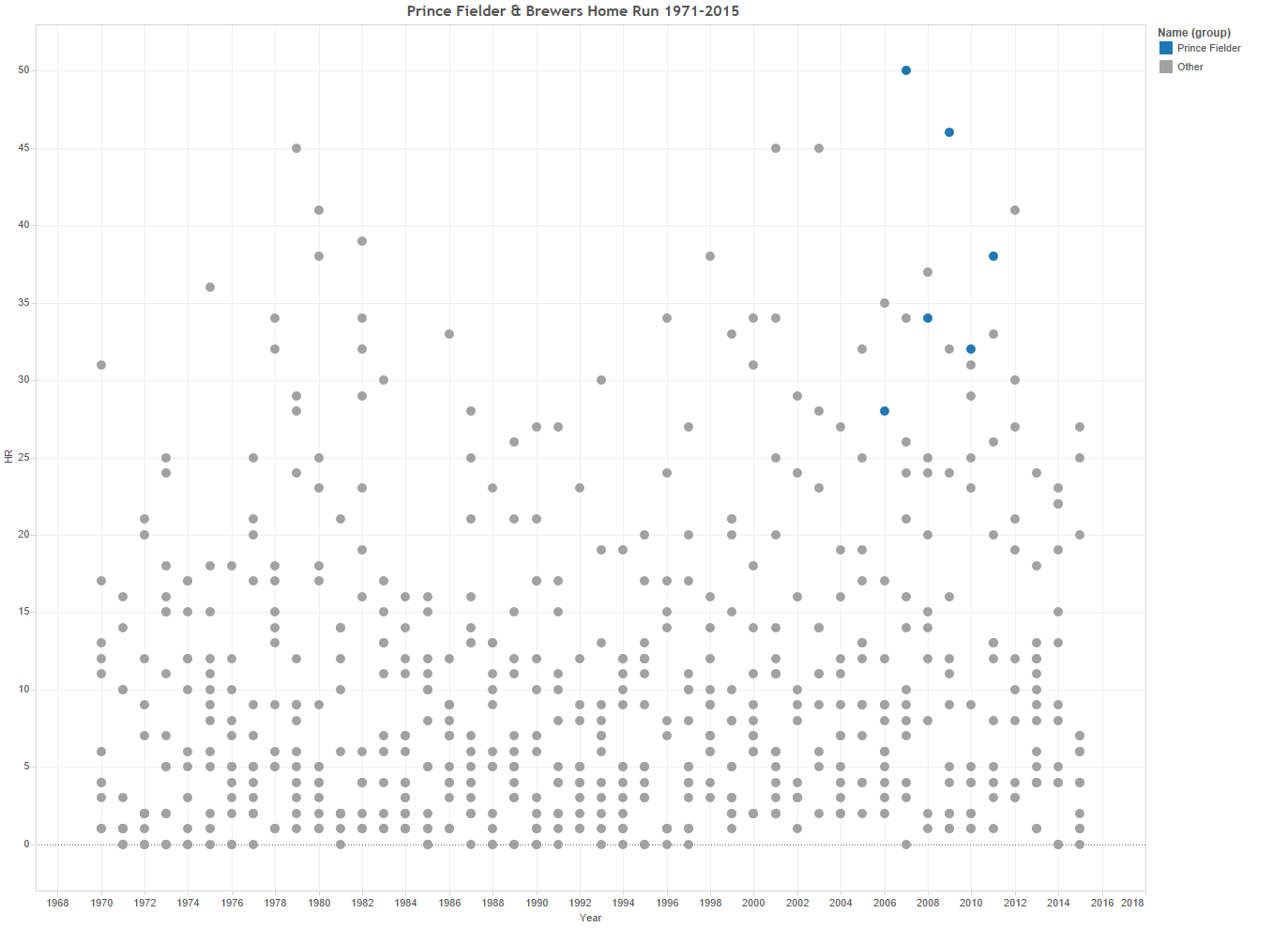 In all six of his seasons with the Brewers (not counting 2005), Fielder led the team in games played, and in four of his six seasons with the team, he led the team in home runs.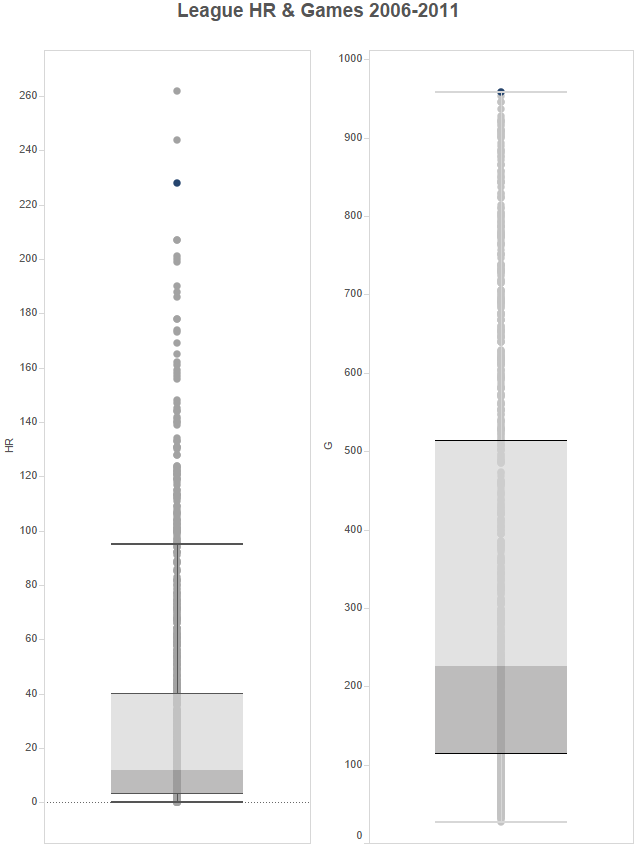 In all of baseball, only Ryan Howard and Albert Pujols hit more home runs from 2006-2011.
Also, no player played in more games than Fielder during his time with the Brewers. It was close: Adrian Gonzales played in 958 games from 2006-2011, but it wasn't more than Fielder.
Fielder's Walk and Strikeout Ratio
One element of Fielder's game that is often undersold is his amazing eye at the plate.
As strikeouts in baseball have risen, fewer and fewer players in baseball nowadays can proclaim better walk rates than strikeout rates. In 2016, for example, only Ben Zobrist, Bryce Harper, David Ortiz, and Jose Altuve can claim that feat.
Fielder, while not always being able to reach that plateau, was able to accomplish the feat three times in his career, in 2011, 2012, and 2014.
This is one of the reasons Fielder was consistently one of the best hitters in all of baseball. Usually, when a hitter hits for a lot of power, he usually tends to strikeout a lot. Fielder was never that with the Brewers. While he hit a ton of home runs, he never ran strikeout rates more than 20 percent. His worst years, when it came to strikeouts, were in 2006, 2008, and 2010, where he had a strikeout percentage of 19.3. His best was in 2011, when he only struck out 15.3 percent of the time.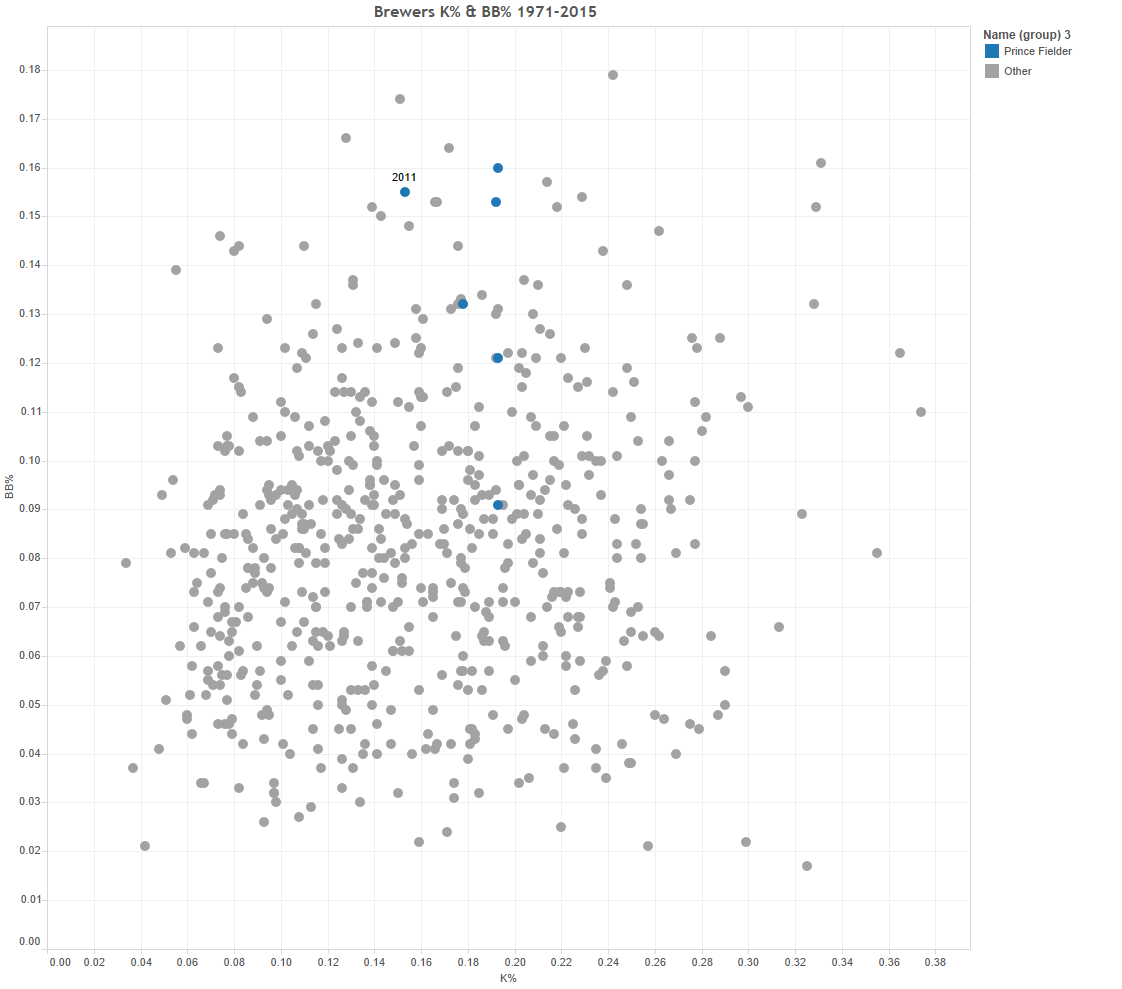 With this sort of graph, the more the player remains in the top left-hand corner of the graph the better, because it means the hitter is walking a lot while striking out very few times. Apart from 2006, Fielder is consistently in the upper left part of the graph.
His great eye at the plate is one of the main reasons he was able to have such a successful Brewers career.
Saying Goodbye
Prince has always been one of the Good Ones. This is tough.

— J.P. Breen (@JP_Breen) August 10, 2016
J.P. is right. Whether Fielder was hitting home runs or just goofing around in the clubhouse or on the field, one could always tell that he loved the game of baseball.
Fielder's career ended too early and too suddenly. His press conference was beyond heart breaking, as he announced that he would no longer play the game he loved. But, let that not be your final memory of the Prince. Remember Fielder's joyful attitude on the field. Remember his towering home runs, his wonderful eye, his one of a kind power.
Prince Fielder was a generational talent and a one of a kind player. Let's remember him for the success he brought to Milwaukee, and the unlikely talented player he was.