Chris Carter got off to an excellent start in 2016, as he put up a .922 OPS in April. He has since cooled off considerably, as his season TAv stands at just .280. That makes him a solid hitter, but nowhere near good enough for a first baseman—and especially nowhere near good enough for a first baseman with negative defensive value.
At the beginning of the season, this Carter pickup looked like a great move for the Brewers. He had been a top-50 prospect three consecutive years (although that was five years ago at this point), but he simply had never performed to the level that was anticipated prior to his debut. But the Brewers were able to buy low, signing Carter to a $2.5 million deal this offseason.
This deal was low-risk; the club didn't have an incumbent first baseman, nor a top prospect knocking on the door who Carter would block. Even the worst-case scenario was just that Carter would fail to produce and the Brewers would be out a couple million dollars. So even if Carter's full season ends up being a negative and a waste, the opportunity cost simply wasn't very high.
But at this point—given the hot start—a lost season would be a disappointment. As I discussed earlier this season, Carter looked to have made some real changes to his swing and his approach. However, his approach has regressed, as the charts below show. Where he was swinging far less frequently earlier in the season, he has now mostly reverted to the same levels as previous seasons. In fact, his overall swing rate this season is up to 44.5 percent, which is not far off his career level of 45.9 percecnt.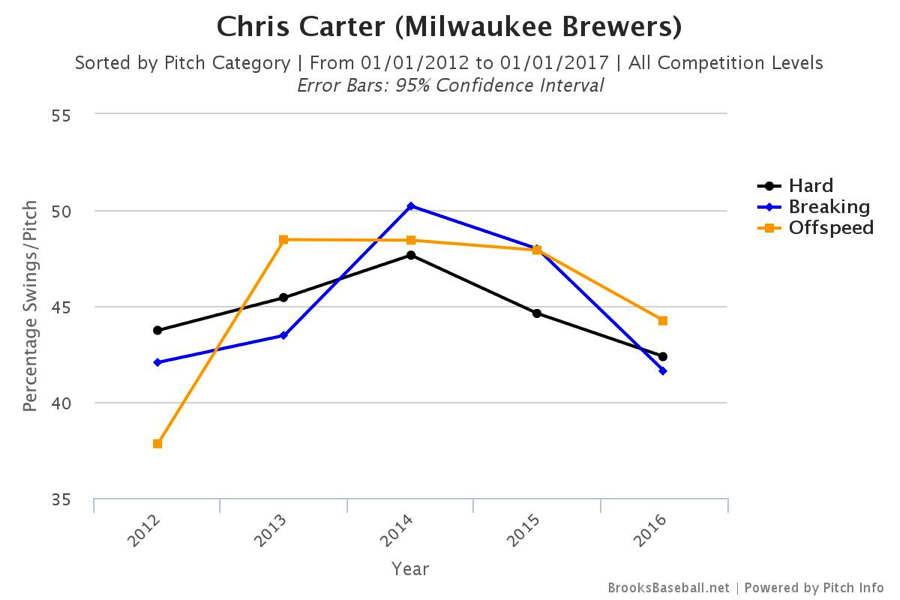 Through May 8, 2016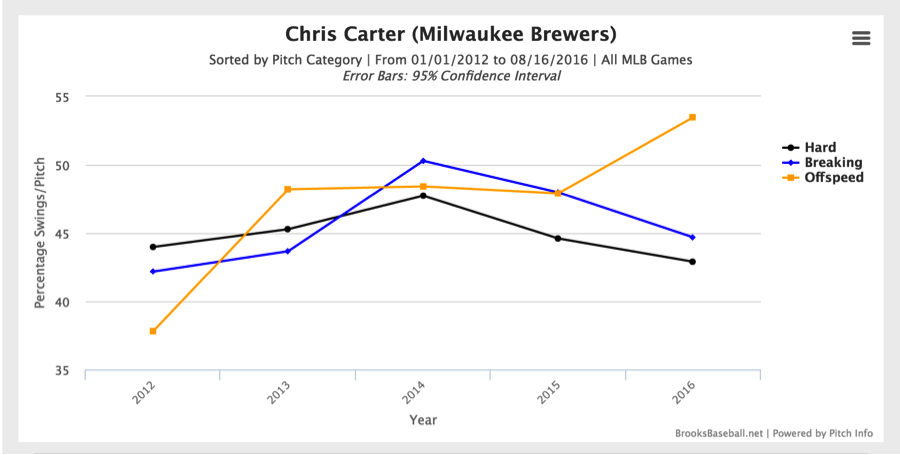 Through August 15, 2016
To my mind, at least, the most interesting aspect of Carter's season is that his exit velocity has remained consistently high. Throughout the season, he has been hitting the ball hard.

Obviously, there are a few low points recently on the above graph. However, the general point stands—Carter has been hitting the ball hard, and that hasn't correlated with success. One might generally assume that good contact leads to good results, but that clearly has not been the case with Carter.
This phenomenon is probably most well-known in the case of Pedro Alvarez. Alvarez would hit the ball really hard when he made contact, but he just didn't make contact enough for it to matter. In his case, his inability to adjust was probably both what made his exit velocity so high and his success rate so low.
Carter appears to be suffering from the same fate, and the problem here is that this is an issue with his strategy at the plate. Approaches can and do change; there are plenty of examples of players developing patience as they get older and are forced to adapt. However, Carter is already 29 years old, so there simply isn't a lot of time for him to do anything drastic. Players undoubtedly get stuck in their ways, particularly when they have been successful for so much of their lives, so the longer Carter goes into his career without changing, the less likely it is to happen at any point.
Most worryingly for Carter, at some point in the near future he will begin to lose bat speed. For someone with such a low contact rate to begin with, he simply can't afford to miss hittable pitches or lose some of his power.
To this point, Carter has remained a powerful hitter. His .265 ISO is slightly higher than his career mark of .241, and his .485 SLG is about sixty points higher than it was last year. But power drops as bat speed declines and players get older—see Pujols, Albert, who is posting the lowest ISO of his career—so Carter is running out of time.
2016 began on an encouraging note for Carter, and maybe he can return to that form, whether it be with the Brewers (either late this year or next year) or with another club in 2017. However, he needs to show that he can change his approach and be more selective, or he simply won't be playable. His negative defensive value hinders him greatly in this respect, and if he doesn't hit, he won't be a big leaguer for much longer.
There's no reason for the Brewers to make any changes at this point of this season, but it would not surprise me if they non-tender Carter this offseason. It would provide some lineup flexibility—whether it be to move one of their outfielders to first base or to sign someone else—and Carter simply hasn't performed as the club would have hoped. It was an excellent chance to take, but it simply hasn't paid off given his performance to date.