Every year new players get opportunities to shine, to show off their talents on the big stage. Some are rookies, others are bench players who got an opportunity because of injury. Baseball is filled with these type of players, players waiting on the edge for their time in the light.
This year, the Brewers gave an opportunity to a number of players who had either been passed over by other organizations, overlooked, or were simply being blocked.
You probably know these players as Jonathan Villar, Hernan Perez, Ramon Flores, Aaron Hill, Chris Carter etc. For folks who aren't following this team closely, some of these names might seem foreign. And, it's understandable, most of these players were either considered washed up or were guys who never got many at-bats at the big league level.
Fortunately for them, however, these players landed on the Brewers roster. And, as we know, since the Brewers were in the midst of a rebuild, they could afford and were more than happy to give some of these players a shot.
In order to measure which players were able to get an opportunity at the big league level, I simply looked at the difference between each player's plate appearances from 2015 to 2016 (min 200 PA in 2016).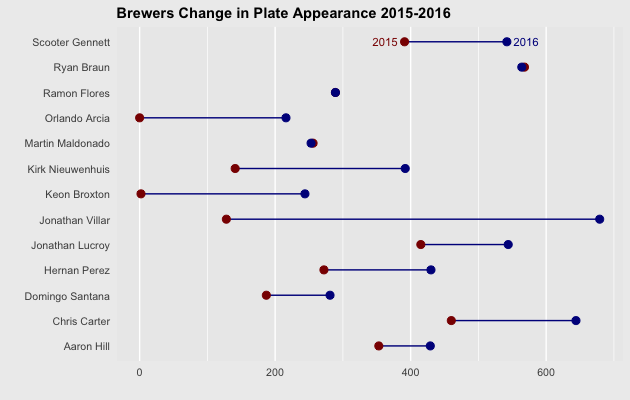 Of the thirteen players who accumulated at least 200 plate appearance in 2016, only Martin Maldonado and Ryan Braun lost plate appearances in 2016, and they barely did.
By far the biggest increase was from Jonathan Villar, who seems to have been the player who made the most of his opportunity in 2016. In 2015, with the Astros, Villar struggled and was blocked by Carlos Correa, which resulted in him only getting 128 plate appearances. This year, he got 670 plate appearance, a 542 difference from 2015. On top of that, Villar had a career high in hits, doubles, triples, home runs, total bases, OBP, SLG, TAv, and WARP. Basically, this was Villar's career year.
The next biggest increase came from Kirk Nieuwenhuis, Keon Broxton, and Orlando Arica. Each of these players had at least a 200 plate appearance increase from last year. At the beginning of the season, a number of players battled for the center field job, but once the season got underway, it was clear that Nieuwenhuis had won the job. Broxton had struggled, and Nieuwenhuis was the only player who was able to bring solid production from the position. But, as the year went on, Broxton started playing better and better and won the job back.
When it was time for Arcia to come up, he was always going to get the job. Even though Arcia struggled in his first year, the rebuild allowed Arcia to keep playing through his struggles and attempt to make adjustments.
Carter and Perez were other players who were given an opportunity. Carter had a bad season with the Astros and the Brewers decided to take a chance on him. He still isn't the player he used to be, but he was able to hit more home runs this year than the last, which helped him keep the first baseman's job. Perez, on the other had, wasn't a well-known player. Perez wasn't a top prospect, and had a terrible 2015. This year, though, he got another chance, and he too made the most of it. He was able to hit for more power, and played solid defense, turning him from below replacement level to a solid everyday player.
But, which player improved or benefited the most from their chances?
To answer this question, I looked at the change in WARP from 2015 to 2016 for each Brewer.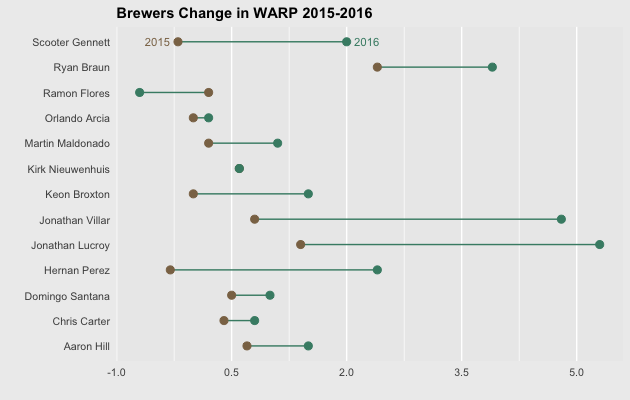 I mentioned it before, but you would have a hard time arguing that Villar didn't benefit the most from the opportunity. Not only did he increase his plate appearances more than any other Brewers player, but he also increased by the most WARP, going from 0.8 in 2015 to 4.8 in 2016.
But, a close second was Jonathan Lucroy. Lucroy, as you know, was hampered by injuries throughout the 2015 season. In 2016, though, he regained his hitting form and was once again one of the best catchers in baseball even though his framing still hasn't come back. Lucroy improved from 1.4 WARP in 2015 to 4.0 WARP in 2016.
Scooter Gennett and Hernan Perez also saw huge increases in their production, and so did Keon Broxton. The only players who didn't see an increase in production were Ramon Flores and Kirk Nieuwenhuis. Both, unfortunately, were unable to improve with their given opportunity. Flores ended up being a below replacement level player in 2016.
The rebuild can be hard and challenging on fans and a number of people. But, it gives players who otherwise wouldn't have an opportunity the chance to play. Without Milwaukee's rebuild, who knows whether Perez, Villar, Broxton, Gennett, and others would have been able to prove their worth in the big leagues.