On December 6, 2016, the Milwaukee Brewers and Boston Red Sox struck a deal that sent then-Brewers reliever Tyler Thornburg to the Red Sox for third baseman Travis Shaw and minor leaguers Josh Pennington, Mauricio Dubon, and a PTBNL or cash. Shaw was the headliner in the package the Brewers received, but Dubon was arguably the most exciting piece in the deal. The 22-year-old shortstop had moved quickly up in the Red Sox organization after being drafted in the 26th round back in 2013. Prior to the start of the 2016 season, MLB.com ranked him 12th in the Red Sox organization.
Dubon committed to the Red Sox after high school and began his career in rookie ball in 2013. Dubon was not your normal high school baseball player, however. Just four years earlier, he left his home in Honduras to pursue his dreams of playing Major League Baseball. "It was tough at the time because I had to leave my mom, my dad, and my brother. It was tough. I was far away from them. But in the long run I knew it was going to pay off, because nothing good comes easy."
In 2014, following a brief 20 games in rookie ball the year prior, Dubon played in 66 games with the Single-A Lowell Spinners, where he slashed .320/.337/.395. He only had eight doubles and three home runs, while being caught on the base paths more than half of the time (7-for-15). Even though he finished second in the New York-Penn League in hitting, there was a lot left to be desired when it came to other aspects of his game. He was fifth in the league in errors and only finished in the middle of the pack in slugging percentage due to his high batting average.
Dubon did see improvements come 2015. While moving up to full and advanced-A ball, the Honduran infielder added to his on-base and stolen base numbers. His average did drop down to .288 in 120 games, but his on-base percentage jumped 12 points to .349. His walk rate went from 3.3percent in 2014 to 7.7 percent in 2015. As for the stolen bases, Dubon was successful 30 of 37 times. However, the six-foot and 160-pound shortstop saw zero improvements when it came to power, as his slugging percentage actually dipped down to .376.
The start of 2016 was not much different either. Dubon began the season where he ended the season prior, with the advanced-A Salem Red Sox. He played in 62 games with them, hitting .306/.387/.379 with zero home runs and 24 stolen bases. It seemed as if we already knew who Dubon was and the player he was going to be: a quick, slap-hitter, who reached base with his legs. Not a whole lot more than that.
His hitting success led to a promotion midseason, this time to the Class-AA Portland Sea Dogs. And all of the sudden, Dubon became a power hitter.
"Swing-wise, it has always been the same. It was just, [Portland's manager] and I talked about a few things. When I am in a favorable count, don't be afraid to swing hard. If you swing and miss, you are still in a good position. When I was in Salem, the ballpark is very big and the hitting conditions are not that good. So, I was just satisfied with making contact and getting base hits, instead of driving the baseball. When I got to Portland, I made the adjustment of swinging – not out of my shoes. But when I had a favorable count – 0-0, 2-0, 3-1, I made sure to make a good swing and make solid contact."
That advice from manager Carlos Febles certainly paid off. In the 62 games he was a member of the Sea Dogs, Dubon hit 20 doubles, six triples, and six home runs. In his previous 186 games, he had 29 doubles, four triples, and eight home runs. Not only did his power spike, he hit .339 to go along with his newfound .538 slugging percentage. "I let the game come to me. I was not trying to look for something. I have been trying to get stronger and hit the ball harder. There are more opportunities to get base hits, get on base, and score runs."
I was surprised to hear that Dubon did not change much in his swing to garner these results. Typically, a change this drastic in production comes from a major adjustment in a player's swing. With the right-handed hitter, all he needed was a different approach and mentality at the plate. I followed up my asking him whether or not his game plan was to become more aggressive and to take advantage of a hitter's pitch.
"Yes. I was looking for something elevated. It was not something out of this world that I was trying to do. It was more just trying to hit the ball hard. I wasn't trying to hit home runs at all. I was just trying to do more damage at the plate."
Even before the sudden spurt of power in Portland, Dubon had reduced his ground ball rate each and every year. In 2014, over 60 percent of his balls in play were hit on the ground. The next season, that number dropped to 56 percent. But in his most successful year, the 2016 season, that number came all the way down to 47 percent. That is a significant improvement. As you can imagine, his fly ball percentage climbed every year as well. And most importantly, he started to drive the ball to all parts of the field and into the gaps.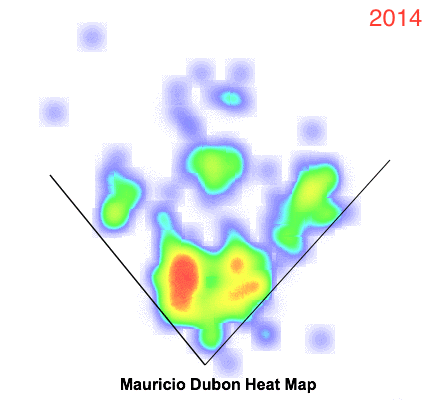 Courtesy of MLBfarm.com, this visual shows Dubon's much-improved batted balls profile. His spray chart in 2014 is pretty ugly, as most of his balls were hit in the infield. You can see improvements in 2015, with more batted balls to the outfield. However in 2016, the former Red Sox prospect utilized all parts of the field and hit the ball much deeper more often. If only there was data on minor league exit velocity and launch angle (sigh).
Dubon has not changed much this offseason and continues to put in the work. He begins his days at 10 AM with a two-hour workout, followed by a lunch break. Then at 2 PM, he will hit for roughly four hours, wrapping up with some drills at shortstop. Routine is something the 22-year-old enjoys, and it has allowed for him to improve on every aspect of his game this winter.
"There is always something to improve on. I wish I could run faster. I wish I could hit the ball harder. I wish I could field the ball better. Right now, I am preparing myself to get to that player I want to be. Rome wasn't built in one day. I still need to keep constantly working and to trust the process."
In the Arizona Fall League just a few months ago, Dubon showcased his abilities in centerfield, as he started on occasion in the outfield. He is more than likely a shortstop going forward, but I asked him what the Brewers had planned for his development. "Whatever gets me up there, I'll do it. I am a baseball player and I am not a one-position type of guy. If they want me to play the outfield, I will play the outfield."
Character, work ethic, and a desire to succeed is what has made Dubon into the blossoming prospect he has become today. He left everything he ever knew when he was a 15-year-old freshman in high school to pursue his dream and passion. Time can only tell whether or not the Honduran-born infielder will don a Major League jersey one day, but it is a certain that Dubon will do everything in his power to see his dreams come to fruition.