Chase Anderson was never a heralded prospect. He's never been a heralded major leaguer, either. In the January 2016 trade that brought him to Milwaukee, Anderson flew surprisingly under the radar. Never mind that he was a controllable young starting pitcher. Aaron Hill blossomed into an unexpected deadline chip and Isan Diaz rode his powerful left-handed swing to a Robin Yount Performance Award as the Brewers' top minor league masher. A league-average starting pitcher is bound to look a little duller by association, no matter how effective he is on the mound.
To make matters worse, Anderson's efficacy came in fits and starts last season. Following a pair of early-season gems, Chase struggled through the rest of the first half before turning a corner after the All-Star break. The result was an underwhelming 4.39 ERA with humdrum peripherals. DRA, which has held a mysterious grudge against Anderson since his debut, suggests that he was lucky to prevent runs at even that mediocre clip: his bloated figure of 6.00 led him to -1.1 WARP on the year in the eyes of Baseball Prospectus. (In fairness, both Fangraphs and Baseball Reference valued Anderson's campaign as a net positive for the Crew, albeit not by much.)
Needless to say, this was not the kind of production the Brewers expected from their offseason acquisition. What went wrong? Blame it on the changeup.
Long regarded as his signature pitch, Anderson's change of pace showed worrisome deterioration in 2016. For the first time in his career, Fangraphs pegged Anderson's change as subpar. Per Brooks Baseball, it lost nearly an inch of horizontal run. In a sport famous for being a game of inches, that can spell the difference between a dribbler to shortstop and a line drive into the outfield grass. This was especially true against right-handed batters, who feasted on the change for a Thamesian .754 season slugging percentage.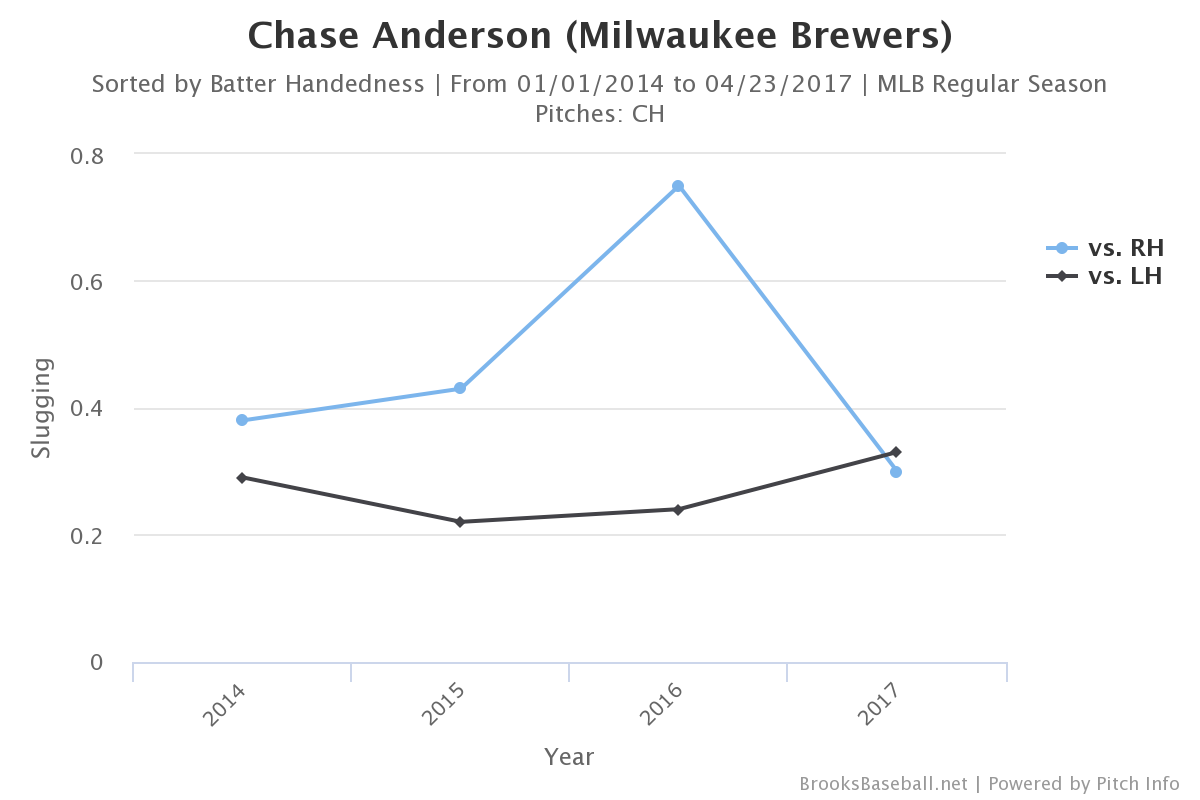 But soft, what light from yonder line chart breaks? Through four starts in 2017, Anderson has held right-handed batters to a mere .300 SLG against the changeup. And that missing inch of horizontal break? Looks like it's back. In fact, the pitch is displaying more arm side fade than ever before.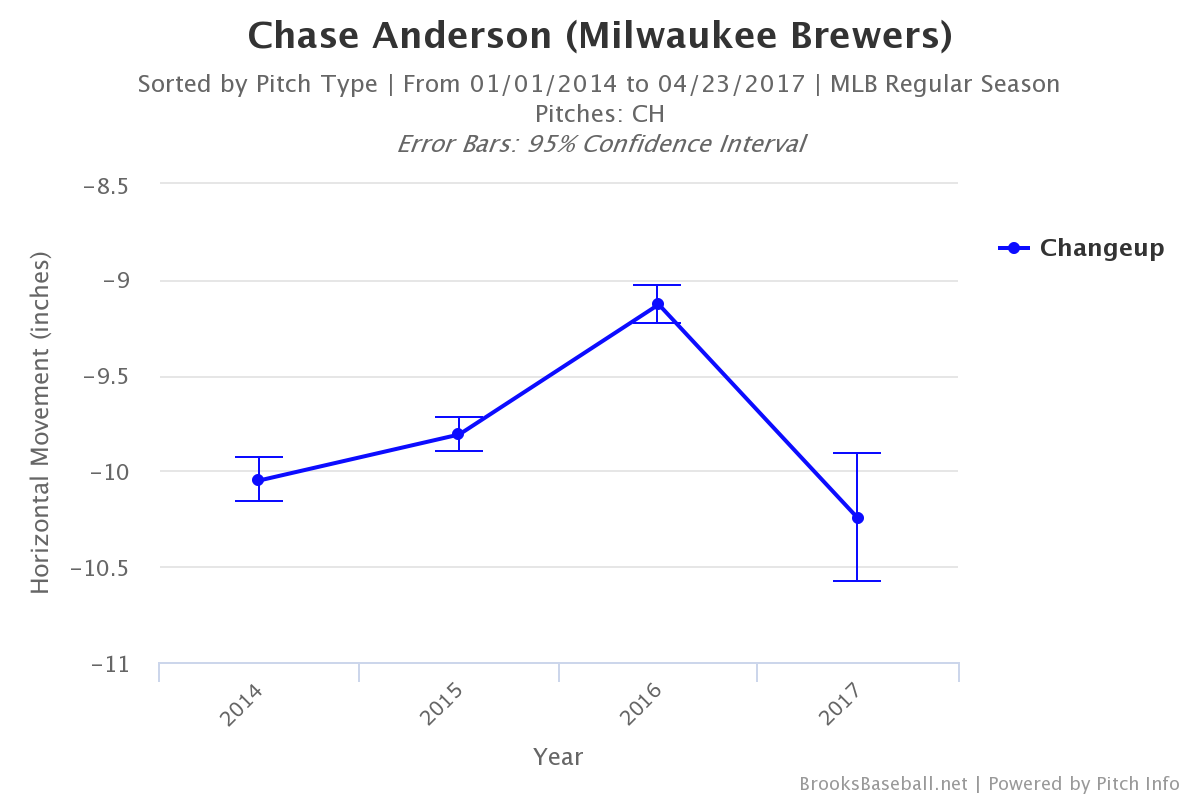 Of course, when we think about changeups, we tend to think of vertical drop. Anderson's offering bucks convention here. It's a high backspin pitch, leading to more "rise" than one would normally expect. But as long as the righty maintains separation between the rise of his four-seam fastball and that of his changeup, the pairing works.
So far in 2017, it's worked splendidly. Anderson is sporting a 1.13 ERA across his first four starts, along with a 2.47 FIP and a strikeout-to-walk ratio of 3.67. Even DRA is warming to Anderson a bit, crediting him with a respectable 4.46, which is nearly a run lower than in any other season for Anderson. His changeup has returned to the good graces of Fangraphs, and he's using it to convert some of last year's line drives back into ground balls. If he can continue to limit damage and generate whiffs, 2017 may be the year that Anderson rides his changeup out from under the radar and into the spotlight. Milwaukee may not have an ace on its hands, but a move from the back of the rotation into its heart is well within reach.