Welcome to the eighth edition of the Weekend Recap. The Brewers took Sunday's game to prevent a sweep at the hands of the Los Angeles Dodgers, thanks to a strong pitching performance from Zach Davies, who allowed less than two runs for only the second time this season. Even with the win yesterday, the weekend has to be considered a disappointment as the bullpen blew two late leads on Friday and Saturday, leading to defeats.
| | | |
| --- | --- | --- |
| Weekend Series | Dodgers | Brewers |
| Friday June 2 | 2 | 1 |
| Saturday June 3 | 10 | 8 |
| Sunday June 4 | 0 | 3 |
For a player who has always been whifftastic, Jonathan Villarhas reached a new level this season, raising his Strikeout Percentage to 30.5 percent, which would be his highest rate since he was in Advanced-A ball. This weekend Villar went 1-8 with five strikeouts and a walk, continuing his troubling trends at the plate this season. He's seen his swinging strike rate has jump from 27.8 percent in 2016 to 30.1 percent this season. While his swing rates are up across the board, it's his numbers on pitches outside the zone that are the most cause of concern.
Villar has swung at more pitches outside the strike zone (26.1 percent in 2017 up from 22.8 percent in 2016), and he's making less contact on those pitches than he did last season (47.6 percent to 53.2 percent). Meanwhile, the percentage of pitches he even sees in the zone has gone down for the third straight year to 47.6 percent this season.
Looking at Friday night's zone profile, when Villar struck out four times in five at bats, is instructive on how this season has gone.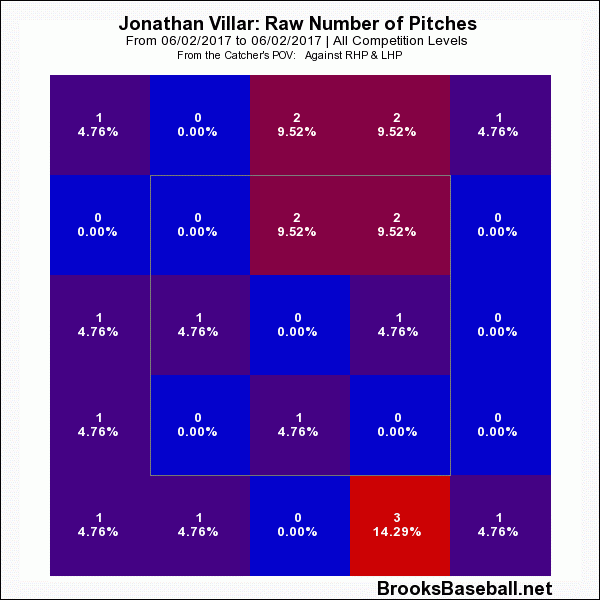 Dodgers pitchers were actively avoiding the plate, feeding him a steady diet of high and low pitches, which Villar was ready to hack at. While he'll never be a selective hitter, this version of Villar is borderline unplayable. Villar makes his living on lower pitches, which he can drive for power. Pitchers saw last year that when they elevate the ball, Villar doesn't connect. Baseball is a game of adjustments, and now that pitchers have exploited a hole, Villar needs to find a method to resist those high pitches.
It goes without saying that Carlos Torres had an ugly Saturday night. He'd only allowed five runs in a relief outing once in his career, in September 2012 pitching in Colorado. The cutter has been his primary pitch since 2013, and his usage of the pitch has only increased over time, jumping from 44.2 percent in 2013 to 69.8 percent this season. However, he took his usage of the pitch to the extreme on Saturday, which may have been his undoing. According to Brooks Baseball, Torres threw twenty-five cutters and two curveballs in the ninth inning. What's more, he threw the curveballs as consecutive pitches. In one inning, he threw the same pitch, at the same general velocity (91.0-to-93.5 MPH) twenty-three times, which seems absurd, especially in light of how the inning played out.
Updates from last week: Jimmy Nelson struck out eleven batters on Friday, using a similar pitch mix as his last start, and Eric Thames is no longer slumping.
Looking Ahead: While the Brewers had a disappointing week, so did the rest of the N.L. Central, and they remain in first place with the best run differential in the division (+29). This week will see them continuing to play the N.L. West. The Giants are up first, playing four games in Milwaukee starting tonight. They have had a disappointing season so far, highlighted by their team wide .250 Total Average (TAv), which puts them 26th in MLB. After the series against the Giants, the Brewers hit the road for seven games, starting with a weekend series in Arizona.
| | |
| --- | --- |
| Giants Probables | Brewers Probables |
| Jeff Samardzija (2.59 DRA) | Junior Guerra (4.68 DRA) |
| Matt Cain (6.92 DRA) | Chase Anderson (5.04 DRA) |
| Ty Blach (6.31 DRA) | Jimmy Nelson (3.96 DRA) |
| Johnny Cueto (3.03 DRA) | Matt Garza (4.90 DRA) |