The Brewers had a big weekend in Denver, winning two of three against the Colorado Rockies. The bats predictably had a good weekend at Coors Field, but it was the pitching taking a step forward that netted the two wins. While the Brewers are only two games behind the division lead, swoons by both Arizona and Colorado has put the Wild Card in reach as well. Milwaukee is now 2.5 games behind Arizona for the second Wild Card spot.
| | | |
| --- | --- | --- |
| | Brewers | Rockies |
| Friday August 18 | 4 | 8 |
| Saturday August 19 | 6 | 3 |
| Sunday August 20 | 8 | 4 |
Chase Anderson made a successful return on Sunday. In his first start since June 28, Anderson pitched five innings, allowing one run on two hits and three walks, while striking out four Rockies batters. Looking into the numbers, Anderson changed his approach on Sunday and produced good results. Whether this is a permanent change or a temporary adjustment as he eases back into competition bears further watching, but it is interesting to see what he did differently.
Anderson definitely flashed some good stuff on Sunday as he induced ten whiffs, including seven on his four seam fastball. Because Anderson only threw seventy three pitches, it makes sense to look at his previous whiff percentages, rather than raw numbers. Anderson threw the four seam fastball forty three times, so those seven whiffs equal a 16.3 percent whiff percentage, above his season average of 12.75 percent.
Anderson primarily relied on the four seam fastball, throwing it on 58.9 percent of his total pitches. Not only is that above his season average of 32.63 percent, it was also the first time this season he threw the pitch for more than half his total pitches. Normally, Anderson pairs his four seam fastball with a sinker, aiming to throw those two pitches around 50% of the time. However, yesterday, at least according to Brooks Baseball, he didn't throw a single sinker, explaining the increase in four seam fastballs. Anderson was also throwing the pitch harder, with an average velocity of 94.9 MPH, 1.12 ticks above his season average velocity. One thing to note, though: Anderson's velocity fell off during the course of the outing.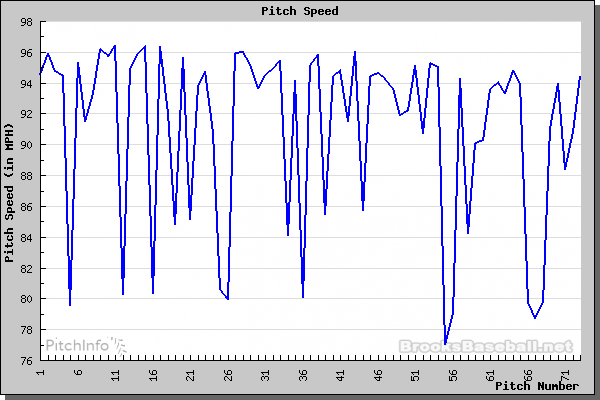 While drop off is normal, especially when returning after a six week absence, Anderson was starting to lose it and was definitely pulled a at good point in the game.
Anderson also switched up his secondary pitch usage. In 2017, the cutter has been his least used pitch at 13.19 percent, but yesterday, that rate climbed to 17.8 percent and he threw it more than the changeup and curveball. Once again, this may have been a feel issue, especially with a pitch like the changeup. Anderson deserves credit for coming back from an injury and delivering a great performance in a tough environment like Coors Field. His next start will be against the Dodgers, and we'll see if he's back to his usual plan, or if this new approach is his plan going forward.
Jesus Aguilar had a great weekend, homering three times in the Brewers wins, including a pinch hit home run in the top of the 9th inning on Saturday to give the Brewers the lead. That home run deserves a deeper look because, well, 9th inning pinch hit home runs which give the Brewers the lead are awesome. In particular, I was struck by Aguilar's post game quote, where he mentioned that he went to the plate only looking for breaking balls.
As it turns out, Aguilar was onto something! He faced six pitches from Holland, all of them sliders. The interesting thing, is that when facing right handed hitters in 2017, Holland throws the slider more than any other pitch, but his usage rate is only 48.2 percent. Considering Aguilar was likely only going to face the four seam fastball and sliders, it makes sense for him to pick one and go all in on it.
Given the situation, two outs, one runner on, tie game, Aguilar made the right choice between the two pitches. Aguilar needed to put a bat on the ball to drive and get Broxton in from second. This season he's batting .235 with a .469 SLG on four seam fastballs compared with a .265 batting average on .571 SLG against sliders.
I couldn't tell from the video whether Holland missed his spot with the slider, but based on his general location, up and away is not usually where he throws the slider.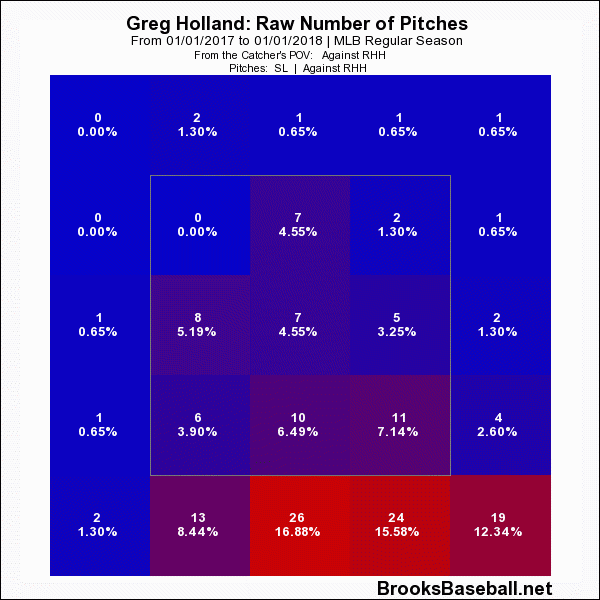 The plot above shows Greg Holland's slider locations this year against right handed batters. The slider Aguilar hit was in between the top and middle away zones on that chart, far from the lava red at the bottom of the plot. Regardless of his intent with the pitch, that's not an area where Holland usually dares to challenge righties.
Even if Holland intended to throw the slider in that location, based on Aguilar against slider's this season, it probably wasn't a good idea!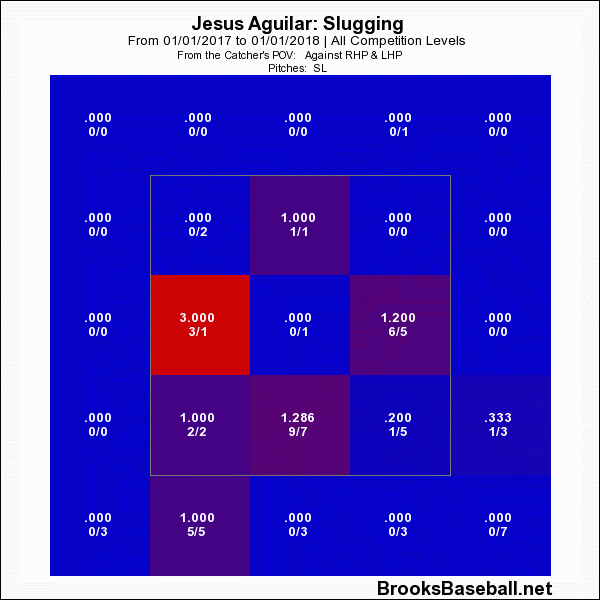 Once again, the slider was on the edge of the purple zone, middle away. Aguilar can handle a slider there. In lieu of adding another plot, this link shows that Aguilar loves breaking pitches in that location.
Combine all of the above factors, and you have the home run, putting the Brewers up late in a crucial game.
Up Next: The Brewers are off to California for the next week so get ready for some late nights. A three game series against the San Francisco Giants starts tonight. The Giants have the second worst record in the National League and they just split a four game series with the Phillies, who have the worst record in the National League. This should be a series for the Brewers to get some wins before the facing the Dodgers juggernaut next weekend.
| | | |
| --- | --- | --- |
| | Brewers | Giants |
| Monday August 21 | Zach Davies (4.90 DRA) | Chris Stratton (5.35 DRA) |
| Tuesday August 22 | Jimmy Nelson (3.41 DRA) | Jeff Samardzija (3.43 DRA) |
| Wednesday August 23 | Matt Garza (5.39 DRA) | Matt Moore (6.83 DRA) |
---
Photo Credit: Ron Chenoy, USAToday Sports Images