In a season chock full of feel-good stories, the Milwaukee Brewer's most pleasing development may be the emergence of soon-to-be thirty-year-old Chase Anderson.
After posting a 4.26 earned run average in 418 2/3 innings over his first three full seasons in the big leagues, the veteran right-hander ranks seventh in baseball among those with at least 120 innings pitched, with a 2.74 earned run average. Anderson has already matched his career high in strikeouts (120) despite throwing just 128 innings, 23.7 innings fewer than his career-high. He has kicked his home run-prone habit, allowing just 0.8 per nine innings after allowing 1.7 last year.
Added velocity has been a huge factor in the development of his sudden swing and miss stuff. Anderson's swinging strike rate of 24.5 percent ranks 45th out of 112 pitchers with over 1900 pitches thrown. His fastball and sinker velocity are both up over 1.5 MPH from last season. His average four-seam fastball velocity has hovered right around 94 MPH in the second half of this season.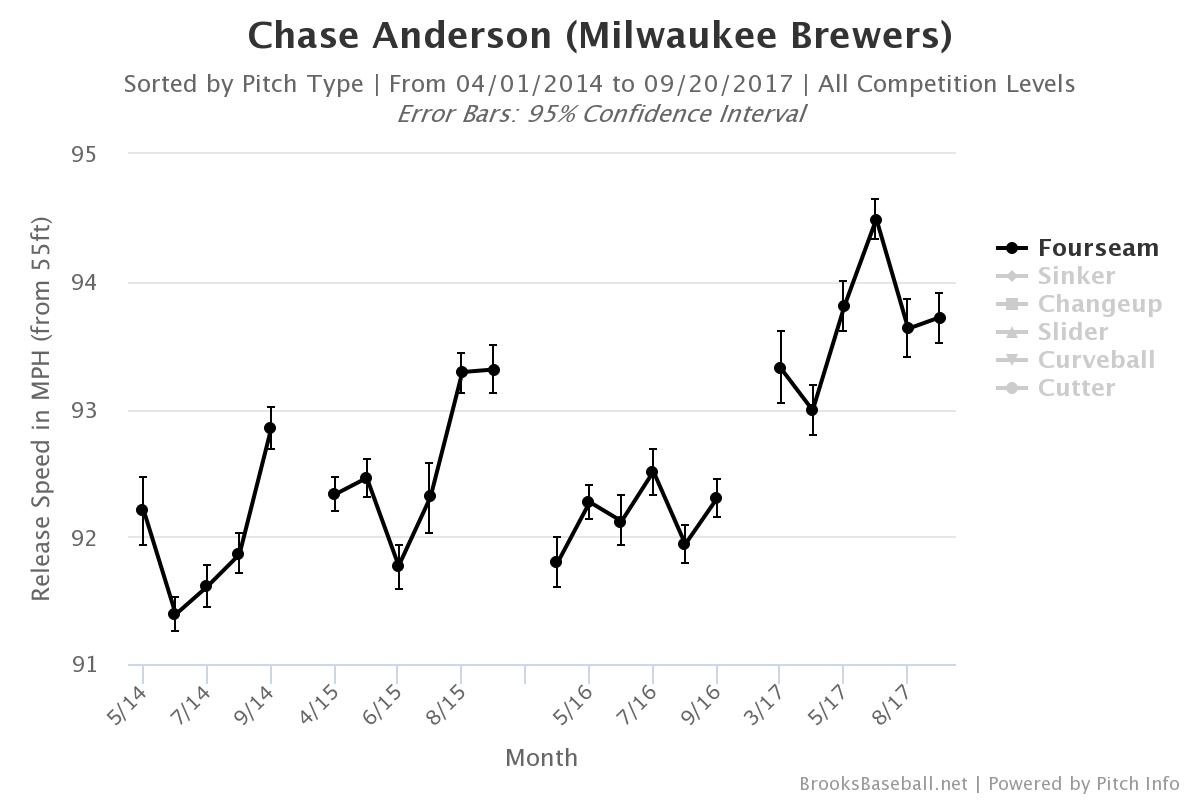 Anderson's big 12-6 curveball has emerged as one of the best pitches in baseball. Batters are swinging and missing against the pitch 12.3 percent of the time. When they do make contact, they are chopping the ball straight into the ground, he has gotten a groundball on over 59 percent of his balls in play when throwing a curveball this year. As a result, opponents are hitting just .176 against the pitch with a .242 slugging percentage. His curveball has been the thirtieth-most valuable in the league according to Fangraphs.
He has fully developed his cutter, creating a five-pitch mix in which he throws every pitch over ten percent of the time, and none above 35 percent of the time. He has thrown the cutter just under 13 percent of the time this year, after throwing it under 6 percent of the time last year, and under 1 percent of the time in 2015.
Although the pitch isn't as successful outcome wise as his other four pitches, it creates another look which makes the rest of his repertoire more successful. He throws the cutter just under 90 MPH. His sinker and fastball come in around 94 MPH and his changeup just a hair above 84 MPH. Hitters must now be prepared for three different speeds rather than two when it comes to non-breaking pitches.
The righty's revamped pitch arsenal has turned him into one of the best soft contact inducers in baseball. Anderson ranks fifth in baseball among those with over 300 batted ball events with an 84.3 average exit velocity. Batters have hit the ball over 95 MPH against him just 25.7 percent of the time, second-best in baseball. Anderson is one spot ahead of Clayton Kershaw and two spots ahead of Alex Wood.
His low exit velocity is reflected in his pop-up and line drive percentage. His pop-up and line drive percentage both rank tenth in baseball among those with over 120 innings at 10.17 and 17.4 percent respectively.
Taking all that into account, it's no surprise Anderson has one of the lowest batting averages on balls in play. His .266 BABIP ranks sixteenth in baseball. His low BABIP has created a huge gap between his actual outcomes (ERA) and expected outcomes (FIP/DRA). His fielding independent pitching is 3.60, almost a full run higher than his ERA. His deserved run average is even higher at 4.24. His ERA-FIP difference is tenth-highest in the league.
Despite enjoying what will likely be the best season of his career, the jury is still out on Chase Anderson. By fielding independent measures alone, he has been one the luckiest pitchers in baseball this year. 128 innings is not enough to conclude that Anderson has mastered the skill of soft contact.
It should be safe to conclude Anderson isn't as good as his ERA suggests, but he is still likely a solid mid-to-top-of-the-rotation arm that his FIP suggests and much better than his DRA believes.
Real or not, Chase Anderson's breakout season adds to the long list of fun stories for the Brewers this season.
---
Photo Credit: Charles LeClaire, USAToday Sports Images