Last week the Brewers faced an early gauge of how they measured up with their main opposition in the National League Central Division, as the Cardinals and Cubs both visited Milwaukee. Unfortunately, the results failed to match expectations, as the team went 2-5, including getting shut out three times.
| | | |
| --- | --- | --- |
| | Cubs | Brewers |
| Thursday April 5 | 8 | 0 |
| Friday April 6 | 4 | 5 |
| Saturday April 7 | 5 | 2 |
| Sunday April 8 | 3 | 0 |
The Brewers' offensive struggles last week were exacerbated by the injury to Christian Yelich. He got hurt in the St. Louis series finale and sat out the weekend series against the Cubs. The Brewers placed him on the 10 day DL yesterday, with the hope that he'll be out the minimum. Yelich leads the team in TAv amongst regulars (.346) which would also be a career high for him. With the caveat that these numbers are based on the first week of games, Yelich is running a career high swing rate (45.36%) as pitchers are pitching to him more in the zone than in his previous seasons (55.67%). While he's making slightly less contact than last year, because he's swinging more it seems like that's a positive so long as pitchers are throwing strikes. Looking at his whiff rate, in that first week he wasn't missing on anything that wasn't low.
Previously, Yelich had issues on offspeed and breaking pitches. While it's not fair to say he couldn't handle non-fastballs, he did more damage against the hard stuff. With that in mind, it is encouraging to see that he's had success against all types of pitches so far. While I don't expect Yelich to exceed his 90th percentile PECOTA projection, this type of performance is worth the steep price in talent which the Brewers sent to Miami.
The Brewers are also dealing with a bullpen injury. Corey Knebel is slated to be out for four to six weeks due to a hamstring issue. The Brewers didn't announce a replacement closer and the weekend series didn't create an opportunity for the picture to clear up. Regardless of who gets the saves through May, Jacob Barnes figures to be in the mix for a prominent role. Before a rough outing on Saturday, Barnes had pitched six scoreless innings, allowing only three baserunners and striking out five.
Barnes is a two pitch pitcher, relying almost exclusively on his fourseam fastball and slider, at around a 55/45 ratio. The fastball is used most as the first pitch of the at bat or when the batter is ahead, with the slider used when Barnes is ahead in the count, since that's his swing and miss offering. Based on both his career numbers and pre-April 7 results, there's an argument to be made that he should throw his slider more often.  Batters just can't seem to do much damage against the pitch. The biggest knock against the slider is that he rarely throws it in the zone, so batters can lay off the pitch and see it go for a ball. Except they don't lay off  when it goes below the strike zone and they do swing and miss.
Based on that background information, without even looking at Barnes' stat line from Saturday, it was clear something was amiss when Barnes threw twenty-one fastballs out of his twenty-four total pitches in the outing. That's not a plan for success for him, even taking into account the fielding miscues.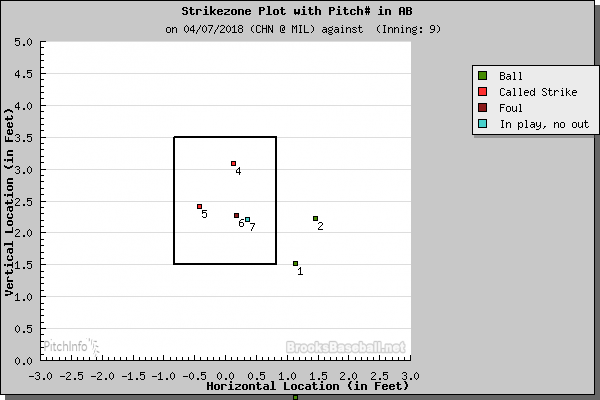 Before he reached on a single, Victor Caratini faced seven pitches from Barnes. After two misses with the fastball for balls, Barnes uncharacteristically threw a slider while behind in the count. After that pitch though, Barnes threw four fastballs in the middle of the zone and is lucky that Caratini didn't do more damage in the at bat.
This is one inning in one game and the opposition was aided by two errors, but in a critical situation, the game plan needs to be better. Jacob Barnes' slider is his best pitch, and he needs to deploy it more often in these situations.
After a week at home, the Brewers hit the road next week for two tough matchups in St. Louis and New York. The Brewers will get their second looks at Miles Mikolas and Carlos Martinez, while Adam Wainwright will take the other start. Milwaukee has Jhoulys Chacin and Brent Suter lined up for the first two games, while the series finale is still TBA.