The Brewers completed their successful road trip, taking series in both Arizona and Minnesota to go 4-2 for the second consecutive week and maintaining their lead in the NL Central. The name of the game this week was run prevention: the pitching staff allowed only sixteen runs. Milwaukee is currently 14th in MLB in DRA, but that hides the great work the bullpen is doing. Looking solely at relief pitching, the Brewers' bullpen is 4th in MLB in DRA, and their 3.26 mark is currently leading the National League. The relief staff only allowed five runs over the week of games.
| | | |
| --- | --- | --- |
| | Brewers | Twins |
| Friday May 18 | 8 | 3 |
| Saturday May 19 | 5 | 4 |
| Sunday May 20 | 1 | 3 |
Unfortunately, the bullpen did contribute to both losses last week, with Boone Logan giving up the winning runs in both games. When things are going right, Logan is your prototypical LOOGY; he's a sidearm lefthander who stymies left handed hitters.
When facing left handed hitters, Logan has a clear attack plan: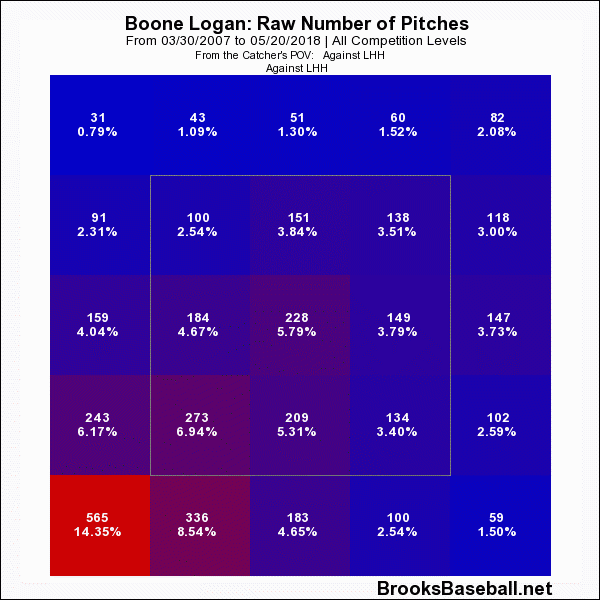 Logan is looking low and away, and has no problem throwing balls, because lefties will chase those pitches and they miss them frequently. While there's been some variation in his career, when facing left handed batters, Logan is only throwing his fourseam fastball and slider. Last year, he threw one of those two pitches to a lefthanded batter 90 percent of the time, which approached his career high, and this season his usage of each pitch has inched upwards. With a left handed batter at the plate, Logan will consistently throw his slider to start the at bat and when he's ahead in the count, but will go to his four seamer if he's missing his spot with the slider or the batter isn't swinging.
On Sunday, the Twins put forth a lineup that looked like it could be exploited by Logan. After Trevor Williams walked Brian Dozier to start the 8th inning, three of the next four Twins batters were left handed. Unfortunately, Logan couldn't execute when facing Max Kepler, his first batter of the game, and it cost him. Kepler worked a five pitch walk, where three of the balls weren't particularly close to the plate, including one wild pitch. After inducing a ground out, manager Craig Counsell was faced with a choice: let Logan face a righthanded hitter, which is not advisable, or intentionally walk the bases loaded and hope Logan could get out of the inning against a lefthanded batter. While our expected runs chart would have indicated to let Logan pitch (or bring in another pitcher), Logan's career splits indicated otherwise. Logan Morrison swung through the first pitch, then launched a two-run single to deep right field which scored the winning runs. Logan missed horribly, and threw the pitch in a spot where lefties tattoo him.
If there's one problem with the at-bat, it's that Morrison beat him on his sinker, as opposed to one of his primary pitches. You can live with Daniel Descalso getting the game winning hit on Tuesday, because it came off a first pitch slider. That's what Logan wanted to throw and based on the scouting report, Descalso likely knew it was coming. Shelving your best pitch during a bases loaded situation in a tie game situation feels like whomever called the pitch got too cute. Make the batter hit your best pitches, and don't throw sinkers to batters can handle them much better than sliders.
Before going hitless on Sunday, Jonathan had a nice week, going 9-19 with three extra base hits and a walk. The walk was Villar's third in the month of May. At this point, it's fair to say that Villar's plate discipline in 2016 was a one-year blip which may not be coming back. Nearly half of his career walks came during that season, and he's currently posting a career worst walk rate. The current book is to pitch Villar low in the zone, because there's a lot of swing and miss in that area, and when he does make contact, it's not the good kind.
This week, pitchers stuck with the scouting plan, and while Villar swung freely, he at least limited his whiffs and took care of the pitches he's supposed to hit. Most encouraging, his home run last week came off a changeup. During his career year, that was a pitch he could reliably drive, but since then, he's hitting fewer home runs and line drives off the pitch, while swinging and whiffing more. One week in a long season is a speck in the ocean, but if Villar can at least tap into his power on a more regular basis, he deepens the lineup and makes the team much more dangerous.
---
After ten days on the road, the Brewers return home for a ten game homestand. The Diamondbacks arrive first for a three game series which will conclude the season series against Milwaukee. Chase Anderson will make his return from the DL for today's game. After losing two of three games last week to the Brewers, Arizona traveled to New York and were swept by the Mets. Coincidentally, the Mets arrive after the Diamondbacks for a four game series in Milwaukee. After that weekend series, the Brewers will face the Cardinals in their first division games since the opening week of May.
| | | |
| --- | --- | --- |
| | Diamondbacks | Brewers |
| Monday May 21 | Zack Greinke (1.45 DRA) | Chase Anderson (5.36 DRA) |
| Tuesday May 22 | Matthew Koch (4.01 DRA) | Jhoulys Chacin (5.41 DRA) |
| Wednesday May 23 | Zack Godley (3.59 DRA) | Brent Suter (5.33 DRA) |
---
Photo Credit: Jordan Johnson, USA Today Sports Images