After an action-packed sweep of the San Francisco Giants at Miller Park, the Brewers head to Lakeview to continue the Cubs' extended series of scheduled games. In one sense, it feels as though Milwaukee's season boils down to the next three games against the Cubs. As of this writing on Sunday evening, the Brewers hold a 2.5 game lead over the St. Louis Cardinals for the top Wild Card spot, exhibiting a three game swing since the start of September (!!!). With the slightest bit of breathing room established over the Cardinals (+2.5), Dodgers (+3.5), and Diamondbacks (+5.5), fan attention has shifted to the division-leading Cubs. Yet as Sage Wade Miley stated recently, the Brewers players always seemed to have had the division-leading rivals in sight: "I don't think you quit thinking about [the division] until you can't think about it no more. I think that's the way to go at it." In another sense, of course, it's easy to forget that the Brewers have 15 games remaining after their series in Chicago, providing 15 additional opportunities to continue their surge toward the playoffs and the best possible seeding.
| Brewers Scheduled (as of 9/9) | Cubs Probable Blend (9/9 Guess) |
| --- | --- |
| LHP Wade Miley (4.06 Deserved Run Average [DRA]) | LHP Mike Montgomery (4.57 DRA) / LHP Jon Lester (4.55 DRA) |
| RHP Jhoulys Chacin (4.59 DRA) | LHP Lester (4.55 DRA) / LHP Jose Quintana (5.17 DRA) |
| RHP Chase Anderson (5.32 DRA) | LHP Quintana (5.17 DRA) / RHP Kyle Hendricks (3.13 DRA) |
As such, there is no one more fitting than Miley to lead the Brewers into Wrigley Field. The Brewers are likely to face another lefty-heavy series against the Cubs, potentially including exact rematches (either Montgomery versus Miley or Quintana versus Chacin, depending on how the Cubs rearrange their rotation after Sunday's postponement in Washington, D.C.). Known for his redeveloped cutter as a means for 2018 success, Miley presented that profile to the extreme in his last outing against the North Siders. The Lakeview club saw nearly 50 cutters from the southpaw on September 4, and otherwise Miley basically balanced his curve and change, shelving his remaining arsenal.


While the cutter gets top billing, the Cubs bats could not solve Miley's curve and change, so it is worth watching to see if the wily veteran doubles down on the soft stuff.
During Zack Greinke's rough stretches of 2011, a friend of mine once questioned whether the righty's stuff moved too much. It's an interesting concern to consider: typically, a pitcher might like as much movement as possible on pitches, in order to induce weak contact by keeping batters off balance (or unable to square pitches on the bat). I keep this idea in mind with Jhoulys Chacin, who throws a baffling array of wiggles and dips. During his recent stretch of five consecutive quality starts, Chacin whittled down his arsenal to a sinker (34 percent) and slider (50 percent), with his split and primary fastball balancing the remaining offerings. In his last outing against the Cubs, Chacin doubled down on the sinker, moving slightly from his successful August recipe. Which way will Chacin wiggle this time? His selections could not only help bolster a division run, but more importantly get the righty back on track to his August success.
On a more serious note, if a "true" junkball pitcher is one that throws a change up more frequently than any other pitch, what is a slider-first pitcher? Is a slider-first thrower merely a variation of a junkballer, or another type of pitcher altogether?
Meanwhile, Chase Anderson has not faced the Cubs since June, battling a couple of stretches of rough starts following his exceptional seven scoreless at Miller Park on June 12.


After allowing eight runs in 8.7 innings during two starts in the middle of August, Anderson has roughly produced league average starts for the Brewers, a crucial correction leading to a 3-1 team record during those outings that forcefully snapped a three-start team losing streak for the 2017 Ace. I presented both Brooks Baseball tables above because although it's often tempting to look for pitch selection adjustments to help explain success, it's worth emphasizing that Anderson has basically kept the same profile for his recent success that he was working with during some of his June-through-August rough stretches. What is key, however, is that Brooks Baseball strike zones demonstrate that Anderson is migrating from armside-upper zone (in on righties) locations to glove-side lower zone locations (away from righties). While the shift is not inducing more whiffs (yet), Anderson is yielding more ground balls without a notable arsenal rearrangement.
---
Most importantly, for the coming series, the weather in Lakeview should hopefully hold: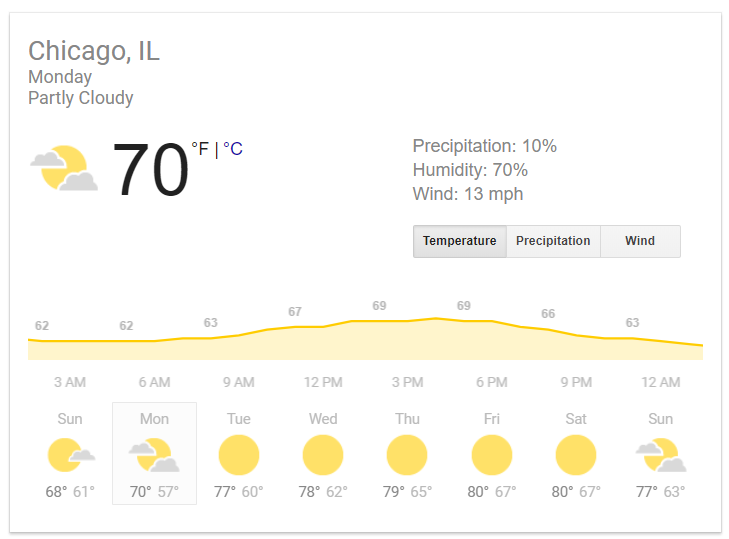 According to the National Weather Service, this Chicago outlook appears much better than the battered mid-Atlantic, where the Cubs and Nationals may have postponed Sunday's game for nothing other than a chance for more rain:

With a potentially strong Hurricane reaching land in the mid-Atlantic and potentially forecast to stall during the week, one is inclined to question why MLB, the Nationals, and the Cubs did not simply attempt to postpone the Sunday contest until the end of the season (if it proved necessary to define the playoff race). As much as Brewers fans might enjoy sending shade over the wicked travel schedule for the Cubs, the safety of the players and personnel associated with both teams should be fully considered in this case. In this case, a divisional race during the first three days of this week should make for a delightful end-of-summer vacation at Wrigley Field.