In one of my first articles, I described ticket prices as an unsexy topic. What follows will be largely similar, in that it will not be sexy and be in all probability esoteric. Today, we'll be looking at the birthplace of current Brewers players, and to add more historical context, all MLB players throughout time.
The birthplace of athletes, for the most part, is not something that one generically ponders. It's somewhat of a hidden topic as we watch and enjoy baseball. Most players come from the United States. This statement is rather intuitive. The biggest baseball league is situated in the U.S., after all. It has a huge following and a great ranging history. A lot of money is also poured into baseball, not just in the major leagues, but also in the minors, colleges, and high school, to create and discover the best talent available.
That being said, the best talent available is not always in the United States. Often it's across borders in other countries. Some of them you will be greatly familiar with, such as the Dominican Republic, which has been a hotbed for elite baseball talent for years. Some others are recently starting to produce great talent — such as Cuba with the emergence of players such as Yasiel Puig, Jose Abreu, Yoenis Cespedes, and more to come — while some others might shock you. Baseball is a very old and cultured game. While it is typically known as being an American game, baseball casts a wide net around the world. Players in Major League Baseball come from all over the world and with many different cultures and backgrounds.
Therefore, while this isn't a sexy topic, and one that isn't generally talked about, I still find myself greatly interested in it and, therefore, decided to do some research.
First, this type of data and information isn't always easy to come by. But, thanks to baseball reference, I was able to find a huge dataset, which includes the birth dates of a great number of baseball players throughout history. Here is how the data looks by country. (The darker green the country is, the more players were born in that country, the lighter green the country is the fewer players were born there).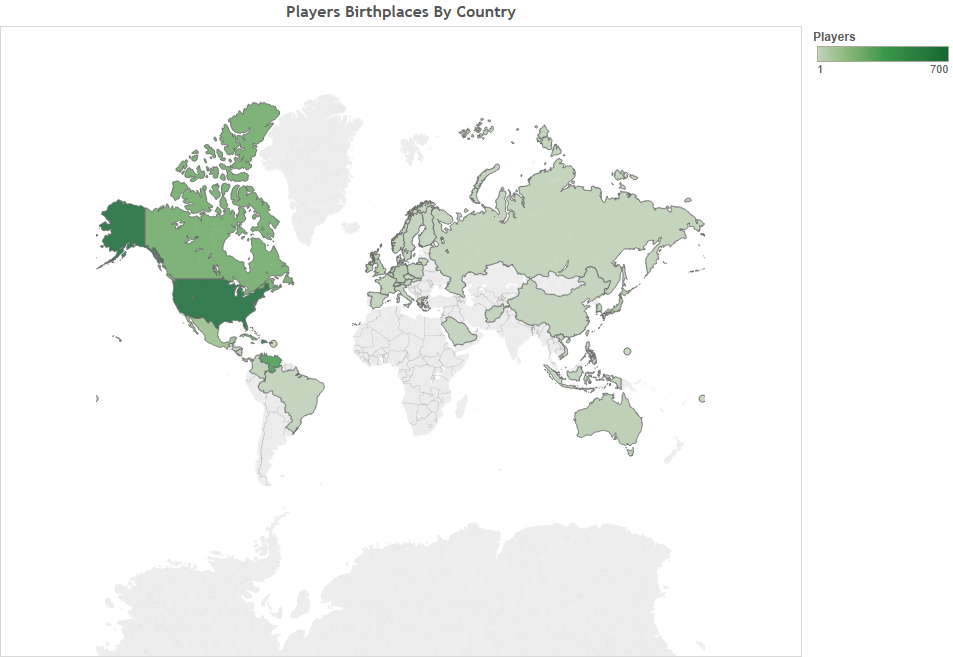 [Note: For an interactive version of the map, please visit my public Tableau page.]
As you can tell from the visual, players have come from all over the world to play Major League baseball. Some have come from England, France, and Italy. Others from countries you wouldn't expect, such as Afghanistan, Guam, Indonesia, Saudi Arabia, and Brazil. Baseball is played and followed in many places around the world and considering it to simply be an American game is obviously foolish.
While this is true, it's pretty clear which country generates the most players. The U.S. (with 16,336) have the most Major League players born in their country. This answer obviously isn't very surprising or interesting for that matter. As we've discussed, it was fairly intuitive.
The second highest country is the Dominican Republic with 642. To put things into perspective, the Dominican Republic had an overall population of 10.4 million in 2013, the U.S. had an overall population of 316.5 million, Japan's was 127.3 million, Canada's was 35.16 million and on and on. Needless to say, while the Dominican Republic's population isn't huge, and its size is a scintilla when compared to the states or most other countries, they've been able to produce an amazing amount of baseball talent. And, if that wasn't impressive enough, they have the second highest amount of Hall Of Famers, behind the U.S.
Even a country such as Japan, who we associate with as being a place from where great talent comes, it doesn't even come close to the Dominican Republic. Japan has produced great baseball players over the recent years, such as Ichiro Suzuki, Yu Darvish, Masahiro Tanaka, and many more. Yet according to baseball reference's dataset only 62 Major League players have ever come out of Japan. This can again be seen in the map.
Venezuela and Puerto Rico have also produced a ton of Major League players over the years, Venezuela producing the third highest ever and Puerto Rico the fourth.
When it comes to the current Brewers roster, it's filled with players from those specific areas. Players such as Wily Peralta, Domingo Santana, and Ariel Pena were born in the Dominican Republic — while Fransisco Rodriguez and Hernan Perez are from Venezuela. These types of players don't only add talent to the Brewers, but also bring different sets of culture and feels for the game.
Here is a map of where all the Brewers current players come from by country.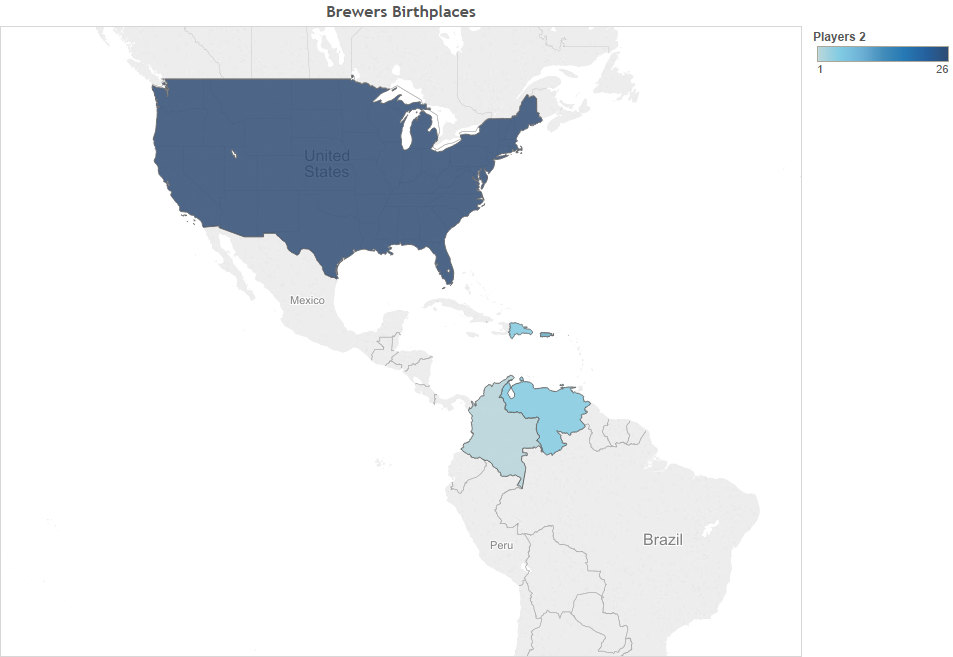 As per usual, most players come from the States (26). But the Brewers also seem to have a good mix of Dominican, Venezuelan, and Puerto Rican-born players. Yhonathan Barrios was even born in Columbia, and when he made his big league debut, he became only the 17th player to make the majors from that country.
While having a diverse base is good for baseball, it has created a number of culture clashes. The Brewers are not immune to these types of clashes. A lot of these conflicts come from the old adage of the unwritten rules and how baseball players are suppose to behave.
For the Brewers, perhaps one of the most notable moments was the infamous altercation between Carlos Gomez and Brian McCann. After Gomez hit a long home run, he bat-flipped and watched his home run. This caused both sides to start yapping at each other while Gomez was rounding the bases, and McCann felt the need to prevent Gomez from touching the plate.
Gomez, born in the Dominican Republic, has always shown a ton of emotion. Whether it's with his exuberant smile or mannerisms, Gomez makes it obvious to everyone who's watching that he loves baseball. It's his joy for the game that makes him one of the most distinguishable players in all of baseball. Yet for some reason, many American-born players feel the need to teach others how to "play the game the right way."
In the United States, it seems that players are taught to play with a stoic attitude — not to show a lot of emotion and "play as if you've been there before." In reality what these players are trying to do is make foreign players like Gomez conform to the way they play the game. In some way, it's almost a case study for conformity and peer pressure. Just take Yasiel Puig as an example. A young Cuban-born player, who came from another country, was bat flipping and full of emotion until the Dodgers players peer-pressured him into not bat flipping anymore.
This type of attitude is not only a form of peer pressure but also bullying. You're treating someone differently because he grew up with different values, and instead of embracing and accepting them, you're attacking their personality and how they relate to the game.
At the end of the day, baseball is not supposed to be played one specific way. There is nothing wrong with showing emotion and joy. The different cultures and personalities in baseball are one of the best parts of the game. Let's stop trying to weed those out and accept them. Let's start appreciating people for who they are and stop being so sensitive all the time. Let's get more reactions like these:
And fewer reactions like these:
Bonus: 
Through the baseball reference dataset, I was also able to get where every player was born by U.S. state.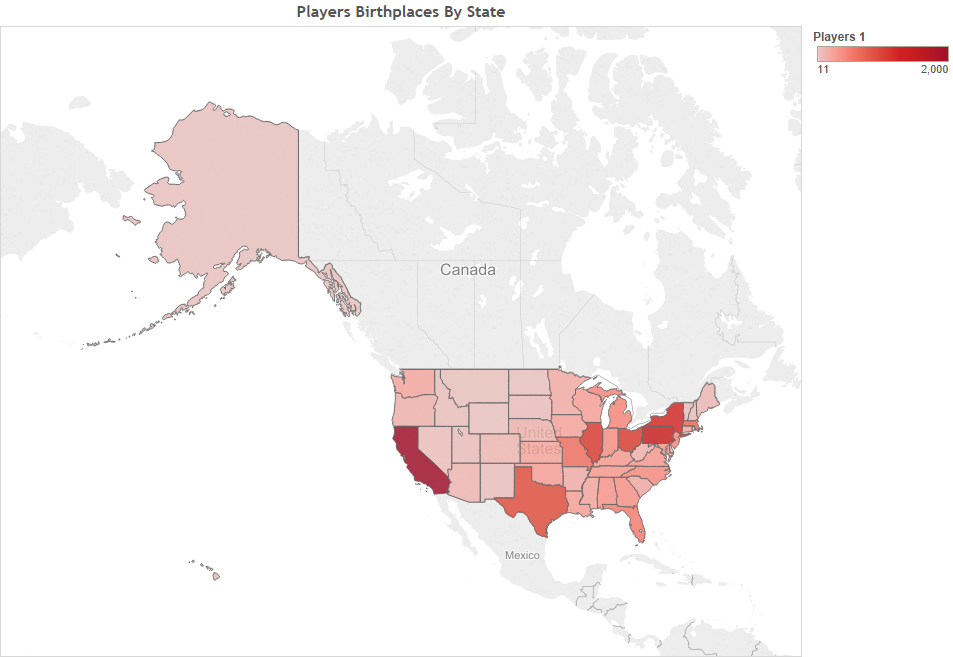 California clearly has the most players who've made the majors with 2,148, which is more than any other single country. It's also not that surprising as scouts typically rave of California as being a hotbed for baseball talent. The second most was Pennsylvania and New York with 1,402 and 1,182.